It was a busier Easter weekend than usual for us, because it was our baby boy's first birthday! I wanted his party to be colorful, fun and whimsical, so I went with a rainbows and sprinkles theme for the cakes and decorations, and I just love how everything looked when it all came together.
For a couple of months, I've been collecting a few decorations here and there as I found them, like the rainbow felt ball garland and happy birthday banner, which I found at Target, and those cute little wooden candy scoops I found on Amazon. And we were able to reuse a few things from Phoenix's birthday party a year and a half ago. But lots of items I already had on hand, such as the glass jars that I filled with candy, the vintage wooden blocks, and of course, my many, many cake stands.

To show his monthly photos, I cut paper balloons from card stock and arranged them on the wall like a floating bunch of balloons. And that adorable vintage wooden high chair Griffin is sitting in – that was an amazing find on Craigslist a few years ago when Phoenix was a baby. We repaired a few loose joints in the wood, painted it that pretty minty color, and use it frequently in our dining room.
My favorite decorations, though, were the fabric bunting banners, which I sewed myself. I picked up an assortment of fabric quarters in a variety of colors, as well as a few packs of bias tape to make them. The most time consuming part was tracing and cutting all the triangles of fabric, but once that was done, it was a breeze to pin them all to the bias tape and sew them together. The bias tape is double-sided, as is the bunting (by placing two pieces of fabric back-to-back), so the bunting look so pretty from any angle you look at them.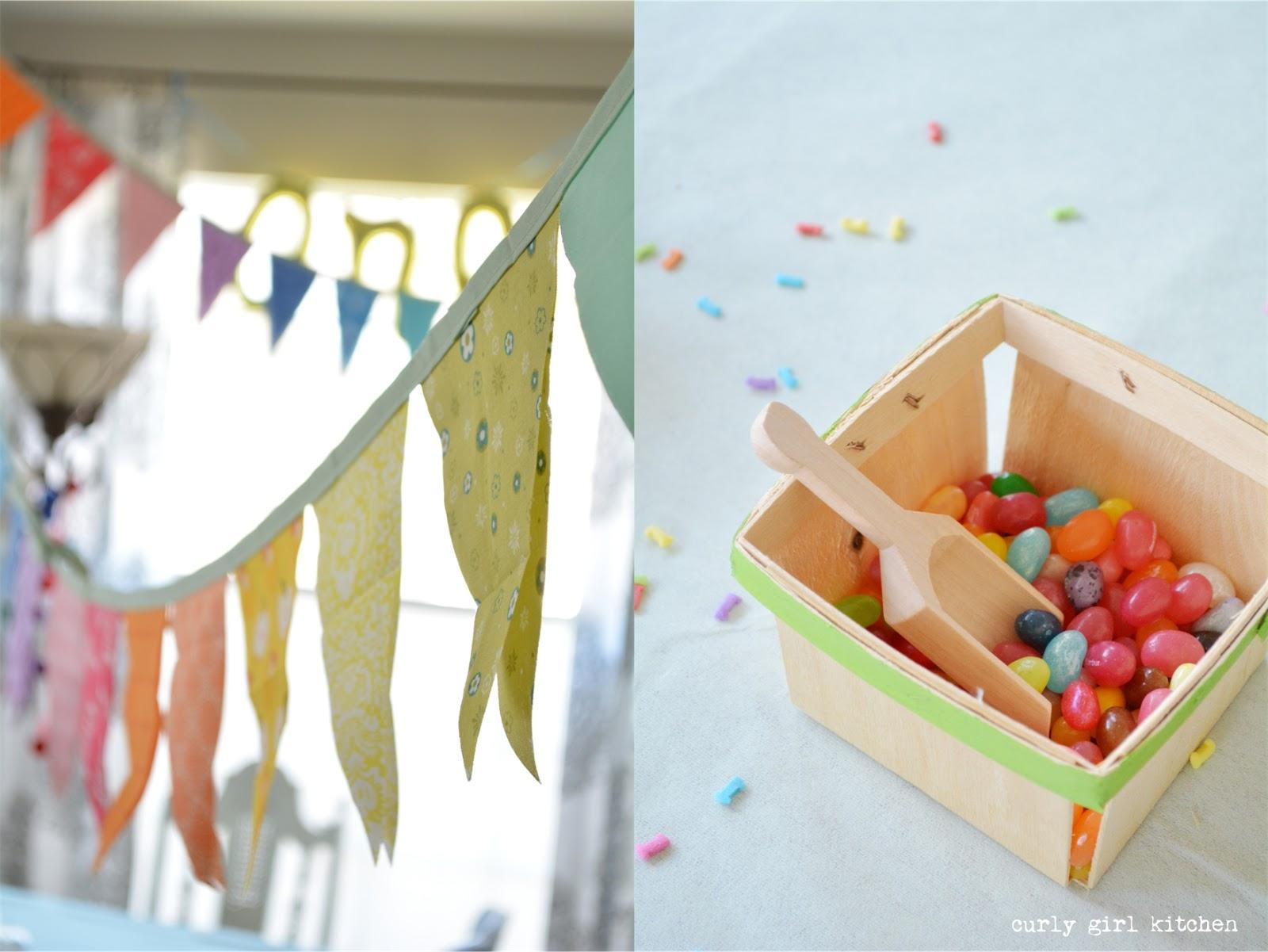 And, oh, the cakes! I made a rainbow cake scattered with sprinkles to serve at the party, and everyone just loved it. For Griffin's smash cake, I made another version of my "Rain Rain Cake", this time piping the raindrops in buttercream, and topped with lots of fluffy buttercream clouds. Instead of the fondant umbrella I did before, I just made a simple paper umbrella topper from card stock and floral wire. There was also a strawberry cake (because I had extra cake layers from strawberry cake recipe testing wrapped up in my freezer), which I frosted in minty green-tinted almond buttercream and decorated with pretty piping and more sprinkles. But we didn't end up eating it at the party since the rainbow cake was enough, so that one is back in my freezer for another rainy day. Maybe I'll pull it out for us to eat on Mother's Day.
We had a few friends and their kids over for Griffin's party, and it was such a fun, relaxing time. Griffin, of course, had no idea it was his birthday, but enjoyed the party and loved getting to eat bites of cupcake while Phoenix helped him. He wasn't that into his smash cake the next day, though. He played with the candle for a few minutes, pushed the cake over, and then he was done. He had no interest in tasting much of the cake, and really didn't seem to like having cake and frosting all over his hands. While my husband cleaned him up, Phoenix and I sat down on the floor and ate a few bites of his smash cake for him.
It was a gorgeous spring day, not too hot or cold, and we were able to relax outside on the patio while the kids played. By the end of the day, Griffin was a bit grumpy and overwhelmed, and ready for a little quiet time before bed. Phoenix loved all the excitement, getting to play with his friends, and eat cake. Even a week later, he still talks about Griffin's birthday party.