A recipe for homemade lemonade, made with freshly squeezed lemons and simple syrup! You can sweeten your lemonade with plain simple syrup, or add the most delicious flavor with simple syrup infused with rhubarb or ginger!
You might also love these lavender lemonade honey popsicles, lemon loaf cake, and iced lemon shortbread cookies.
This site contains affiliate links. As an Amazon associate, I earn from qualifying purchases. This means that I may make a small commission if you purchase a product using those links. This in no way affects my opinion of those products and services. All opinions expressed on this site are my own.
Why You'll Love This Lemonade
Easy and Versatile. This is a quick and easy recipe for my favorite summer drink! Make it by the glass, or scale the recipe up to make a big pitcher of homemade lemonade.
Just as Sweet as You Like. Do you like your lemonade sweeter? Add more simple syrup. Do you prefer it on the tart side? Add less syrup or more lemon juice!
TIP: Simple syrup is usually made with a 1:1 ratio of water and sugar, although you can adjust the ratio for a more or less sweet syrup.
Using Flavored Simple Syrups
You could sweeten your homemade lemonade with just sugar. But the thing about adding granulated sugar to cold water is that it takes a while to dissolve. And who wants to wait for sugar to dissolve when you're craving an icy cold glass of sweet and tart lemonade? The answer is to make simple syrup, which is nothing more than sugar and water which you warm briefly until the sugar is dissolved. Then you can store the syrup in the refrigerator to use for sweetening iced tea, lemonade and cocktails.
Ginger Simple Syrup
Ginger is a wonderful ingredient for cooking and baking, and I love the spicy kick it adds to sweet treats. It's delicious paired with lemon, like in my Cardamom Ginger Cake with Lemon Curd. And when steeped in simple syrup, it gives the syrup a pretty golden color with a sweet and spicy ginger flavor. Be sure to read the full recipe for making ginger simple syrup.
Rhubarb Simple Syrup
I recently posted a recipe for Rhubarb Layer Cake, which I decorated with the most beautiful candied rhubarb curls. To make the curls, I briefly soaked strips of rhubarb in simple syrup, then let the rhubarb dry into curls in the oven. Even just soaking the rhubarb in the syrup for 5 or 10 minutes turned the syrup the loveliest shade of pink with a subtle rhubarb flavor. It's simply delicious in lemonade. Since this recipe is mainly for making candied rhubarb curls, the rhubarb isn't steeped in the syrup for long. For more rhubarb flavor, follow the same instructions in the ginger syrup recipe, by simmering chopped rhubarb for 15 minutes and steeping for 1 hour before straining.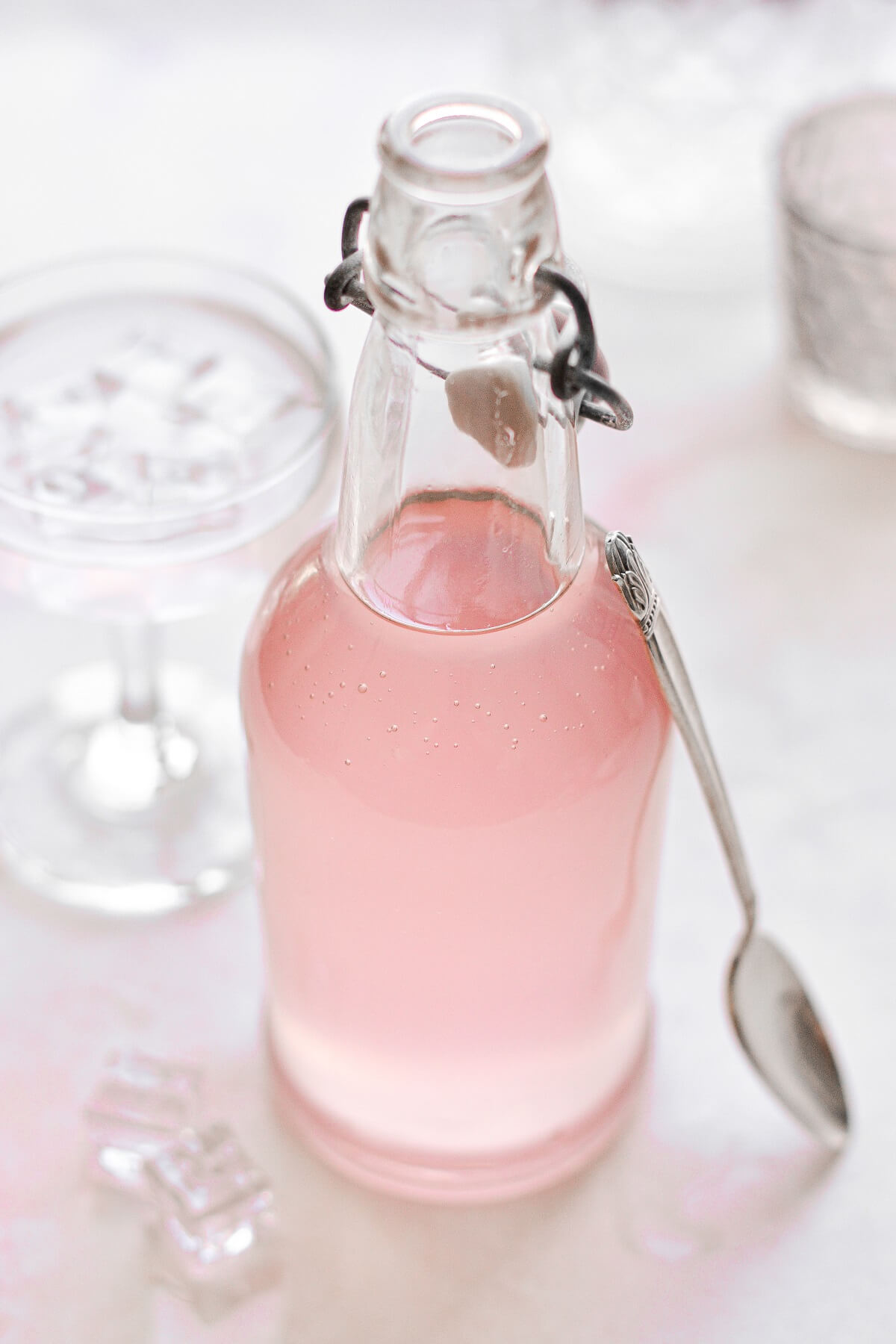 Other Flavor Ideas
Lavender. Another wonderful flavor to pair with lemon is lavender. Just be careful to not use too much, or you'll end up with a soapy taste. Steep 1-2 teaspoons dried edible lavender in simple syrup and strain.
Mint. Steep a handful of fresh mint leaves in simple syrup and strain.
Vanilla. Add 1-2 teaspoons vanilla extract to your simple syrup, or steep a vanilla bean in the syrup.
Clove, Cardamom and Star Anise. For an interesting depth of flavor, steep several teaspoons of warm spices like cloves, cardamom, star anise (whole, not ground), or even a cinnamon stick in your simple syrup.
Berries. Add a handful of berries (blackberries, strawberries or raspberries would all be great) to your simple syrup. Simmer, steep and strain.
See the recipe card at the end of the post for the full ingredients list and instructions.
Ingredients
Ice
Lemon Juice
Water
Simple Syrup
Instructions (by the glass)
For 1 glass of lemonade, fill a tumbler-sized glass half full of ice.
Juice 1 small lemon and add to the glass, or use 2 tablespoons bottled lemon juice.
Fill the glass with cold water, and stir in 1-2 teaspoons simple syrup.
Frequently Asked Questions
How many lemons should I use for a pitcher of lemonade?
For one gallon of lemonade, you'll need about 1 cup of lemon juice. So you might need 8-12 small lemons or 4-6 large lemons, depending on how much juice they contain. Add the lemon juice to the pitcher, fill with water, and sweeten to taste with simple syrup (1/2 – 3/4 cup simple syrup per pitcher).
Can I use bottled lemon juice instead of fresh lemons?
Yes, you can.
How do I make strawberry lemonade?
Wash, hull and slice fresh strawberries. Toss with a small amount of sugar and let sit for 15-30 minutes to macerate, until they're softened and juicy. Add a spoonful of the strawberries to your glass of lemonade.
Can I use honey instead of simple syrup?
Definitely! Honey is a wonderful sweetener for lemonade, like in my Lavender Lemonade Honey Popsicles.
Where can I find your recipes for flavored simple syrup?
You Might Also Like
---
Favorite Products
---
Did you love today's recipe? Please rate the recipe and let me know in the comments what you thought! Also, be sure to follow Curly Girl Kitchen on Instagram, and tag me when you try one of my recipes so I can see all your delicious creations!
Homemade Lemonade with Rhubarb and Ginger Syrup
A simple recipe for homemade lemonade, sweetened with simple syrup flavored with rhubarb or ginger.
All recipes on Curly Girl Kitchen are developed for high altitude at 5,280 feet. See FAQs for adjusting to higher or lower elevations.
Ingredients
ice

1

small lemon,

juiced

water

1-2

tbsp

simple syrup
Instructions
For 1 glass of lemonade, fill a tumbler-sized glass half full of ice.

Juice 1 small lemon and add to the glass, or use 2 tablespoons bottled lemon juice.

Fill the glass with cold water, and stir in 1-2 teaspoons simple syrup.
https://curlygirlkitchen.com/