A vanilla or chocolate cake is often the starting point for other cake flavors, so it's important to have a perfect foundation for your baking projects. And while I love gorgeous cakes, they have to taste fantastic, too. So, starting with the basics, I'm sharing my High Altitude Vanilla Cake recipe today.
My vanilla cake is so soft, light and fluffy, thanks to a generous amount of buttermilk, with a delicious flavor from real vanilla beans and butter. The cake crumb is just beautiful and moist, even days after baking. This is also an incredibly easy cake to make, requiring nothing more than just whisking the ingredients together in a bowl before baking. You'll love this delicious and versatile high altitude vanilla cake recipe! It's just the perfect choice for a birthday party or special occasion cake that will please everyone.
Looking for more high altitude cake recipes? Don't miss this brown butter carrot cake, chocolate fudge cake, and mint chocolate chip cake.
Update: I originally published this recipe in 2015, but have updated the post and recipe in 2021.
This site contains affiliate links. As an Amazon associate, I earn from qualifying purchases. This means that I may make a small commission if you purchase a product using those links. This in no way affects my opinion of those products and services. All opinions expressed on this site are my own.
Let's Talk About Vanilla
I genuinely love vanilla, and I don't think there's anything plain about it, really. Vanilla is a complex flavor that pairs so beautifully with so many other ingredients. And vanilla beans are a very difficult crop to grow and cultivate, so I have great respect for vanilla!
About 80% of the world's vanilla beans are grown on the island of Madagascar. In recent years, the cost of vanilla skyrocketed, due to a series of storms that ravaged the island, destroying the plants and driving up vanilla prices to almost 10 times what they were a few years before.
The other major contributing factor to the high price of vanilla is the fact that the plant is just so difficult to grow. Vanilla comes from an orchid plant, and while there are 100+ varieties of orchids, only one, the vanilla planifolia, grows vanilla beans. The hand pollination process is difficult and labor intensive, requiring skill and experience. The orchids flower just once a year, and the pollination must take place on that day. And after the harvesting the beans, they still need to be dried and cured. The entire process of growth to export of 1 vanilla bean takes a whole year.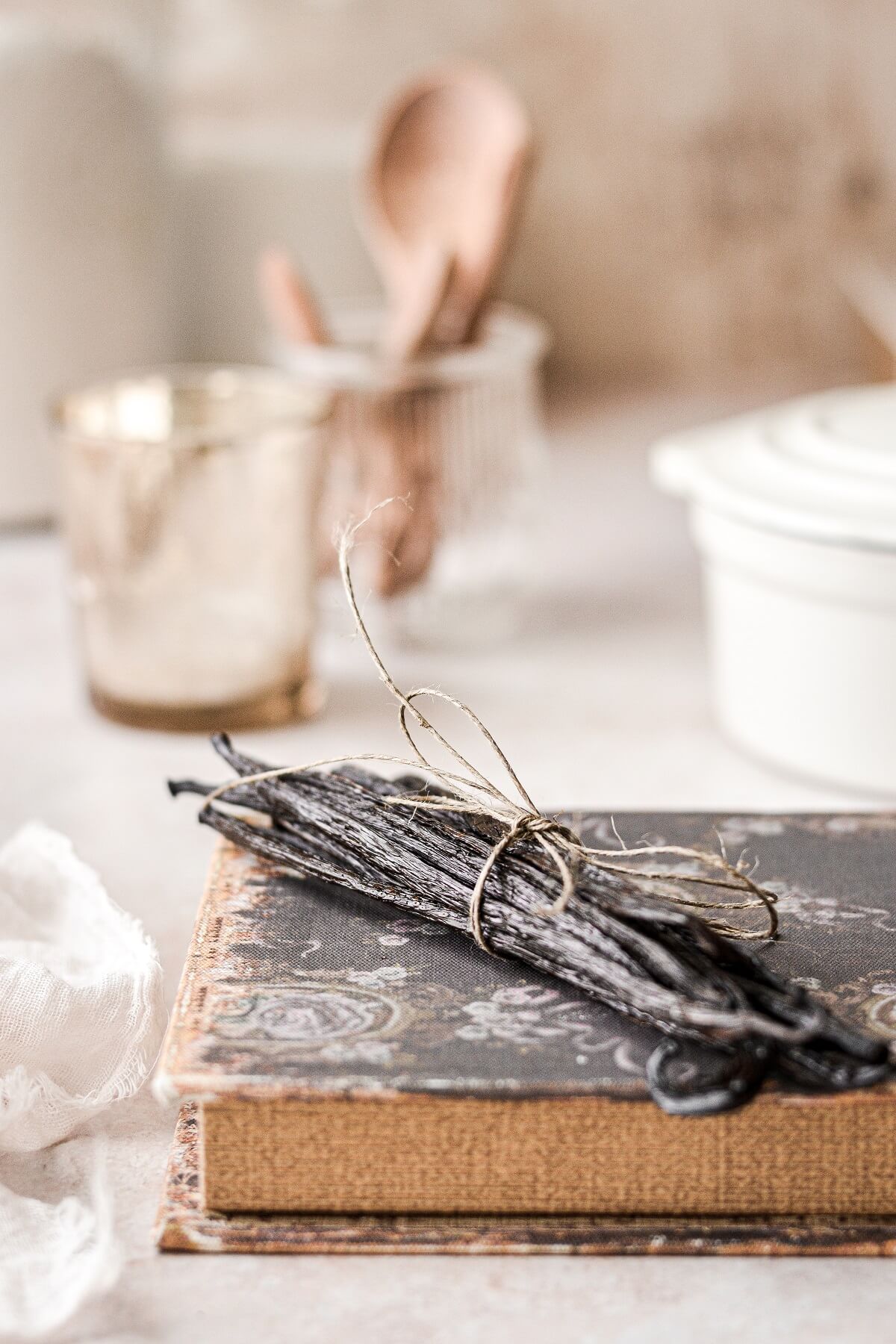 TIP: Be sure to check out my post on How to Make Homemade Vanilla Extract.
Types of Vanilla to Use in Baking
When flavoring your vanilla cake, you can use real vanilla beans, vanilla bean paste, or vanilla extract, and each has something a little different to offer.
Real Vanilla Beans
There's nothing quite like the flavor and aroma of real vanilla beans. When you split open a vanilla bean and scrape out the seeds, the scent is intoxicating. In my vanilla cake recipe, I rub the vanilla bean seeds into the sugar before mixing up the cake batter, which infuses the sugar with as much vanilla flavor as possible.
I've been buying Tahitian vanilla beans online, and they are actually quite affordable at the moment, much more so than what you'd find at your local grocery store or spice shop. The Grade A Tahitian Vanilla Beans will be bigger and plumper, with more seeds inside. Grade B Tahitian Vanilla Beans won't be quite as big and plump, but are still quite decent for the price.
Vanilla bean isn't just for cakes, either. I use it in homemade ice cream, custards and cream pies, and the black specks of vanilla bean look just beautiful. After scraping out the seeds, there are a few ways you can use up the empty pod, but definitely don't throw it away!
Steep the scraped vanilla beans in vodka to make your own vanilla extract. I'd recommend about 8-10 beans inside of a pint jar of vodka. You'll need to let it steep for at least 8 weeks, but 6 months will make it even more flavorful.
Place the bean in a canister of sugar to infuse the sugar with vanilla flavor. Or place it in a bottle of vanilla extract so any trace amounts of vanilla seeds can add extra flavor to the extract.
Dry the bean, then grind it into a vanilla powder. This is my favorite use, and what I always do with my scraped vanilla pods. I'll add the ground vanilla powder right into cake batter, or sprinkle it on top of baked goods for a wonderful vanilla flavor.
Vanilla Bean Paste
Vanilla bean paste is a rich, thick paste that contains a blend of scraped vanilla bean seeds and vanilla extract, as well as sugar, water and thickening ingredients. It's a great option when you want to add real specks of vanilla bean to your baked goods, but don't want to bother with using vanilla beans.
Pure Vanilla Extract
Vanilla extract is the most affordable type of vanilla. Some extracts are made from whole beans, while others are made from the pods after the specks are removed. The vanilla is macerated with alcohol and water, infusing its flavor into the liquid and stretching it to make it last longer. Be sure to look for the words "real" and "pure" on bottles of vanilla extract. Imitation vanilla extracts or vanillin has an inferior flavor to the real thing.
See the recipe card at the end of the post for the full ingredients list and instructions.
Ingredients
Granulated Sugar. Adds sweetness and moisture to cakes. With high altitude baking, too much sugar can lead to a gummy texture in your cakes, so the sugar has to be perfectly balanced with the other ingredients.
Vanilla Bean. Adds incredible flavor, especially when you rub the seeds into the sugar.
Vanilla Extract. I use a combination of both vanilla bean seeds and vanilla extract. You can use both, or just one of them, whichever you like.
Cake Flour. Cake flour makes a very soft, light and fluffy vanilla cake, as it contains a lower percentage of protein than all-purpose flour.
Baking Powder. Leavens the cake, making it rise.
Coarse Kosher Salt. Balances the sweetness.
Eggs + Egg Whites. I use 2 eggs, plus 2 egg whites, in my vanilla cake, which adds structure and richness, while the extra whites make it nice and fluffy. Save the leftover 2 egg yolks for another use.
Buttermilk. Adds richness and acidity for a light, fluffy, tender cake crumb.
Melted Butter + Vegetable Oil. A combination of both butter and oil gives this vanilla cake the best flavor as well as a soft, moist texture.
Instructions
Rub the Vanilla Bean Seeds into the Sugar.
Take the extra step of rubbing the scraped vanilla bean seeds into your sugar, to really infuse the flavor of the vanilla into your cake.
Sift Together the Dry Ingredients.
Next, sift together the vanilla sugar with the cake flour, baking powder and salt.
Whisk in the Liquid Ingredients.
Whisk together the buttermilk, eggs, egg whites, melted butter, oil and vanilla extract, then whisk everything together with the dry ingredients until smooth. Seriously, you can't mess this cake up.
Bake, Cool and Frost.
Grease the bottoms of your cake pans with non-stick spray. I always use 8-inch cake pans for my layer cakes, because they make a taller cake than if you use 9-inch pans. Once the cakes are cooled, frost them with some fluffy buttercream, and you're done!
Be sure to read all of my BAKING FAQs where I discuss ingredients, substitutions and common questions with cake making, so that you can be successful in your own baking! I also suggest reading my comprehensive posts on making Perfect American Buttercream and How to Stack, Fill, Crumb Coat and Frost Layer Cakes.
Frequently Asked Questions
What should I use if I don't have cake flour?
If you can't find cake flour at your local grocery store or Walmart, you can also buy cake flour online. In a pinch, you can make your own cake flour. Measure out 1 cup of all-purpose flour using the spoon and sweep method. Remove 2 tablespoons of flour, and replace with 2 tablespoons of corn starch. Whisk together until thoroughly combined.
Can I make this recipe with gluten free flour?
Yes, I've had feedback from people who have made this recipe successfully with gluten free flour. I'd recommend using your favorite measure-for-measure gluten free flour, although the cake will likely have a slightly coarser texture.
What can I substitute for the buttermilk?
While I prefer whole buttermilk, I'll also use lowfat buttermilk if it's the only thing available at my grocery store. The next best thing is to make your own sour milk by stirring together 1 1/2 tbsp white distilled vinegar with 1 1/2 cups whole milk. Let sit for 15 minutes to curdle before mixing your cake batter.
Why did you change this recipe from the original vanilla cake recipe on your blog?
I felt like the original cake was too oily, and didn't bake consistently for high altitude. See the next section below for details on my recipe updates.
Can I make the cake ahead of time and freeze it?
Yes, after baking and cooling the cakes, wrap each layer individually in plastic wrap and freeze for 3-6 months until you're ready to frost your cake. You can also freeze the fully assembled and frosted cake in an airtight container for up to 3 months.
How long will this cake stay moist?
If you keep it in an airtight container, it will stay moist for days and days! If it lasts that long.
How should I store the leftover cake?
Store leftover vanilla cake in an airtight container or cake carrier at room temperature for up to 3-5 days.
Can I bake this cake recipe as cupcakes instead?
You sure can! You can see this vanilla cake recipe in cupcake form in my Strawberry Cupcakes post. You'll get about 30-32 cupcakes.
Do I need to use 8-inch cake pans, or can I use 9-inch cake pans?
I love my 8-inch cake pans, since they make tall, pretty cakes. You can certainly bake this recipe in 9-inch pans, though, and your assembled cake will be a little wider and shorter.
Will this recipe work as a sheet cake?
This recipe will certainly work as a sheet cake. Bake the batter in a greased 9×13 pan, and bake for a little longer, watching the center for doneness.
Can I cut this recipe in half?
Yes, you can easily halve this vanilla cake recipe, and bake the batter in three 6-inch pans.
Can I make this recipe even if I don't live at high altitude?
Yes, many people who are not at high altitude have tried and loved my vanilla cake recipe. If you're at sea level, you may need to make a few slight modifications, such as reducing the flour by 2-4 tablespoons, and increasing the baking powder from 3 tsp to 4 tsp. I live in Denver, which has an altitude of 5,280 feet, so if you live significantly higher than that (more than 1,000 feet higher), you might need to make a few minor adjustments, such as increasing the flour a bit more, and decreasing the baking powder a little. Please read this post on guidelines for adjusting cake recipes for various altitudes.
What flavor of buttercream should I frost a vanilla cake with?
In my recipe card below, I've included my recipe for vanilla buttercream. But honestly, you can use absolutely any flavor of buttercream and filling that you like – everything is good with vanilla! See my comprehensive post on Perfect American Buttercream to read all about how I make my buttercream, as well as ideas for other flavors.
Recipe Updates
I originally published this vanilla cake recipe almost 6 years ago, so many of you have tried and loved it over the years. However, I felt there were a few areas that needed improving, especially for high altitude bakers, to ensure a delicious and perfect vanilla cake. If you still love and prefer the original recipe, though, you can find the original ingredients list in the notes section of the recipe card at the bottom of this post.
Cake flour for a fluffier cake crumb. First, I swapped the all-purpose flour for cake flour, which makes a lighter, fluffier, more tender cake crumb. I also increased the amount of cake flour, as the flour to sugar to leavening ratio seemed a little off. The increase in flour stabilizes the batter for a much better rise.
Butter + oil for better flavor and less oily texture. In my original recipe, I used a whole cup of vegetable oil. Over time, I really felt like that was far too much oil, and the flavor of the oil overwhelmed the flavor of the vanilla. For a much better flavor, but a cake that's still very moist, I now use 1/2 cup melted butter + 1/2 cup vegetable oil.
Using only baking powder. In my original recipe, I used both baking soda and baking powder. Baking soda is stronger than baking powder, and it seems to leaven this vanilla cake too aggressively, which can lead to a fallen center for high altitude bakers. To stabilize the leavening process, I now use only baking powder for a slower, steadier rise that ensures the cake won't fall.
You Might Also Like
---
Favorite Products
---
Did you love today's recipe? Please rate the recipe and let me know in the comments what you thought! Also, be sure to follow Curly Girl Kitchen on Instagram, and tag me when you try one of my recipes so I can see all your delicious creations!
High Altitude Vanilla Cake
A soft, moist vanilla buttermilk cake, made with real vanilla bean, frosted with vanilla buttercream.
All recipes on Curly Girl Kitchen are developed for high altitude at 5,280 feet.
Ingredients
Cake
1 ½

cups

granulated sugar

½

vanilla bean, seeds scraped

3 ¼

cups

cake flour,

spooned and leveled, then sifted

3

tsp

baking powder

1

tsp

coarse Kosher salt

(if using table salt, use half the amount)

2

large eggs

2

large egg whites

1 ½

cups

whole buttermilk,

room temperature

½

cup

unsalted butter,

melted

½

cup

vegetable oil

2

tsp

vanilla extract
Buttercream
2

cups

unsalted butter,

softened to room temperature

½

vanilla bean, seeds scraped

4

cups

powdered sugar

1

tbsp

meringue powder

(optional)

¼

tsp

coarse Kosher salt

(if using table salt, use half the amount)

2

tsp

vanilla extract

2-4

tbsp

milk or cream,

if needed
Instructions
Cake
Preheat the oven to 350F and spray the bottoms of three 8-inch cake pans with non-stick spray.

In a large bowl, measure out the sugar.  Scrape the seeds from the vanilla bean pod and use your fingers to rub the seeds into the sugar until very fragrant and the seeds are evenly dispersed throughout the sugar.

Set a fine mesh sifter over the bowl of sugar, and sift in the cake flour, baking powder and salt.  Use a whisk to combine the dry ingredients well.

In another large bowl, whisk together the eggs, egg whites, buttermilk, melted butter, oil and vanilla extract until smooth.

Add the dry ingredients to the wet, and whisk until combined and smooth, about 10-15 seconds.  Divide the batter between the cake pans.  Tap a few times against the counter to pop any large air bubbles.

Bake the cakes for about 21-25 minutes, or until a cake tester or a toothpick comes out clean, and the tops spring back when lightly touched.

Set the pans on a wire rack, cover them loosely with a clean kitchen towel, and cool completely before frosting.  When ready to frost and assemble the cake, remove the cakes from the pans.
Buttercream
In the bowl of your stand mixer fitted with the whisk attachment, beat the butter and vanilla bean seeds for 1 minute until smooth.

With the mixer running on low, add the powdered sugar by spoonfuls, the meringue powder and the salt, mixing until thick and combined.

Add the vanilla and the milk; increase speed to medium and whip for 4-5 minutes, scraping the bowl down several times, until light and fluffy.

Fill and frost the cooled cakes with the buttercream.
Notes
Leftover cake should be stored in an airtight container or cake carrier, at room temperature, for up to 3 days.
Recipe Updates:  Note that I originally developed and published this recipe in 2015, but in re-testing and improving the recipe over the years, I've updated it to the current recipe that's now published in this post.  For those of you who have made and love the first recipe, here is the original list of ingredients.  The mixing and baking instructions are the same.
2 3/4 cups all-purpose flour
1 3/4 cups granulated sugar
1 1/4 tsp baking soda
1 1/4 tsp baking powder
1 tsp coarse Kosher salt
2 large eggs + 2 egg whites
1 1/2 cups buttermilk (or 1 1/2 cups whole milk + 1 1/2 tbsp white distilled vinegar)
1 cup vegetable oil
2 tsp vanilla extract.
https://curlygirlkitchen.com/