Making a really good blondie that stays soft and moist for longer than a day isn't as easy as it seems it should be. Most blondie recipes that I've tried are great the first day when they're fresh from the oven. And then after that, even though they're still tasty, they just seem to dry out quickly. The secret to the amazing flavor and just-baked freshness of these chocolate chip blondies is cookie butter. Trust me, these soft and chewy, high altitude Cookie Butter Blondies that are loaded with dark chocolate chips are the last blondie recipe you need to try! And as a bonus, these blondies are so easy to make, with just a bowl and spoon.
Looking for more high altitude cookie bar recipes? Don't miss these hazelnut maple sugar cookie bars, chocolate chip cookie brownies, and strawberry blondies.
This site contains affiliate links. As an Amazon associate, I earn from qualifying purchases. This means that I may make a small commission if you purchase a product using those links. This in no way affects my opinion of those products and services. All opinions expressed on this site are my own.
What is Cookie Butter?
So, first, what exactly is cookie butter? Also known as Biscoff, cookie butter is basically a spread made of speculoos cookie crumbs. The speculoos or biscoff cookies are spiced, crisp shortcrust cookies, with subtle hints of gingerbread and caramel, which contributes delicious flavor to the cookie butter. The cookies, along with vegetable oil, condensed milk and sugar, are ground and mixed until they become paste-like and spreadable, much like the consistency and texture of creamy peanut butter.
While similar in appearance and texture to peanut butter and other nut butters, cookie butter does not offer the same health benefits as nut butters, due to its sugar content and lack of protein. However, Biscoff or cookie butter is a great alternative when a recipe calls for a nut butter, and you need to make the recipe nut-free.
Ingredients
Unsalted Butter. Adds fat, flavor, moisture and richness to blondies.
Cookie Butter. Cookie butter, or Biscoff, keeps these blondies moist, and adds a sweet cinnamon flavor.
Granulated Sugar + Dark Brown Sugar. A combination of sugars adds sweetness, moisture, and a hint of molasses.
Egg + Egg Yolk. An egg, plus an extra yolk, adds structure and binds the dough together.
Vanilla Extract. Use a good-quality vanilla extract for the best flavor.
All-purpose Flour. Adds structure and strength to the cookie dough.
Corn Starch. A little corn starch is the key to keeping your blondies soft and chewy.
Chocolate Chips. Dark chocolate chips are my favorite, but you can use semi-sweet or even milk chocolate, if you prefer.
Coarse Kosher Salt. Balances the sweetness and enhances the flavors of the cookie butter and chocolate.
Flaky Maldon Salt. To sprinkle on top of the baked blondies, a little flaky salt like Maldon sea salt looks beautiful and tastes just delicious.
Instructions
You'll love how easy these chocolate chip cookie butter blondies are to make. No mixer, and no creaming together of butter and sugar. Just mix together the ingredients with a spoon and bake.
Melt the Butter and Cookie Butter.
So while your oven is preheating, you can quickly mix up your cookie butter blondie batter. First, melt unsalted butter in a small saucepan. Remove from the heat, and stir in the cookie butter until melted and smooth.
Stir in the Sugar, Egg and Vanilla.
To the melted butter and cookie butter, mix in the sugars. It will look grainy and not very pretty at this point. Mix in the egg, egg yolk and vanilla, and suddenly the batter will emulsify into a smooth, ribbony consistency.
Add the Dry Ingredients.
Now add all-purpose flour, corn starch and coarse Kosher salt, stirring just until combined. Stir in the chocolate chips, using your favorite, whether they're dark, semi-sweet or milk chocolate.
Bake and Cool.
Press the batter into your prepared 8×8 inch baking pan, and sprinkle the batter with a few more chocolate chips. I like to line my baking pans with parchment paper, so that after the cookie butter blondies are cooled, I can lift them out by the paper and easily cut them into bars. If you don't use paper, be sure to spray your pan with non-stick spray.
These blondies will only bake for 22 minutes. The top will be a beautiful golden brown, but the center will still be quite gooey, so it's important to let them cool completely before attempting to cut them into bars.
Cookie butter blondies are fantastic on their own, or served with a scoop of ice cream, and they'll make the best chocolate chip cookie bar ice cream sundae you've ever tasted!
Frequently Asked Questions
What is the difference between a brownie and a blondie?
While brownies and blondies are both classified as cookie bars, there are a few notable differences. Brownies are usually made with granulated sugar, cocoa powder of course, and only a small amount of flour. Blondies are a vanilla version of brownies, so they have more flour and no cocoa powder. Blondies are also usually made with brown sugar for a hint of molasses and caramel.
Is cookie butter a good substitute for nut butters?
Since cookie butter has such a similar consistency to nut butters, it's a great replacement for nut butters in baking. Keep in mind that cookie butter contains sugar, though, so it will add a little extra sweetness.
Can I make these blondies gluten free?
Yes, you can easily make gluten free blondies by using your favorite measure-for-measure gluten free flour in this recipe.
What does the corn starch in this recipe do?
The corn starch tenderizes the dough and keeps the baked blondies soft and chewy.
Should blondie recipes have baking powder in them?
Some blondie recipes contain baking powder and some don't. In testing this recipe, the version with baking powder tended to bake up with puffy edges and a flat center. So instead of baking powder, I added an extra egg yolk, which leavened the dough more evenly so that the bars were an even thickness all across.
Is this blondie recipe cakey or chewy?
These bars aren't at all cakey, and are very moist, dense, soft and chewy.
Why are my blondies turning out dry and crumbly?
Your blondies are dry because you're over-baking them. These cookie bars only need to be baked for 22 minutes, and then they continue to cook and set after they're removed from the oven so they stay soft and moist.
How long do these stay soft and chewy?
These will stay moist for at least 3 days, maybe longer. The cookie butter keeps them soft and moist.
Can I freeze the baked blondies?
Yes, you can certainly bake the blondies ahead of time, wrap them well, and freeze for 3-6 months.
You Might Also Like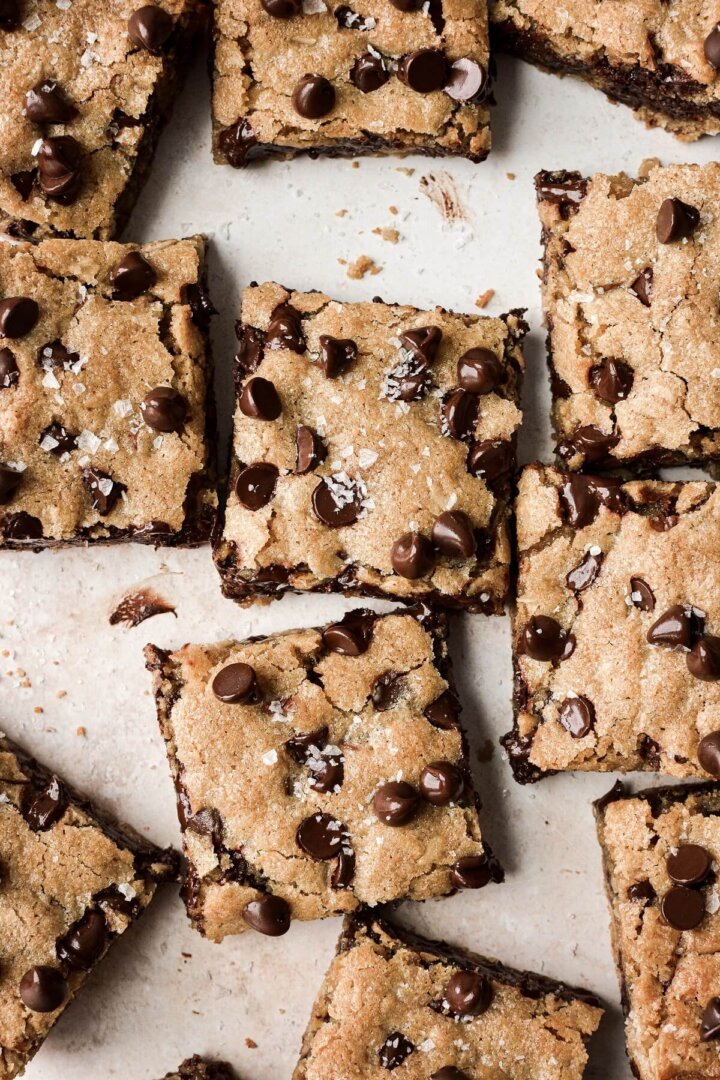 ---
Favorite Products
---
Did you love today's recipe? Please rate the recipe and let me know in the comments what you thought! Also, be sure to follow Curly Girl Kitchen on Instagram, and tag me when you try one of my recipes so I can see all your delicious creations!
High Altitude Cookie Butter Chocolate Chip Blondies
Soft, moist and chewy chocolate chip blondies made with rich and creamy cookie butter.
All recipes on Curly Girl Kitchen are developed for high altitude at 5,280 feet. See FAQs for adjusting to higher or lower elevations.
Ingredients
6

tbsp

unsalted butter

¼

cup

cookie butter

¼

cup

granulated sugar

½

cup

dark brown sugar

1

large whole egg

1

large egg yolk only

(save the extra white for another use)

2

tsp

vanilla extract

1

cup

all-purpose flour,

spooned and leveled

2

tbsp

corn starch

½

tsp

coarse Kosher salt,

(if using table salt, use half the amount)

⅔

cup

semi-sweet, dark or milk chocolate chips
Instructions
Preheat the oven to 350, and line an 8×8 inch square pan with parchment paper, so that the paper hangs over the edges slightly.

Melt the butter in a small saucepan over medium heat. Remove from the heat, and stir in the cookie butter until melted.

Scrape the melted butter and cookie butter into a bowl, and add the granulated sugar and dark brown sugar. Stir until combined, although the mixture will be grainy.

Stir in the whole egg, egg yolk and vanilla, until the mixture is smooth with a "ribbony" consistency"

Separately, combine the flour, corn starch and salt. Add the dry ingredients and stir just until combined.

Briefly fold in the chocolate chips, reserving 2 tablespoons to sprinkle over the top of the batter.

Press the dough into the prepared pan. Sprinkle the 2 tablespoons chocolate chips over the batter.

Bake on the center oven rack for about 22 minutes. The bars should appear golden brown and slightly puffed.

Cool completely (at least 4 hours) before removing from the pan by lifting up the parchment paper, and cutting into bars. Sprinkle with extra sea salt or flaky finishing salt, if you like.
Notes
Store the cooled bars in an airtight container at room temperature, for up to 3 days, or wrap them well and freeze for 3-6 months.
This recipe can also be doubled and baked in a 9×13 pan.  The baking time for a double batch will be about 22-25 minutes.
https://curlygirlkitchen.com/