Last month, our oldest son turned three. I know everyone says, how do they grow up so quickly? But I really do wonder that every day. I can't believe how big and talkative and smart and sweet he is, and I'm so grateful to have such a wonderful little boy to love and care for. One of his favorite cartoons to watch lately is Goldie and Bear, so I knew I had to make him a Goldie and Bear cake.
I was inspired by a Winnie the Pooh Cake I found on Pinterest, which was done in all fondant, but I wanted to make mine with just buttercream. This adorable Goldie and Bear cake captures the feeling of a summer day in Fairytale Forest, with rolling, grassy hills and flowers, blue skies and a tree for climbing. The only thing I didn't do in buttercream were the Goldie and Bear characters, which I drew by hand onto edible sugar sheets.
This site contains affiliate links. As an Amazon associate, I earn from qualifying purchases. This means that I may make a small commission if you purchase a product using those links. This in no way affects my opinion of those products and services. All opinions expressed on this site are my own.
Instructions
Cake.
I started by frosting four six-inch layers of carrot cake with white cream cheese buttercream. For this design, you'll want a fairly tall cake, or you won't have enough height for the tree.
Frosting.
After crumb-coating and chilling the cake, I tinted some of the buttercream light green and blue. I dabbed the blue and green frosting onto the sides of the cake and swept it all smooth so it blended in beautifully. The blended watercolor effect looked like rolling green hills against blue skies and fluffy white clouds.
Details.
Tree. After chilling the cake well, I was ready to decorate with more details. I piped dark brown buttercream up the side and around the top of the cake in the general outline of a tree and branches. To give it more dimension, I added a bit of light brown and white on top, then used a small icing spatula to blend it together and give it the texture of bark. I just love how it looks! The three colors blended together give a much more realistic impression of a tree than just using one solid color. I really loved how the tree looked against the buttercream backdrop, and it would be the perfect blank canvas for pretty much any character you would want to place in front of the cake.
Grass, Leaves and Flowers. I used a small paint brush to brush darker green buttercream up the bottom edge to resemble grass, and piped leaves and flowers here and there.
Goldie and Bear. Lastly, I made the Goldie and Bear characters by painting them onto an edible sugar sheet with gel food coloring.
When Phoenix woke up from his nap that afternoon, he excitedly came downstairs, saw his cake sitting on the table, and couldn't stop smiling. He wanted to practice blowing his candles out over and over again.
Be sure to read all of my BAKING FAQs where I discuss ingredients, substitutions and common questions with cake making, so that you can be successful in your own baking! I also suggest reading these comprehensive posts on making Perfect American Buttercream, How to Stack, Fill, Crumb Coat and Frost Layer Cakes and How to Use Piping Bags.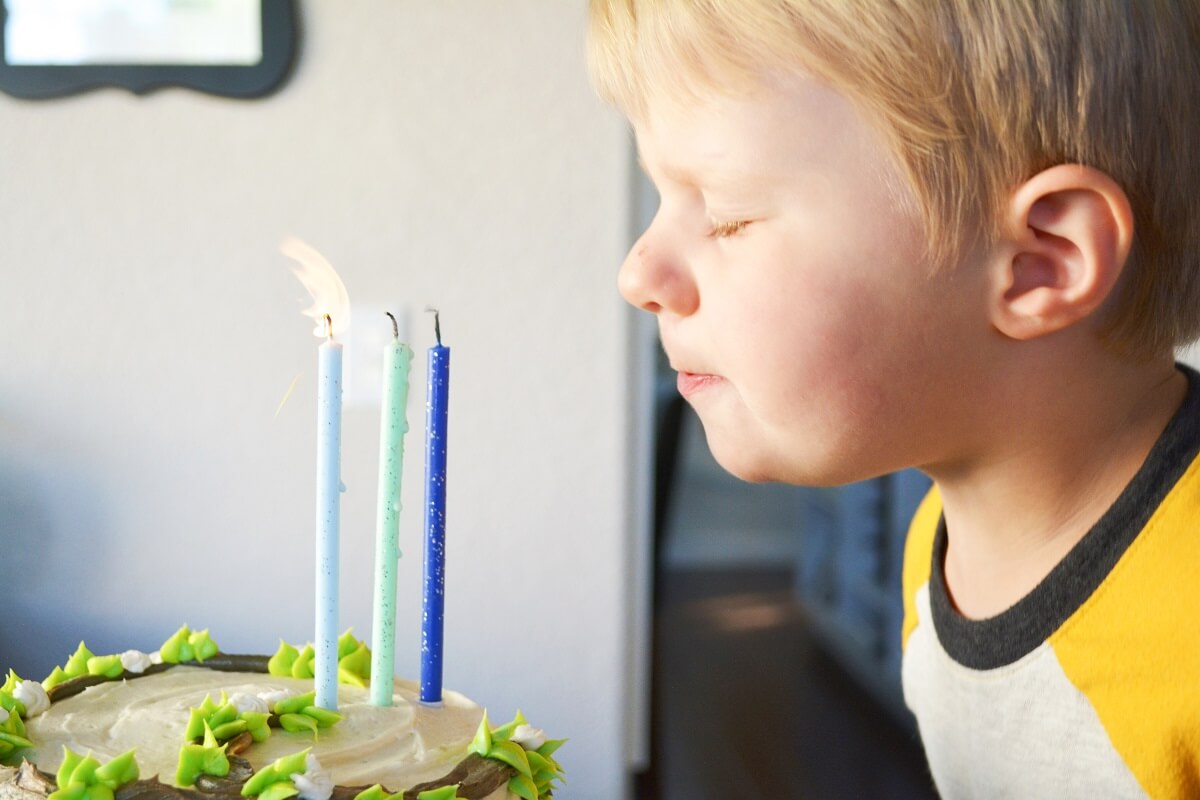 You Might Also Like