It's been such a busy week of cookie baking!  I wanted so much to create a really beautiful Christmas cookie box with an assortment of shortbread Christmas cookies, so I've just been baking up a storm in our kitchen. My goal of making and decorating this many different cookies in just a few days was maybe a little overly ambitious.
All together, I made 8 different cookies this week, and all of the recipes are linked at the bottom of this post. I loved creating and styling this Christmas cookie box – and my boys loved sampling all the cookies – so I hope to make this a yearly Christmas tradition.
This site contains affiliate links. This means that we may make a small commission if you purchase a product using those links. This in no way affects our opinion of those products and services. All opinions expressed on this site are our own.
Shortbread Christmas Cookies
I love shortbread, so I decided to do a variety of shortbread flavors for our cookie box, in addition to a few other cookies and treats.  My vanilla shortbread recipe holds its shape beautifully for cutout cookies, and doesn't spread while baking, which makes it perfect for Christmas cookies. I prefer it to any sugar cookie recipe I've ever tried.
Although all this cookie baking was a lot of work, I'm not one to back down from a baking project once I've begun. So on the first day, I made all the dough, one batch right after the other, then wrapped and labeled everything to chill for a bit. After making and chilling the dough, I set to work rolling and cutting the cookies, which is my three-year-old's favorite part. He absolutely loves rolling out dough (and eating it) and using all my cookie cutters.
There was vanilla bean shortbread, which I made into tiny little cookie houses. I mean, how adorable are they? I'm so in love with them. I made them using this gingerbread house cookie cutter, and it worked perfectly.
Then there was almond shortbread, with almond icing and crushed almonds on top. So good. I also made maple pecan shortbread with maple icing, crushed pecans and toffee bits, which ended up being my husband's favorite. And chocolate shortbread trees, with snickerdoodle buttercream tinted a deep woodsy green.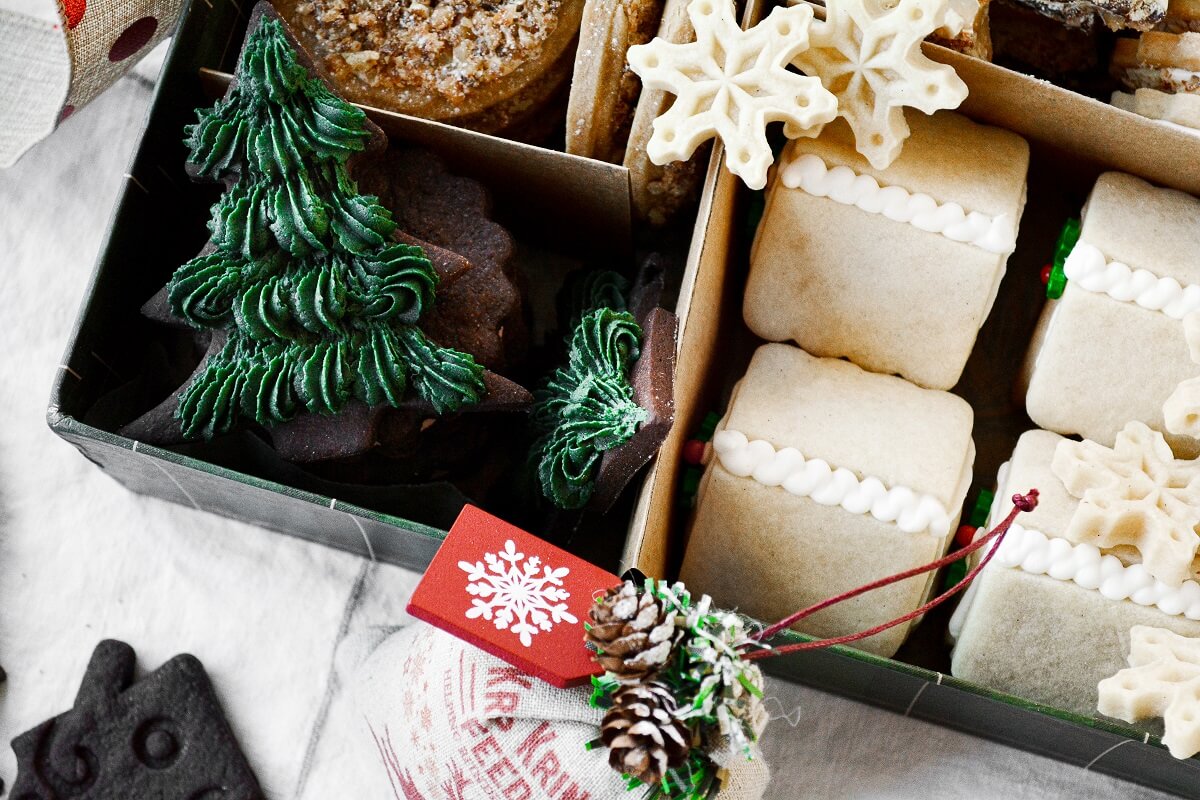 Other Cookies for our Shortbread Christmas Cookies Box
I also made soft and chewy peanut butter chocolate chip blondies. Then there were soft chocolate sugar cookies filled with pink peppermint buttercream. And, last but not least, homemade English toffee, which I only make once a year for Christmas.
Those little houses were definitely my favorite to decorate. I was so excited to use my new cutter, and I had the dough all ready to go as soon as the cutter arrived on my doorstop. And I just loved how they turned out. Pretty and sweet, and so little and delicate.
We sampled some of the cookies, gave some away as gifts, and froze the rest for later, so we'll be able to enjoy homemade cookies for a while.
A Christmas Cookie Cake
My husband had asked me if I would make a cake for him to take to his department's work party. And I love any excuse to make a Christmas cake! I already had a few extra layers of chocolate cake tucked away in the freezer, so I made a batch of fluffy buttercream flavored with vanilla and orange extracts to give it a pretty white coat. I envisioned a Christmas cookie cake, and it was just so much fun to add cookies and sprinkles and sugar pearls here and there.
The cake was so cute and whimsical, and I just love how it turned out. After I decorated the cake, my three-year-old (who had been observing the process quite intently), exclaimed, "It's beautiful! I'm ready to taste it!"
Christmas Cookie Recipe Links
Vanilla Bean Shortbread (Mini Houses): A double batch of the vanilla bean shortbread makes enough dough for 12 mini houses. Use a stiff royal icing for assembling the pieces. This is the cutter I bought on Amazon.
Chocolate Shortbread (Trees): Substitute 1/2 cup of unsweetened cocoa powder for 1/2 cup of flour in the vanilla shortbread recipe. Chocolate shortbread is a bit more delicate than vanilla, so handle the cookies gently. The chocolate dough also bakes a little quicker. The green buttercream is a Snickerdoodle Buttercream. I used a few drops each of "Forest Green", "Electric Green", and "Super Black" Americolor gel colors to create the deep woodsy green color.
Almond Shortbread: Make the vanilla shortbread recipe, using 1 teaspoon vanilla extract and 1 teaspoon almond extract. Make a basic royal icing recipe, flavored with almond extract, thin enough for flooding. Pipe or spoon the icing onto the cookies. Immediately press the iced top of the cookie into crushed almonds and sprinkle with a small amount of coarse finishing salt.
Maple Pecan Toffee Shortbread: Make the vanilla shortbread recipe, using 1 teaspoon vanilla extract and 1 teaspoon maple extract. Add 1/4 cup finely chopped pecans to the dough. Make a basic royal icing recipe, flavored with maple extract, thin enough for flooding. Pipe or spoon the icing onto the cookies. Immediately press the iced top of the cookie into crushed pecans and toffee bits and sprinkle with a small amount of coarse finishing salt.
Peanut Butter Chocolate Chip Blondies: This recipe is from Half-Baked Harvest. I didn't do the peanut butter swirl throughout the batter, though. These are probably the best, most moist cookie bars I've ever had.
Soft Chocolate Sugar Cookie Sandwiches with Peppermint Buttercream: I used this recipe for soft-baked Homemade Oreos. For the filling, add peppermint extract and red or pink food coloring to the buttercream.
Soft Gingerbread Cookies with Lemon Icing (these cutout cookies are on top of the cake)
---
Favorite Products
---