Developing recipes for my series of Classic Cakes this year has been a fun (and delicious!) project to take on. And today's classic cake is an Orange Cake.  Although winter is technically citrus season, oranges are available all year 'round, and summer just seems like the right time of year to be making all things orange and lemon, if you ask me.
With their bright, sunshiny color and tart sweet flavor, oranges are perfect for summer cakes and desserts.  This cake is so light, fluffy and moist, full of wonderful fresh orange flavor, with a perfectly sweet orange buttercream and a little almond paste sprinkled between the cake layers to complement the orange.
This site contains affiliate links.  This means that we may make a small commission if you purchase a product using those links.  This in no way affects our opinion of those products and services.  All opinions expressed on this site are our own.
It's become incredibly important to me to have a thorough archive of reliable, from scratch, high-altitude tested cake recipes on my blog that people can turn to any time they need a cake for any occasion.  I want to inspire confidence in bakers that they can make a homemade cake that is just as easy, and a million times better, than using a boxed mix.
What I love about these Classic Cake Recipes is that they can so easily be adapted to a variety of flavor combinations of cake and buttercream for whatever you're in the mood for.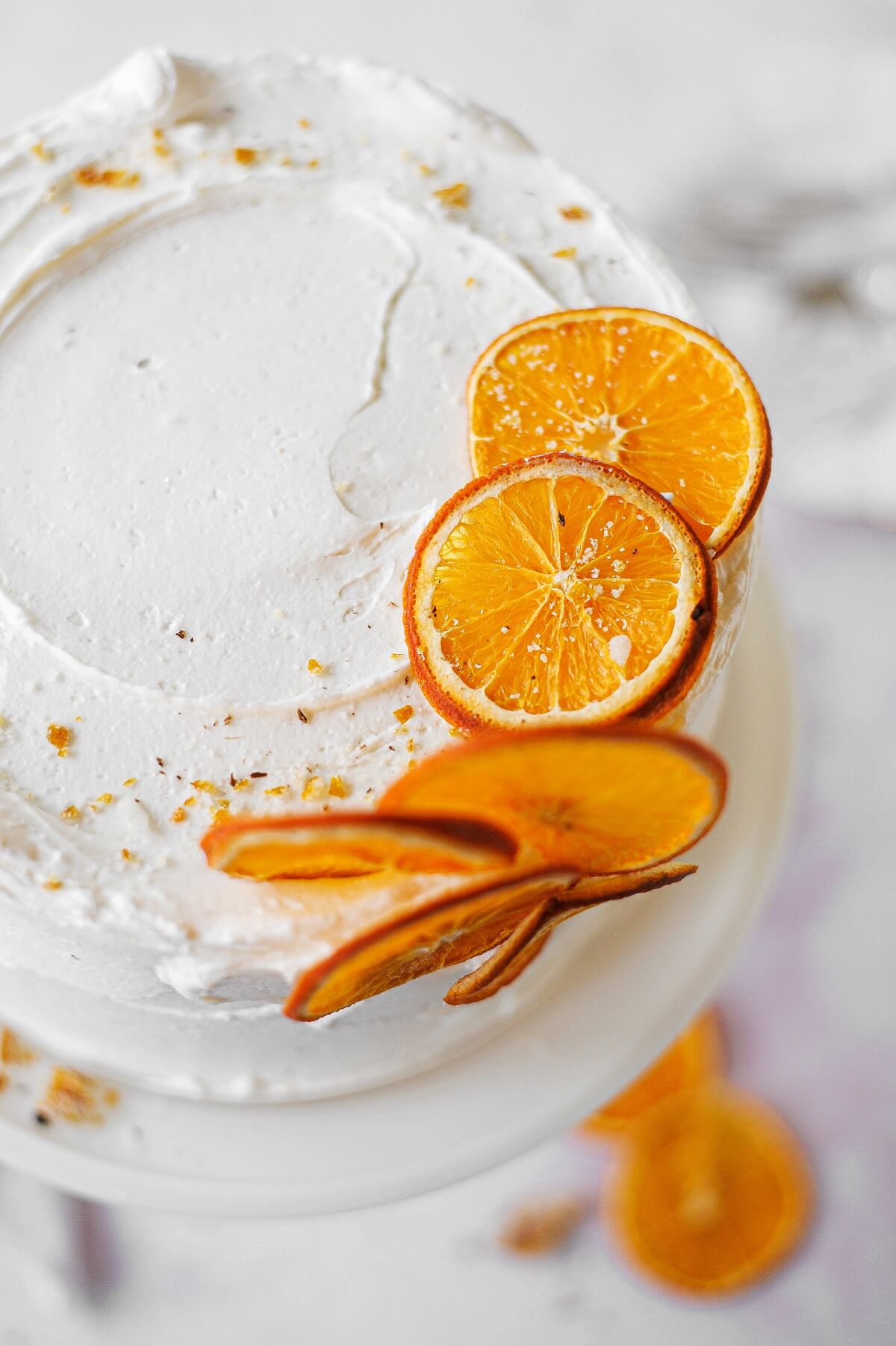 Essential Ingredients for Orange Cake
The starting point in developing this cake recipe was my classic Vanilla Cake. It's one of my most popular cake recipes, and I knew I would be able to adapt it into a delicious orange cake.
Cake Flour. Cake flour is preferred for a very light and fluffy cake, but all-purpose flour can also be used.
Sugar. What's a cake without sugar? Not only does the sugar sweeten the cake, but it also tenderizes it and provides moisture.
Baking Powder. Leavens the cake, making it rise and keeping it light.
Salt. Enhances all the flavors. I always use coarse Kosher salt.
Eggs. Provide structure, fat and richness.
Whole Milk. For moisture, richness and flavor.
Vegetable Oil. For moisture. An oil-based cake tends to be lighter and more moist than a butter-based cake, although butter has a superior flavor. You can substitute melted butter for half of the oil in this recipe.
Vanilla and Orange Extracts. Flavor
Fresh Orange Zest. More of that wonderful fresh orange flavor. For even more flavor, take the extra step of rubbing the orange zest into the sugar with your fingers before mixing up the batter.
How to Make Dried Orange Slices for Garnish
Making dried orange slices to decorate a cake is incredibly easy, and while they do have to dry in the oven for a few hours, there's very little active prep time.  They retain a beautiful color when dried on low heat, and can be made ahead of time and stored for later, as well.  You can follow this exact process for oranges, lemons, limes and grapefruit.
Preheat the oven to 175F, and line a baking sheet with parchment paper.
Thinly slice the oranges – about 1/8 of an inch thick is just right.
Lay the orange slices in a single layer on the baking sheet.
Bake on the center oven rack for 2-3 hours, turning the oranges over every 30 minutes and rotating the pan if you have hot spots in your oven, until mostly dry and still vivid in color; don't let them get overly brown, or they won't look as pretty.
Turn off the oven and let them finish drying for several more hours, or overnight.
Place the dried orange slices on the cake, using a bit of buttercream as "glue".
Any leftover orange slices can be stored in an airtight container for as long as they still retain their color.
Obviously, these are not the same thing as candied orange slices, and are intended only as a garnish and not to be eaten, since they will taste bitter and not sweet.  Click here for a recipe for Candied Orange Peel.
Baker's Notes for Making Orange Cake
I used 1 teaspoon orange extract in the cake batter and in the buttercream, and while I thought the orange flavor was just right, my husband thought it was a little too subtle.  If you want a stronger orange flavor, add up to 2 teaspoons extract.
I grated about one ounce of almond paste and sprinkled it over the buttercream between the cake layers, and I thought it added a really nice complementary flavor to the orange.  This is completely optional, though, and is not included in the recipe below.
Note that all of my cakes are baked and tested at high altitude.  Please be sure to review my Baking FAQs to achieve your own perfect results.
You Might Also Like
---
Favorite Products
---
Orange Layer Cake
A moist and tender orange cake, that's flavored with orange zest and orange juice, and frosted with fluffy orange buttercream.
Ingredients
Cake
2 ¾

cups

cake flour (preferred),

or all-purpose flour

1 ¾

cups

granulated sugar

3 ½

tsp

baking powder

½

tsp

coarse Kosher salt

3

large eggs

½

cup

whole milk

1

cup

orange juice

1

cup

vegetable oil

(or 1/2 cup oil + 1/2 cup melted butter)

1

tsp

vanilla extract

1-2

tsp

orange extract

1

tsp

freshly grated orange zest
Buttercream
2

cups

unsalted butter,

softened to room temperature

4

cups

powdered sugar

1

tbsp

meringue powder

(optional)

⅛

tsp

coarse Kosher salt

1-2

tsp

orange extract

1

tsp

vanilla extract

1

tsp

fresh orange zest

2-4

tbsp

milk or cream,

if needed
Instructions
Cake
Preheat the oven to 350F, and spray three 8-inch cake pans with non-stick spray.

In a large bowl, sift together the flour, sugar, baking powder and salt.

Separately, whisk together the eggs, milk, orange juice, oil, extracts and orange zest.  Add the wet ingredients to the dry and whisk well for 30-60 seconds, until well combined.

Divide the batter between the pans.  Bake on the center oven rack for about 28-30 minutes, until a cake tester comes out clean and the centers of the cakes spring back when lightly touched.

Set the pans on a cooling rack, cover loosely with a clean kitchen towel and cool completely before frosting.
Buttercream
In the bowl of your stand mixer fitted with the whisk attachment, beat the butter for 1 minute until smooth.

With the mixer on low, gradually add the powdered sugar, meringue powder, salt, extracts and orange zest, mixing to combine.

Increase speed to medium and whip for 4-5 minutes, scraping the bowl occasionally, until very light and fluffy, adding the milk as needed for desired consistency.

Remove the cooled cakes from the pans.  Stack and fill the cakes, then frost all over with a thin crumb coat of buttercream.  Chill 20 minutes.  Frost with a final coat of buttercream.  Garnish with the dried orange slices.
Notes
The cake should be stored in an airtight container or cake carrier for up to three days.  It can also be baked and frosted in advance, then frozen for several months until needed.