If you love baking with brown butter as much as I do, then you've probably already learned that it makes the most fantastic cookies. My brown butter chocolate chip cookies are absolutely irresistible. That high altitude recipe was actually the starting point for today's high altitude butter pecan cookies. Since they already had the brown butter, and the thick and chewy texture I wanted, I knew it was the perfect beginning to a delicious butter pecan cookie. With the nuttiness of the browned butter, the rich flavor of brown sugar, a noticeable saltiness, and of course, plenty of pecans, these are the perfect cookie for butter pecan lovers.
Looking for more recipes like this? Don't miss this butter pecan pound cake with bourbon icing, butter pecan ice cream, and gooey pecan pie bars.
This site contains affiliate links. As an Amazon associate, I earn from qualifying purchases. This means that I may make a small commission if you purchase a product using those links. This in no way affects my opinion of those products and services. All opinions expressed on this site are my own.
Why You'll Love These Cookies
Butter + Pecans. If you like butter pecan ice cream, you're going to love these butter pecan cookies! The flavor of the brown butter gives them richness and depth, and complements the pecans beautifully.
Perfectly Thick and Chewy. These cookies have faintly crisp edges with chewy centers, and they're the perfect size to satisfy your afternoon cookie cravings.
Make Ahead Dough. It's always nice having a stash of cookie dough in the freezer, and you can freeze this dough in balls to bake up any time you have a craving for warm cookies.
See the recipe card at the end of the post for the full ingredients list and instructions.
Ingredients
Butter. Obviously. I only bake with unsalted butter, so that I can control the saltiness. After browning the butter, it has a lovely nutty fragrance, with golden brown milk solids at the bottom of the saucepan. Those browned bits have so much flavor, so scrape them all up.
Sugar. I use a combination of granulated sugar and dark brown sugar, both for sweetness and moisture.
Egg. Adds structure to the cookies.
Vanilla Extract. Flavor.
Flour. Usually, I make cookies with all-purpose flour, but I've also experimented with bread flour (which adds a slightly chewier texture) and rye flour (which contributes a nice nutty flavor and hearty texture).
Baking Soda. Leavens the cookies, making them puff up just a bit.
Salt. The salt adds flavor, and balances the sweetness. With a butter pecan cookie, you really want to be able to taste the salt.
Pecans. Chopped pecans are baked all throughout the cookies, and for a pretty presentation, press a pecan half on top of the dough. It looks just beautiful.
Instructions
Brown the Butter.
First, you'll need to brown (and then cool) the butter. Start by melting your butter in a small saucepan over medium heat. Let it continue to cook, just swirling the pan occasionally, for several minutes. The water will evaporate, and the butter will hiss and splatter a bit. Then, a layer of foam will form on top, and if you nudge it aside, you'll see golden brown milk solids on the bottom of the pan. The brown butter is ready.
Pour the brown butter, scraping all those solids off the bottom of the pan, into a bowl. Set it aside to cool to room temperature until it returns to a solid.
Cream the Brown Butter and Sugar.
Now, cream the cooled brown butter with your sugar for several minutes until light and fluffy. Then, gently mix in the egg and vanilla.
Add the Dry Ingredients.
Combine the flour, baking soda, salt and chopped pecans. With the mixer on low, mix in the dry ingredients, just until moistened.
TIP: It's normal for the cookie dough to be a touch dry or crumbly, rather than wet or sticky. But it will stick together when you roll it into balls.
Portion out the Dough.
I use a cupcake scoop/ice cream scoop with release lever, to easily portion out the dough so that my cookies are all exactly the same size (which helps them to bake evenly). After I portion out all the dough balls, I roll them between my hands to smooth out their surface. Place them on a parchment lined baking sheet, and lightly press a pecan half on top of each.
Chill then Bake.
Most cookies baked at high altitude benefit from chilling the dough first. The chilling lets the flavors mingle a bit, as well as prevents the cookies from spreading too much while baking. These are fairly large cookies, and very cold after chilling, so I bake them for about 13 minutes. The edges are lightly crisp, with chewy centers, just the way I like them.
Your house will smell incredible while these butter pecan cookies are baking. It will be filled with the scent of butter and pecans, and you'll have a hard time letting the cookies cool before you taste them!
Be sure to read all of my BAKING FAQs where I discuss ingredients, substitutions and common baking questions, so that you can be successful in your own baking!
Frequently Asked Questions
Should I use raw or salted pecans?
Preferably, use raw, unsalted pecans. If you only have salted pecans, you should reduce the salt in the recipe by half.
Can I skip the step of browning the butter first?
You could, but it's a simple step that adds so much more flavor to these cookies.
Will this recipe work for smaller cookies?
I have only tested this recipe with big, thick chewy cookies. If you make smaller cookies, you'll need to reduce the bake time, and they probably won't be as thick or chewy.
Is the dough supposed to be crumbly?
This cookie dough is a touch dry and crumbly, but will stick together when you roll it into balls.
You Might Also Like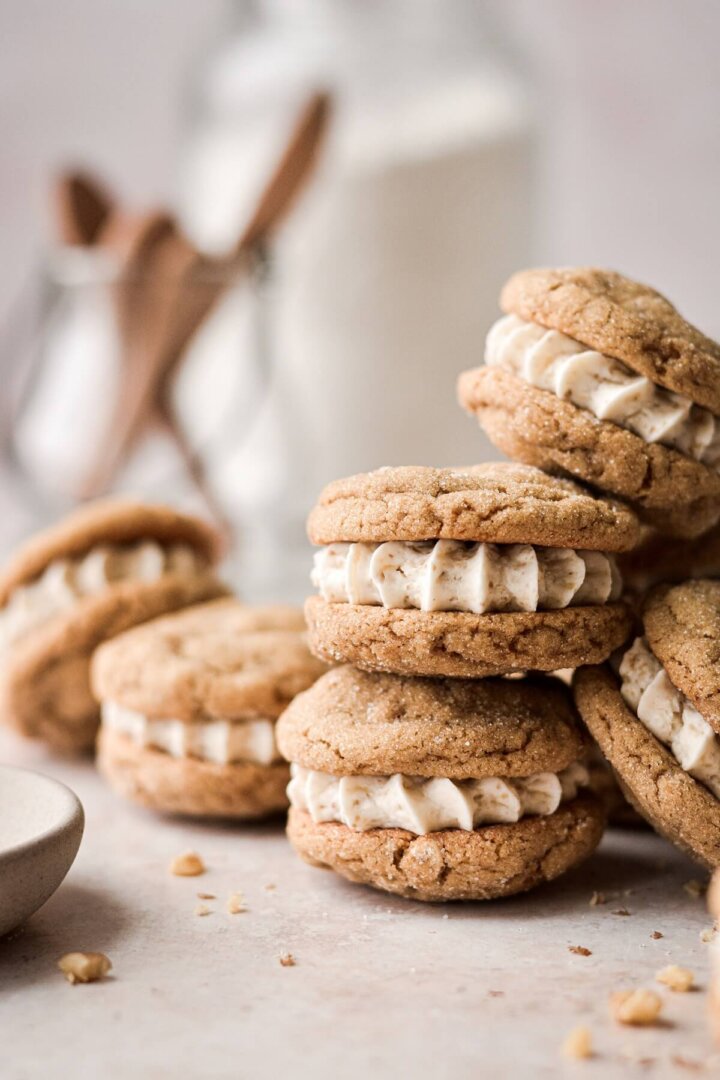 ---
Favorite Products
---
Did you love today's recipe? Please rate the recipe and let me know in the comments what you thought! Also, be sure to follow Curly Girl Kitchen on Instagram, and tag me when you try one of my recipes so I can see all your delicious creations!
High Altitude Brown Butter Pecan Cookies
Thick and chewy cookies made with brown butter and crunchy pecans, for a sweet and salty treat.
All recipes on Curly Girl Kitchen are developed for high altitude at 5,280 feet. See FAQs for adjusting to higher or lower elevations.
Equipment
Stand Mixer with Paddle Attachment
Ingredients
1

cup (226g)

unsalted butter

¾

cup (162g)

granulated sugar

½

cup (80g)

dark brown sugar,

lightly packed

1

(55g)

large egg

2

tsp

vanilla

2

cups (260g)

all-purpose flour,

spooned and leveled

½

tsp

baking soda

1

tsp

coarse Kosher salt

(if using table salt, use half the amount)

1

cup (236g)

pecans,

roughly chopped

16

pecan halves
Instructions
In a saucepan, melt the butter over medium heat.  Continue to cook the butter, swirling occasionally, until the water evaporates, the butter starts to foam, and the butter forms fragrant, nutty brown solids at the bottom of the pan.

Remove from the heat and immediately pour the hot butter into a bowl, scraping all the browned bits off the bottom of the saucepan with a spatula.

Let the butter cool at room temperature for several hours, until it becomes somewhat solid again.  As the butter cools, it may not become firm enough to hold its shape (depending on how warm your kitchen is), and may remain a little soft and spreadable, but allow it to cool until it is no longer a liquid.

In the bowl of your stand mixer fitted with the paddle attachment, beat the cooled browned butter, granulated sugar and brown sugar for 5 minutes on medium speed, scraping the bowl occasionally, until very light and fluffy.  Gently mix in the egg and the vanilla.

In a separate bowl, combine the flour, baking soda, 3/4 teaspoon salt and the chopped pecans.  With the mixer on low, add the dry ingredients and mix just until combined, briefly increasing the speed to medium to incorporate all of the flour.

Use a cupcake/ice cream scoop to divide the dough into 16 portions.  Shape the dough into balls, and press the pecan halves on top. Place the dough balls in an airtight container and refrigerate for two hours.

Preheat the oven to 350 F and line a large baking sheet with parchment paper.  While the oven is preheating, place the container of dough balls in the freezer for 10 minutes.

Place the frozen balls of dough on the baking sheet, spaced three inches apart.  Bake for about 13 minutes, until the edges are crisp and light golden brown, and the centers are gently puffed and look slightly underdone.  Sprinkle the cookies with the remaining 1/4 teaspoon salt.  Let cool on the pan for 5 minutes, then transfer to a wire rack to cool completely.  As the cookies cool, the soft centers will settle down a bit, leaving a lightly crisp edge around the cookies with chewy centers.

Store cooled cookies in an airtight container for several days, or freeze indefinitely.
Notes
Pro Tip:  If after baking your cookies, your pecans are slightly off-center, gently nudge them perfectly into place while the cookies are still hot.
https://curlygirlkitchen.com/