This White Velvet Cake is perhaps my favorite cake on my blog. Usually, I'm pretty partial to chocolate cake, but this white cake is really something special. This cake has a classic "birthday cake flavor", and is terrific with any flavor of buttercream and filling. It has a subtle buttermilk flavor that's perfectly sweet, with real vanilla bean, and a buttery, velvety soft cake crumb. It's so, so good, and it's the only high altitude white cake recipe I need anymore.
I've tested this particular white velvet cake recipe of mine dozens of times, and I'm so proud of it. It's a butter based cake, with a light but rich texture and a beautiful crumb. The flavor of the cake is exquisite, and an excellent foundation for so many different flavors of buttercreams and fillings. You can fill it with fruit compotes or shaved chocolate, creamy ganache or lemon curd. Frost with a fresh strawberry buttercream, fluffy toasted coconut or a rich chocolate buttercream. There's really nothing you couldn't do with this cake.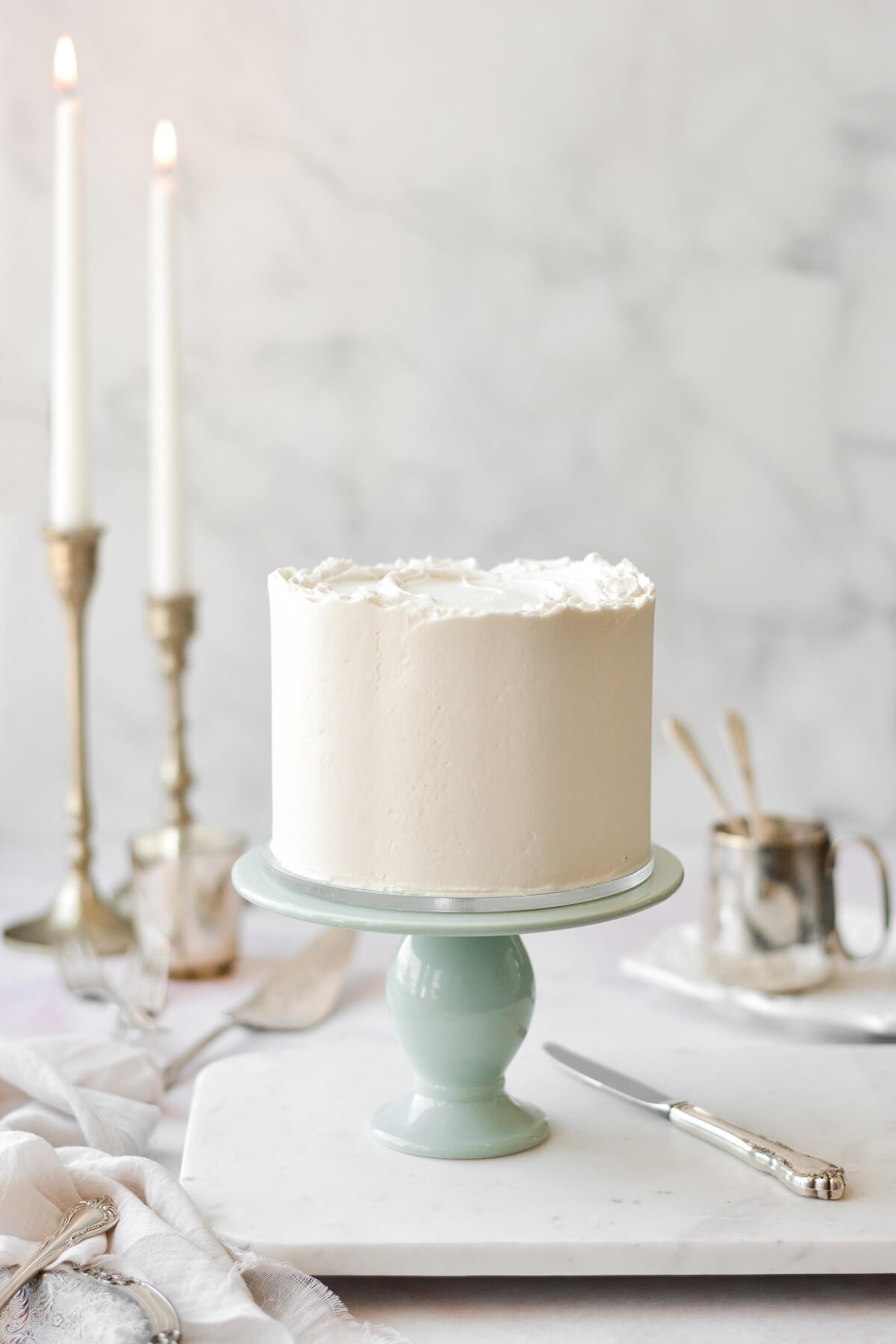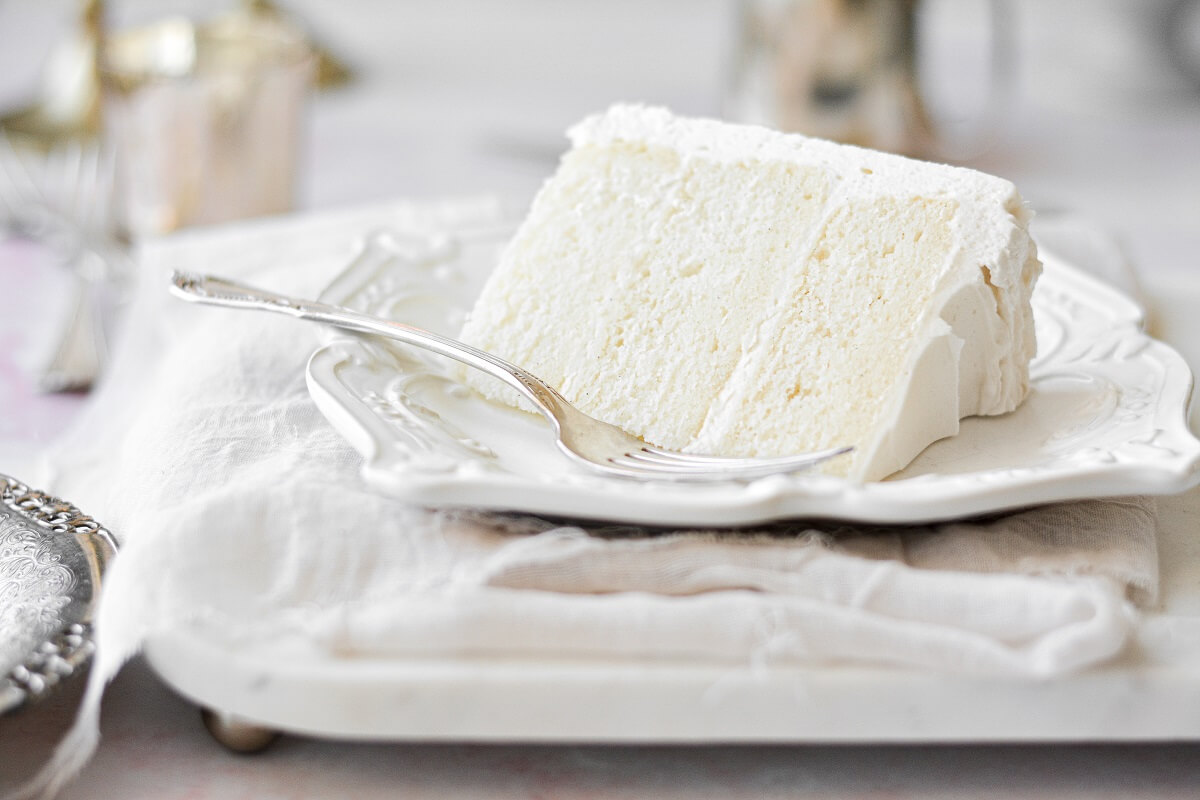 This site contains affiliate links. This means that we may make a small commission if you purchase a product using those links. This in no way affects our opinion of those products and services. All opinions expressed on this site are our own.
How to Make White Velvet Cake
Since white velvet cake is a butter-based cake using softened butter, you'll use the traditional creaming method to mix the cake batter. Beating the butter and sugar incorporates air, making a very light cake, but also lightens the color of the butter for a very white cake. Then, the egg whites are added to the butter/sugar mixture, one at a time, so they properly emulsify into the batter. Lastly, you'll add the dry ingredients, alternating with buttermilk, for a smooth, luxurious batter that bakes up beautifully light, soft and white.
Butter.
Use unsalted, softened butter so you can control the amount of salt in the cake. The butter adds moisture and richness, and when creamed with the sugar, produces a very light, tender cake crumb.
Sugar.
Granulated sugar sweetens the cake and adds moisture. Too little sugar, and your cake will be dry and tasteless; too much sugar will make a sticky gummy cake.
Vanilla Bean.
I used real vanilla bean for the best flavor. You can also use vanilla bean paste or vanilla extract. I've been buying vanilla beans on Amazon, and they're surprisingly inexpensive right now!
Egg Whites.
The egg whites contain protein and add structure to the cake batter. Using only the whites, rather than the whole egg, helps to keep the cake nice and white. The egg whites do not need to be whipped separately. They are simply beaten into the butter and sugar.
Cake Flour.
Cake flour has a lower percentage of protein than all-purpose flour, and makes an incredibly light and fluffy cake. Cake flour is a must for white velvet cake.
Baking Powder.
Leavens the cake and makes it rise.
Salt.
Adds flavor and balances the sweetness.
Buttermilk.
Buttermilk is a fantastic ingredient for cakes, and I love to use it in my cake recipes. It adds a slight tang, and creates a really beautiful soft and tender cake crumb in white velvet cake.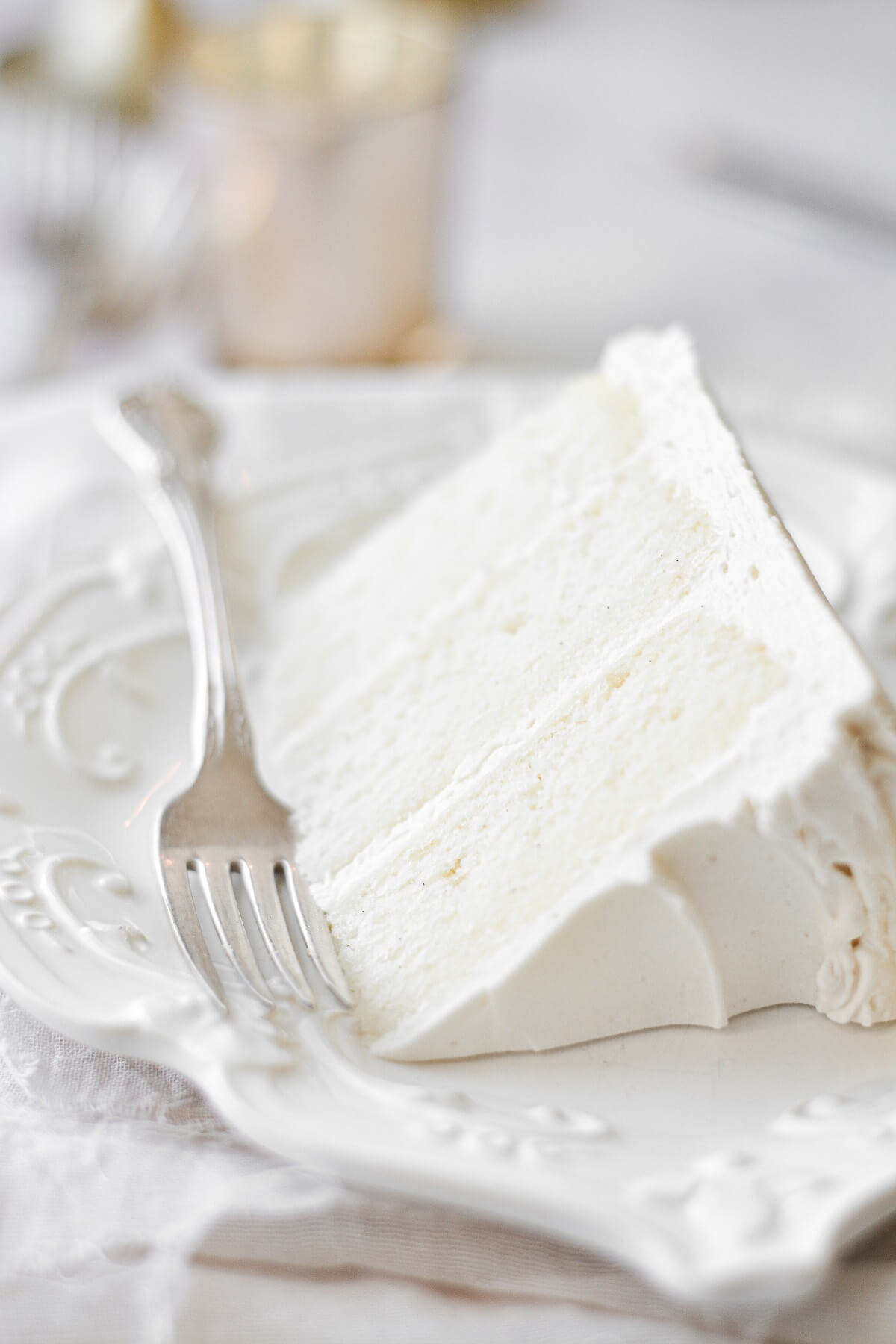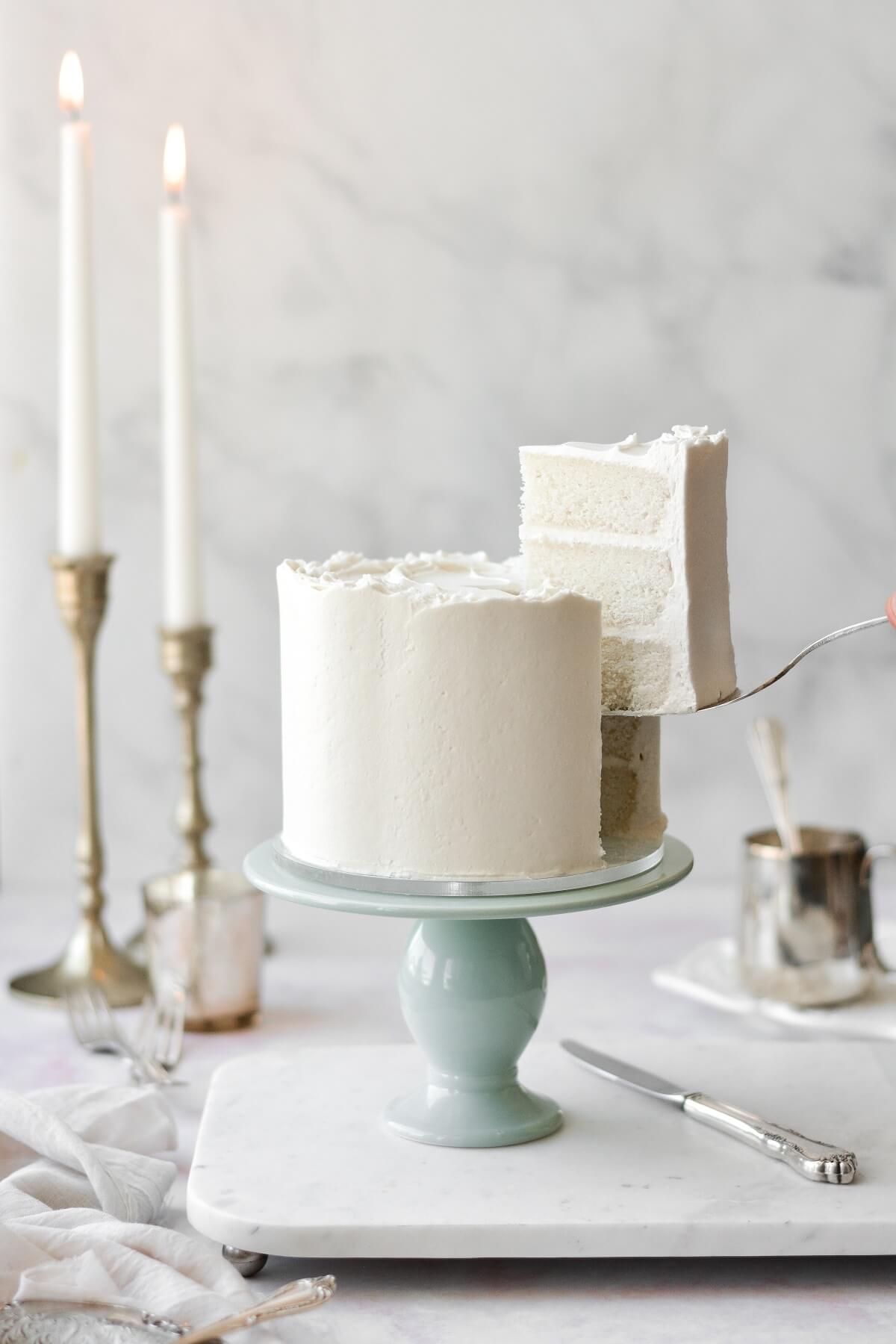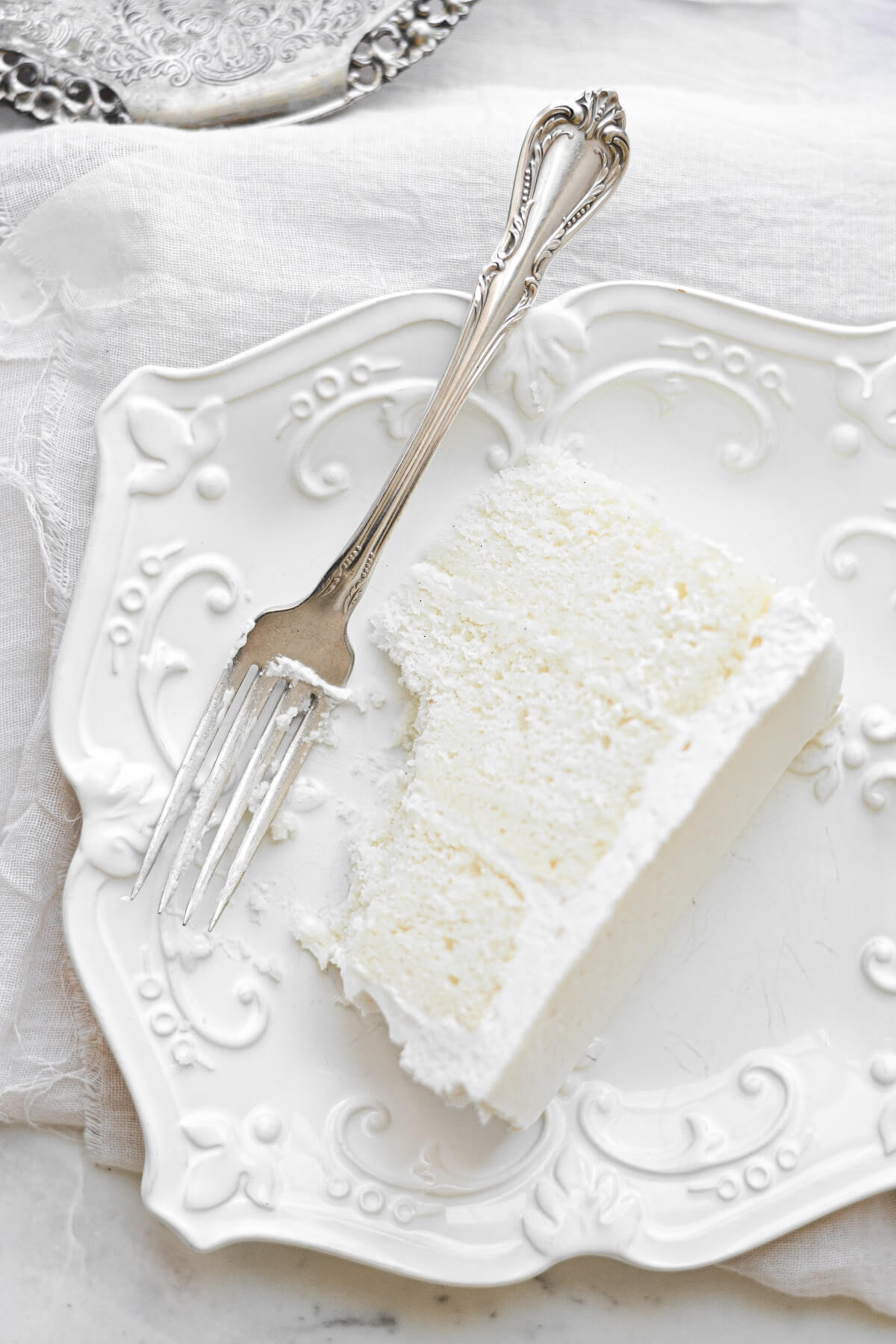 Troubleshooting Common Cake Making Issues
I get so much feedback on my cake recipes. Most of it is positive, but inevitably, there are those that have some trouble getting perfect results. Some of the most common questions I get are these.
Why doesn't my cake look as fluffy as yours?
Why is the texture too dense or rubbery?
Why didn't my cake rise?
Why did my cake fall?
Why is the color yellow instead of white?
I substituted/changed this, that or the other thing, and my cake didn't turn out – why?
I baked this cake in a different size pan, at a different temperature, as cupcakes, etc, and it didn't turn out, why?
Now, there are so many factors that can affect how a recipe, especially a cake recipe, works for one person and not for another. And since I'm not in your kitchen with you, I can't know for certain what went wrong. But I will share my best tips with you to help you become a better baker and achieve wonderful results in your home kitchen.
Cakes vs. Cupcakes.
Not all cake recipes work well as cupcakes, and vice versa. So unless a cake recipe has been tested as cupcakes, there are no guarantees that it will turn out.
Changes and Substitutions.
Once you start making changes, all bets are off. Some changes are minor, and won't affect a recipe much, such as substituting Greek yogurt for sour cream, or adjusting the spices. But swapping oil for butter, substituting gluten free flour for cake flour, cutting the sugar in half, adjusting leavening, etc – these are major changes that will affect your cake. You could end up with a dry, dense rubbery cake that falls flat or has an odd texture.
Even something like cutting a recipe in half could have unintended results. For a batter that needs nothing more than whisking together dry and wet ingredients, I'd say go for it. But for today's white velvet cake recipe, I've experimented with making just half the batter, and the problem is this: since you use the creaming method of beating the butter and sugar, smaller amounts of the ingredients don't fill the bowl sufficiently to allow the paddle to beat everything together. With only half the butter and sugar, the ingredients have the tendency to just stick to the sides of the bowl. So if I want to just make a smaller 6-inch cake, I make the full recipe, but divide the batter between six 6-inch pans, and freeze three of the cake layers for another cake.
If you want to make changes to the ingredients, I'd suggest starting small. Don't try to change too many things at once, or it's unlikely that you'll be perfectly happy with the results.
Oven Calibration.
If your oven is not calibrated correctly, you'll need to use an oven thermometer to make sure your oven is preheating to the correct temperature. My old gas oven ran low, and I had to set it to about 60 degrees hotter than what I was aiming for, something that I quickly discovered after we bought our house and suddenly everything was taking twice as long as it should have to bake. And speaking of ovens – you're not in the bad habit of frequently opening the door to check on things, right? Good. Don't open the oven door until your cake is nearly ready, and then, just briefly to check for doneness.
Room Temperature Ingredients.
Cakes like room temperature ingredients. If your dairy products (eggs, milk, butter) are cold, they won't emulsify correctly in the cake batter, which will affect the texture of your baked cake.
Fresh Ingredients.
If you don't bake often, it's possible that you have expired ingredients in your pantry. In particular, check the expiration dates on your baking powder and baking soda. Replace them if they're no longer fresh, or they may not leaven your cake correctly, resulting in a cake that doesn't rise.
Human Error.
Everyone makes mistakes! You might have measured something wrong, or forgot an ingredient. It happens. I once grabbed a bottle of Worcestershire sauce instead of vanilla extract and added it to chocolate chip cookie dough – you can imagine the result.
Maybe you packed too much flour into your measuring cups (you should be measuring your flour using the "spoon and sweep" method). It could be that you over-mixed or under-mixed the batter. Perhaps you over-baked or under-baked the cake. It could have been a very humid day when you made your cake, which can also affect baking.
Be in the habit of reading a recipe through, from start to finish, and then reading it again, before you get started. Follow the instructions. Don't change things to "try to make it your own", and then get frustrated that it didn't turn out.
High Altitude Baking.
I live in Denver, Colorado, which typically has a very dry climate. We're also over 5,000 feet above sea level, so all of my recipes on my blog are tested at high altitude.  If you live at a lower altitude, or at sea level, you may need to experiment with some adjustments in order to achieve your own perfect results. Generally speaking, for high altitude baking, we use a little more flour and liquid, and a little less sugar and leavening agents, so at low altitude, you would do the opposite. This is a great article on making adjustments for altitude.
Low Altitude or Sea Level Adjustments for White Velvet Cake
I've received feedback from a baker in Ohio who successfully made the following adjustments for baking this cake at low altitude.
"I live in Ohio and these are the alterations I made to the recipe to make up for the altitude. It turned out SO AMAZINGLY PERFECT. Tender and velvety and fluffy. Definitely a new go-to recipe for me!"
1 cup unsalted butter, room temperature
2 1/4 cups granulated sugar
6 egg whites, room temperature
2 cups buttermilk, room temperature
2 teaspoons vanilla extract
3 1/4 cups cake flour (if using all-purpose, remove 6 T of flour; add 6 T of cornstarch)
4 teaspoons baking powder
1 teaspoon salt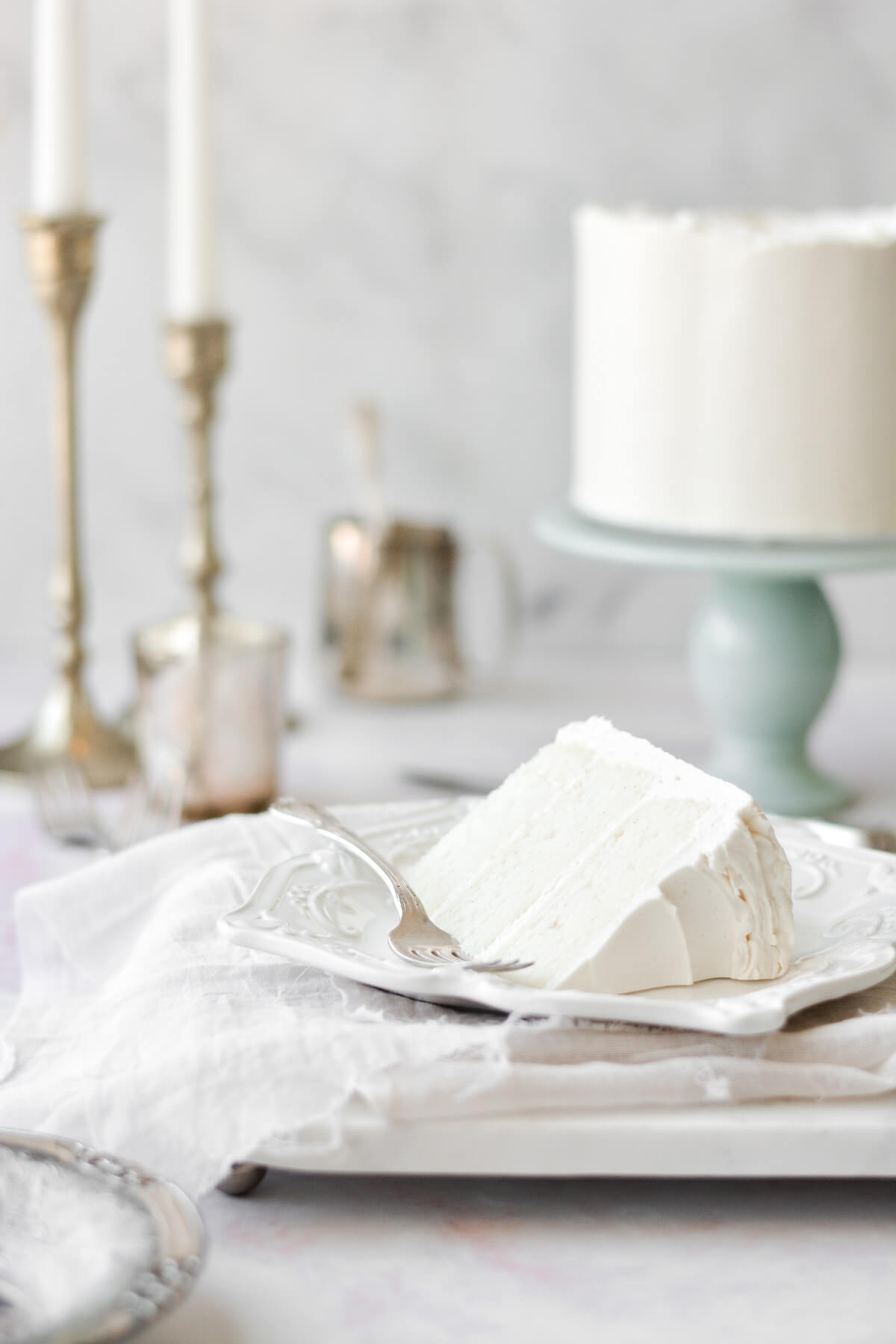 What Frosting to Use for White Velvet Cake
Honestly, the sky is the limit when it comes to frosting this cake! I've included a recipe for a silky, fluffy vanilla buttercream below. If you want to mix it up, then please read through my comprehensive post on How to Make American Buttercream. You'll find recipe variations, and so many tips, for making perfect buttercream.
Chocolate buttercream would be fantastic. Or you could fill the cake with fresh fruit compote, and frost with a whipped mascarpone frosting. Strawberry buttercream would be delicious. Or cream cheese.
You Might Also Like
Chocolate and Vanilla Sour Cream Birthday Cake
Yellow Butter Birthday Cake with Chocolate Buttercream
Toasted Sugar Vanilla Cake with Brown Butter Frosting
---
Favorite Products
---
White Velvet Cake
Velvety, soft and fluffy white cake, flavored with real vanilla bean, frosted with silky vanilla buttercream.
Ingredients
Cake
1

cup

unsalted butter,

softened to room temperature

2

cups

granulated sugar

1

vanilla bean, seeds scraped

(or 2 teaspoons vanilla bean paste)

6

egg whites,

room temperature

3 ¼

cups

cake flour,

spooned and leveled, then sifted

3 ½

tsp

baking powder

1

tsp

coarse Kosher salt

2 ½

cups

whole buttermilk,

room temperature
Buttercream
2

cups

unsalted butter,

softened to room temperature

4

cups

powdered sugar

1

tbsp

meringue powder

(optional)

⅛

tsp

coarse Kosher salt

2

tsp

vanilla bean paste or vanilla extract

2-4

tbsp

milk or cream,

if needed
Instructions
Cake
Preheat the oven to 350 F, and spray the bottoms of three 8-inch cake pans with non-stick spray.

In the bowl of your stand mixer fitted with the paddle attachment, beat the butter, sugar and vanilla bean on medium speed for 10 minutes, scraping the bowl occasionally.

Beat in the egg whites, one at a time, beating each for 10 seconds before adding the next. Scrape the bowl down and beat for 10 more seconds.

In a separate bowl, sift together the flour, baking powder and salt.

With the mixer on low, add the flour mixture in three additions, alternating with the buttermilk, starting and ending with the flour. Use a spatula to scrape the bowl well and incorporate any stray bits of flour.

Divide the batter between the pans. Bake on the center oven rack for about 25-30 minutes, until a cake tester or toothpick comes out clean.

Set the pans on a wire rack, cover loosely with a clean kitchen towel, and cool completely before frosting.
Buttercream
In the bowl of your stand mixer fitted with the whisk attachment, beat the butter for 1 minute until smooth.

With the mixer on low, add the powdered sugar, meringue powder and salt and mix until combined.

Add the vanilla and milk, increase the speed to medium high and whip for 4-5 minutes, scraping the bowl occasionally, until very light and fluffy.

Remove the cooled cakes from the pans. Fill, stack and frost the cake with the buttercream.
Notes
Notes:
Leftover cake should be stored in an airtight container or cake carrier for up to 3 days.
If you don't have three 8-inch pans, you'll either need to bake part of the batter at a time, or use two 9-inch pans instead.  This is too much cake batter to only use two 8-inch pans.
Sea Level Ingredient Adjustments (tested by a baker in Ohio):
1 cup unsalted butter, room temperature
2 1/4 cups granulated sugar
6 egg whites, room temperature
2 cups buttermilk, room temperature
2 teaspoons vanilla extract
3 1/4 cups cake flour (if using all-purpose, remove 6 T of flour; add 6 T of cornstarch)
4 teaspoons baking powder
1 teaspoon salt
Cake Ingredients by Weight:
1 cup unsalted butter = 8 oz / 227 g
2 cups granulated sugar = 15 oz / 425 g
6 large egg whites = 6.6 oz / 190 g
3 1/4 cups cake flour = 13 oz / 368 g
3 1/2 tsp baking powder = 13 g
2 1/2 cups buttermilk = 20 oz / 567 g