A few years ago, I began making my own homemade cranberry sauce for Thanksgiving, and today I'm sharing my recipe for Cranberry Raspberry Sauce. It's tart and sweet, sweetened with seedless raspberry jam and a bit of sugar, and subtly spiced with cinnamon, ginger, nutmeg and cloves. It's quick and easy to make, and is just the perfect holiday side dish to balance out the richness of all the other Thanksgiving dishes.
Cranberry sauce has always been one of my favorite Thanksgiving side dishes. As a kid, I always begged to have the honor of opening the can. I loved watching that bright red cylinder of jellied sauce slide out with a juicy plop onto a plate. Then I'd slice it into circles, which I'd arrange as artfully as I could.
But ever since I began making homemade cranberry sauce, I haven't been able to enjoy the canned stuff anymore. And if you've never made your own cranberry sauce, you won't believe how easy it is to make, and how delicious.
Looking for more cranberry recipes? Don't miss these cranberry pecan shortbread cookies, cranberry Christmas cake, and cranberry almond crumb bars.
This site contains affiliate links. As an Amazon associate, I earn from qualifying purchases. This means that I may make a small commission if you purchase a product using those links. This in no way affects my opinion of those products and services. All opinions expressed on this site are my own.
Why do we eat Cranberries at Thanksgiving?
So while we can't know for sure what was on the menu for that first Thanksgiving harvest meal that the Pilgrims and Native Americans shared together, there's good reason to believe that they might have eaten cranberries. Cranberries are one of the only commercially grown fruits that are native to the United States. And Native Americans were known to eat cranberries, as well as to use them as a natural dye for clothing. Sugar was not widely available in the 1600s, though, so the sweetened cranberry sauce we serve today for Thanksgiving wasn't invented until much later.
In the early 1900s, farmers were still harvesting cranberries by hand, a difficult and time consuming process. But in the 1930s, Ocean Spray introduced wet harvesting, a process involving flooding the cranberry bogs with water, causing the cranberries to loosen from the vines and float to the surface of the water. This new harvesting method made cranberries a much more commercially viable product.
See the recipe card at the end of the post for the full ingredients list and instructions.
Ingredients
Cranberries. This time of year, you can buy bags of cranberries in the produce section at your grocery store. I always put them straight into my freezer, where they will keep indefinitely, until I'm ready to use them. Cranberries are extremely tart, and they need sugar to make them palatable. Cranberries are also high in pectin, which is released when they're cooked, helping to thicken the sauce.
Cranberry Juice. Your sauce needs some liquid, and I like to use cranberry juice, but you could also just use water. When I make my cranberry orange compote, I use orange juice.
Seedless Raspberry Jam. Since fresh raspberries (as well as frozen) are hard to come by in the fall and winter, I use seedless raspberry jam to add raspberry flavor to my cranberry raspberry sauce. If you can only get raspberry preserves with seeds, just warm the jam a little and press it through a strainer to remove the seeds. The jam also contributes sugar to sweeten the cranberries.
Spices. The spices should complement your cranberry sauce, but not overpower it. I like to use cinnamon, ginger, nutmeg and cloves, and they add wonderful warmth and depth to this recipe.
Sugar. Since there is sugar in the jam, as well as in the cranberry juice, I'd suggest tasting your cranberry sauce before adding additional sugar. Of course, if you use a tart, unsweetened cranberry juice, you'll probably want to add a little sugar.
Instructions
In a saucepan, combine all the ingredients, except for the sugar.
Bring to a simmer over medium heat, and continue to simmer for about 20 minutes. As the cranberry sauce cooks, the berries will burst and the sauce will thicken. There's no need to mash the berries, and the sauce looks prettiest if you stop cooking it while there are still some whole berries.
Taste your sauce, adding sugar if needed, and stir to dissolve the sugar.
Remove from the heat, let cool, and serve.
Recipe Variations
Besides this cranberry raspberry sauce recipe, I love making a cranberry orange version, too. All I do is substitute sweet orange marmalade for the raspberry jam, and orange juice for the cranberry juice. It's sweet, sticky, and simply delicious.
My family loves both, and I have a hard time deciding which I like best, so I usually alternate between the two recipes each year.
Pure maple syrup would also be wonderful in cranberry sauce, instead of the granulated sugar. Even honey would be great. For a maple version, I'd even add a teaspoon of vanilla extract.
Serving Ideas
For Thanksgiving, I like to serve this sauce slightly warm, or at room temperature. It looks gorgeous in a compote bowl. Most people eat the cranberry sauce on the side with bites of turkey. Oh, it's so good!
Spoon it over vanilla ice cream.
Serve it with slices of pound cake and whipped cream.
Use the leftovers as a cake filling or in a layered shortbread cookie bar.
Other Thanksgiving Dishes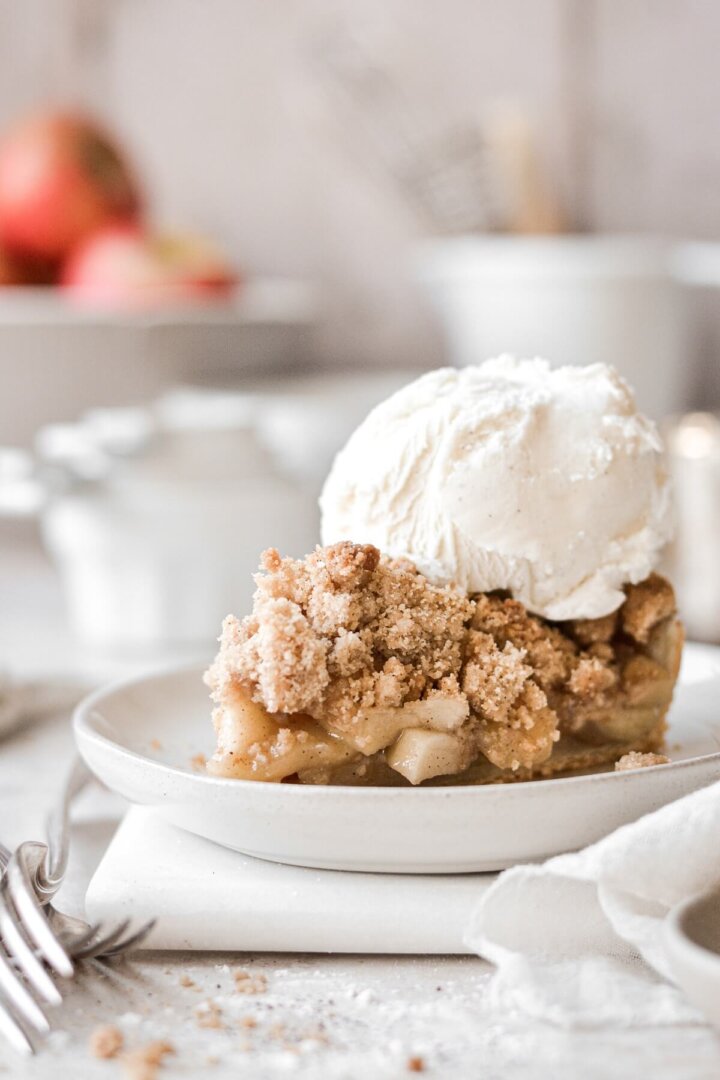 ---
Favorite Products
---
Did you love today's recipe? Please rate the recipe and let me know in the comments what you thought! Also, be sure to follow Curly Girl Kitchen on Instagram, and tag me when you try one of my recipes so I can see all your delicious creations!
Cranberry Raspberry Sauce
This homemade cranberry raspberry sauce is tart and sweet and subtly spiced. The perfect Thanksgiving side dish!
All recipes on Curly Girl Kitchen are developed for high altitude at 5,280 feet. See FAQs for adjusting to higher or lower elevations.
Ingredients
12

oz

cranberries

⅔

cup

seedless raspberry jam

½

cup

cranberry juice

½

tsp

ground cinnamon

½

tsp

ground ginger

¼

tsp

ground cloves

¼

tsp

ground nutmeg

¼ – ½

cup

granulated sugar

(sweeten to taste)
Instructions
In a saucepan, combine the cranberries, raspberry jam, cranberry juice and spices.

Over medium heat, bring to a simmer; reduce to medium low and simmer for about 20 minutes, just until the berries begin to burst and the sauce thickens.

Taste the sauce; if it's too tart, add 1/4 – 1/2 cup granulated sugar, stirring until dissolved. If you used unsweetened cranberry juice, then you will likely need to add sugar, but if you used a sweetened cranberry juice cocktail, then you can add less sugar.

Remove from the heat, and let cool slightly. Serve warm, or at room temperature.
Notes
Cranberry sauce can be made several days in advance and kept refrigerated until you're ready to serve.  You can even freeze the sauce for 3-6 months.
For a Cranberry Orange Sauce, substitute sweet orange marmalade for the raspberry jam, and orange juice for the cranberry juice.  It's a delicious alternative to the raspberry.
https://curlygirlkitchen.com/