Lemon Marmalade is not something you're likely to find in grocery stores.  There's sweet orange marmalade, of course, and that's always been one of my favorite jams.  And then there is lemon curd, sweet, tart, creamy, buttery and delicious on just about everything.  But lemon marmalade is really something special and unique. It's sweet and a little bitter, tart and bright, and makes a fantastic peanut butter and jelly sandwich. It's also easy to make, and only requires three ingredients.
Looking for more homemade jam recipes? You might love these wild blueberry preserves, strawberry rhubarb jam, and bourbon cherry jam.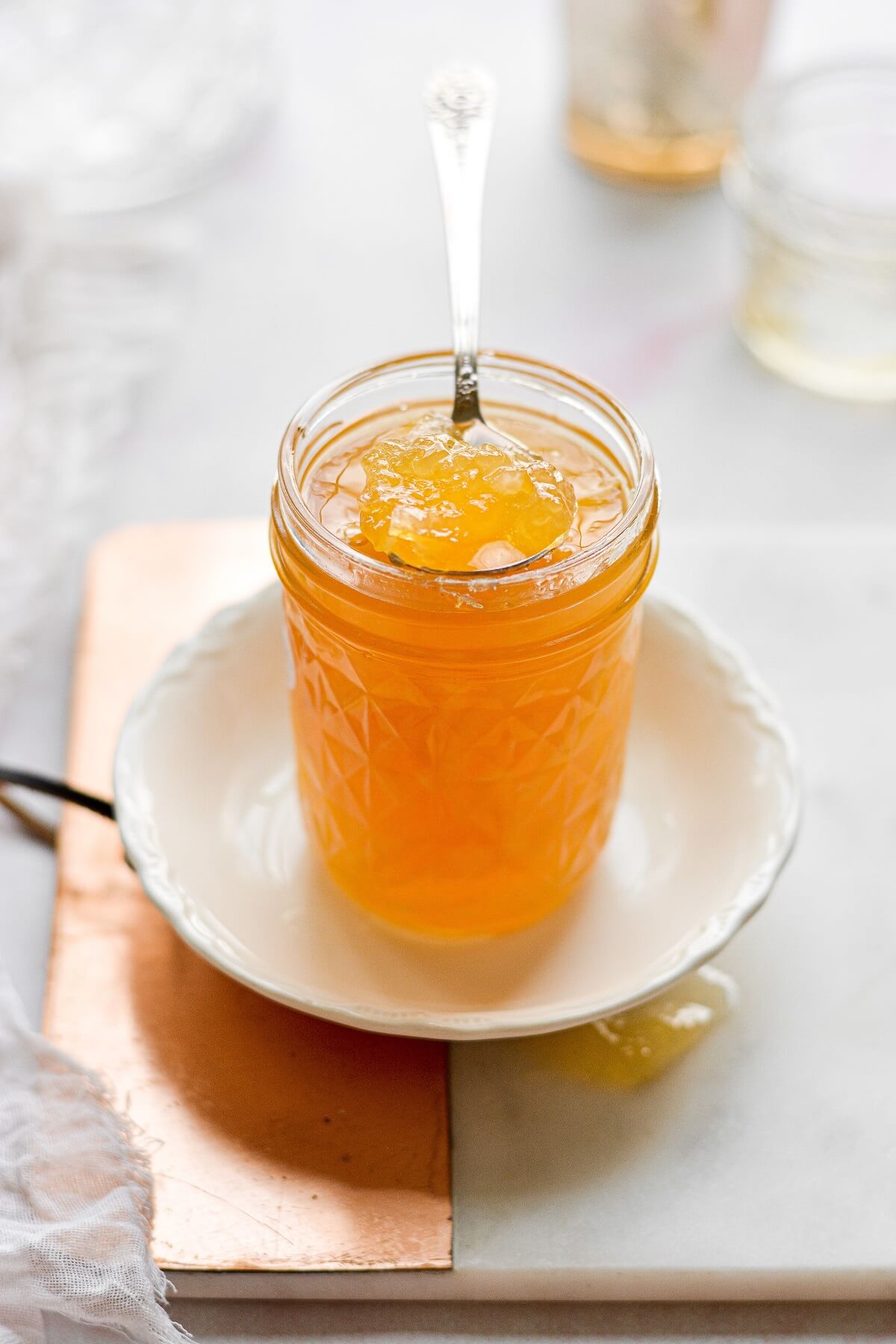 This site contains affiliate links. As an Amazon associate, I earn from qualifying purchases. This means that I may make a small commission if you purchase a product using those links. This in no way affects my opinion of those products and services. All opinions expressed on this site are my own.
What is Marmalade?
Marmalade is a fruit preserve made from the juice and peel of citrus fruits boiled with sugar and water. Originally, marmalade was made with the bitter Seville oranges from Spain or Portugal, which are prized for their high pectin content. In fact, the word marmalade originates from the Portuguese word marmelos, a quince spread similar in texture to an orange spread.
So although orange marmalade is the most popular marmalade, it can also be made from lemons, limes, grapefruits, mandarins, sweet oranges and other citrus fruits. Meyer lemons are sweeter than bitter lemons, and would make a wonderful lemon marmalade as well.
Unlike jam, a large quantity of water is added to the fruit in a marmalade, the extra liquid being set by the high-pectin content of the fruit. In this respect it is like a jelly, but while the fruit pulp and peel is strained out of a jelly to give it its characteristic clarity, it is retained in a marmalade. The peel adds slightly bitter notes to the marmalade, which is balanced with plenty of sugar.
Lemon marmalade is simple to make, just requiring a bit of time to simmer. But it's nothing more than lemons, water and sugar. Essentially, you're just candying the lemons by slowly simmering them in simple syrup. Poured into jars, it thickens when cooled into a perfectly delightful jam that's as good as you could imagine.
Instructions
Thinly Slice the Lemons
Since you're using the whole lemon, be sure to wash them well first to make sure the peel is clean. Cut off the ends of each lemon, then quarter the lemons lengthwise. Slice the quartered lemons as thinly as you can, picking out and discarding the seeds, and making sure to collect all the juice.
Boil the Lemons with Water
Scrape the lemon slices and juice into a saucepan and add water. The reason marmalade requires so much water is because citrus fruits are very high in pectin, which sets and jells marmalades, jams and jellies. Without water, the marmalade would be far too thick and dry. Boil for 30 minutes, to soften the lemons.
Add Sugar and Simmer
Now add the sugar. Quite a bit of sugar. But you need all that sugar because lemons are bitter, and that bitterness needs to be balanced by sugar. In addition, sugar acts as a preservative in jam, helping it to have a longer shelf life.
Simmer the lemons in the water and sugar for about an hour. When you ladle the marmalade into jars, you'll admire its beautiful color and sweet citrus scent.
Serving Suggestions
Lemon marmalade is simply delicious on buttered toast. And it makes a wonderful peanut butter and jelly sandwich. I've even spread it onto slices of chocolate loaf bread, and it was a fantastic combination of rich and bright, sweet and tart.
Marmalade is also great as a glaze on meats like duck or ham. A citrus glazed ham for Easter is one of my favorite meals.
Resources
A helpful resource on making and storing homemade jam and fruit preserves, with a guide on types of pectin, tips for freezing and canning jam, and links to favorite jam recipes:
How to Make and Store Homemade Jam and Fruit Preserves
You Might Also Like
---
Favorite Products
---
Did you love today's recipe? Please rate the recipe and let me know in the comments what you thought! Also, be sure to follow Curly Girl Kitchen on Instagram, and tag me when you try one of my recipes so I can see all your delicious creations!
Lemon Marmalade
A delightful jam that's sweet and tart, made from fresh lemons and sugar. Delicious on toast or a peanut butter and marmalade sandwich.
All recipes on Curly Girl Kitchen are developed for high altitude at 5,280 feet. See FAQs for adjusting to higher or lower elevations.
Ingredients
4

large lemons

(or 8 small lemons)

5

cups

water

3

cups

granulated sugar
Instructions
Wash the lemons and slice off about 1/2 – 3/4 inch from each end. Discard the ends.

On a cutting board with a groove that can catch the juice, cut the lemons in quarters, lengthwise. Thinly slice the lemon quarters; use a good chef's knife and slice as thinly as possible. Remove and discard the seeds.

Scrape the lemon slices and all of the juice into a large saucepan.

Add the water to the lemons, and bring to a boil over medium/high heat. Reduce heat to medium or medium/low and boil at a steady boil, covered, for 30 minutes.

Add the sugar and bring to a boil again. Reduce the heat and let the lemons simmer steadily, uncovered, for 1 – 1 1/2 hours, until soft and sweet.

Ladle the marmalade into clean glass jars. If using immediately, keep in the refrigerator and use within 1 month.

This marmalade can also be frozen in the jars for later use. Be sure to leave 1/4 inch headspace at the top of the jars to allow for expansion in the freezer.
https://curlygirlkitchen.com/