Today's pink sprinkles cake is just for cake decorating inspiration, but no recipe. I had made another batch of French macarons, this time pink and rolled in sprinkles, and was dying to put them on top of a cake, so I decided to just go all out with pretty details. With the pink buttercream, sprinkles and ballerinas dancing on top of the macarons, how sweet would this be for a ballerina birthday party? I just love how beautiful and fun it is.
And if you're looking for a from scratch Funfetti cake recipe, be sure to check out this post, too!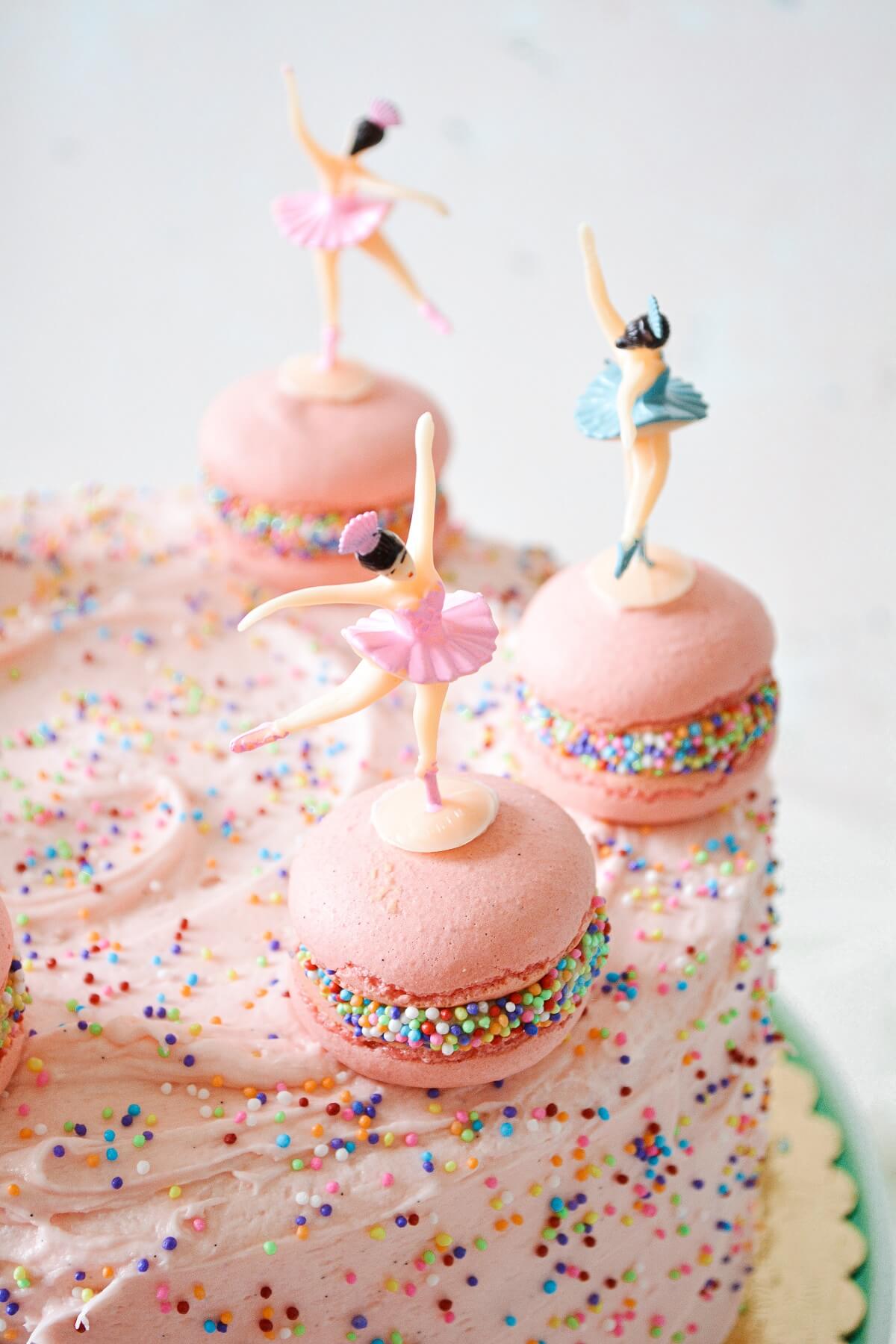 This site contains affiliate links. As an Amazon associate, I earn from qualifying purchases. This means that I may make a small commission if you purchase a product using those links. This in no way affects my opinion of those products and services. All opinions expressed on this site are my own.
Where to Buy French Macarons for Cake Decorating
I love decorating cakes with macarons. They're just so delicate and pretty. Making your own French macarons can be difficult, as there's a learning curve with this finicky cookie. But, fortunately, they've become much more widely available over the past few years, for those who aren't inclined to learn the art of macaronage.
It's important that you only buy macarons that are refrigerated or frozen, though. If they've been stored at room temperature with the pantry items (like they do at Home Goods), they may look pretty, but they're going to taste pretty stale and awful. Macarons need to be kept frozen to stay fresh.
Local Bakeries
If you have a local bakery that specializes in macarons, you'll probably find the best tasting macarons in a wide variety of delicious flavors.
Local Grocery Stores
Your local grocery store will also be a great option. Major chains like Target and King Soopers (Kroger) carry variety packs of macarons in the refrigerated and frozen section. At Target, you can usually find them in the bakery, with the refrigerated cakes and pastries, and you'll get 6-8 colors/flavors in a pack. At King Soopers, you'll find them in the frozen dessert aisle, near the puff pastry. They usually have a few different variety packs, and I keep a couple of boxes in my freezer so I can pick and choose what colors I want for a particular project.
Macarons, Sprinkles and Ballerinas
Homemade French Macarons
For these pink sprinkles macarons, I used my vanilla bean French macaron recipe. I tinted the batter pink, then filled the shells with salted peanut butter buttercream and a dab of strawberry jam in the middle. They're a bit too sweet for me with the sugary meringue, jam and sprinkles. But my two-year-old loves them, and keeps asking for the "pink cookies" after he eats his lunch.
Before I had boys, I would daydream about all the pretty cakes I was going to make for my daughter's birthdays, and this is a cake that I would have loved to make for her. But I have two little boys who love He-man, tape measures, cars and digging in the dirt. So although there may not be many "pretty" birthday cakes in our future, I'm sure I'll be able to come up with some cute themes that they're going to love. And you know what? Little boys like eating pink cookies, too.
Types of Sprinkles for Cake Decorating
You can find so many different types of sprinkles to make your cakes pretty and fun. Check out the baking aisle at your local craft stores (such as Michael's, Hobby Lobby, and Joanne's).
Ballerina Cake Toppers
Aren't the dancing ballerinas the sweetest things? These are actually ballerina cupcake toppers, and I just used a little dab of frosting to stick them onto the macarons for my pink sprinkles cake. What little ballerina wouldn't love these on top of a cake or cupcakes?
Be sure to read all of my BAKING FAQs where I discuss ingredients, substitutions and common questions with cake making, so that you can be successful in your own baking! I also suggest reading these comprehensive posts on making Perfect American Buttercream, How to Stack, Fill, Crumb Coat and Frost Layer Cakes and How to Use Piping Bags.
---
Favorite Products
---
You Might Also Like