It's Day 4 of my 12 Days of Christmas Cookies Series! And today I'm celebrating maple syrup with these high altitude soft maple cookies. Both pure maple syrup and maple extract gives these cookies their delightful maple flavor, which is just fantastic with a hint of cardamom. The edges are crunchy, crusted in sugar, with soft, chewy, thick centers that are simply delicious. This is also a very quick and easy maple cookies recipe to make. You'll love baking these cookies for the holidays!
Looking for more high altitude cookie recipes? Don't miss this maple macadamia nut biscotti, cranberry pecan orange shortbread cookies, and chocolate white chocolate chip cookies.
This site contains affiliate links. As an Amazon associate, I earn from qualifying purchases. This means that I may make a small commission if you purchase a product using those links. This in no way affects my opinion of those products and services. All opinions expressed on this site are my own.
Choosing a Maple Syrup
I absolutely LOVE pure maple syrup. I haven't used the generic "breakfast syrup" (made mostly of flavored corn syrup) in years, because once you taste the real deal, there's simply no going back. Last year, my husband and I took a little trip to the New England states, and one of our stops was a maple sugar shack in Vermont. We tasted different grades of syrup, maple candy and other maple treats. Our little boys were eager to make pancakes and sample the syrup we brought home.
Maple syrup has traditionally been graded as A or B. Grade A syrup has a more delicate, buttery flavor and lighter color, while Grade B is produced later in the season, and has a darker color and more robust flavor. New grading regulations have eliminated Grade B as a category, and it's now referred to as Grade A Dark/Robust. The darker the syrup, the more expensive it will be.
Grades of Pure Maple Syrup
Grade A Golden: Previously Grade A Light Amber. This syrup has a delicate, buttery flavor.
Grade A Amber: Previously Grade A Medium Amber. This syrup is darker in color than the golden syrup, with a richer flavor.
Grade A Dark: Previously Grade A Dark Amber. This syrup has a deep robust flavor.
Grade A Very Dark: Previously Grade B. This syrup has a very strong maple flavor and dark color.
My personal preference falls somewhere between the dark and very dark maple syrups. They have a rich, deep maple flavor, and are so good on pancakes and waffles. The stronger flavor will come through better in baked goods, as well.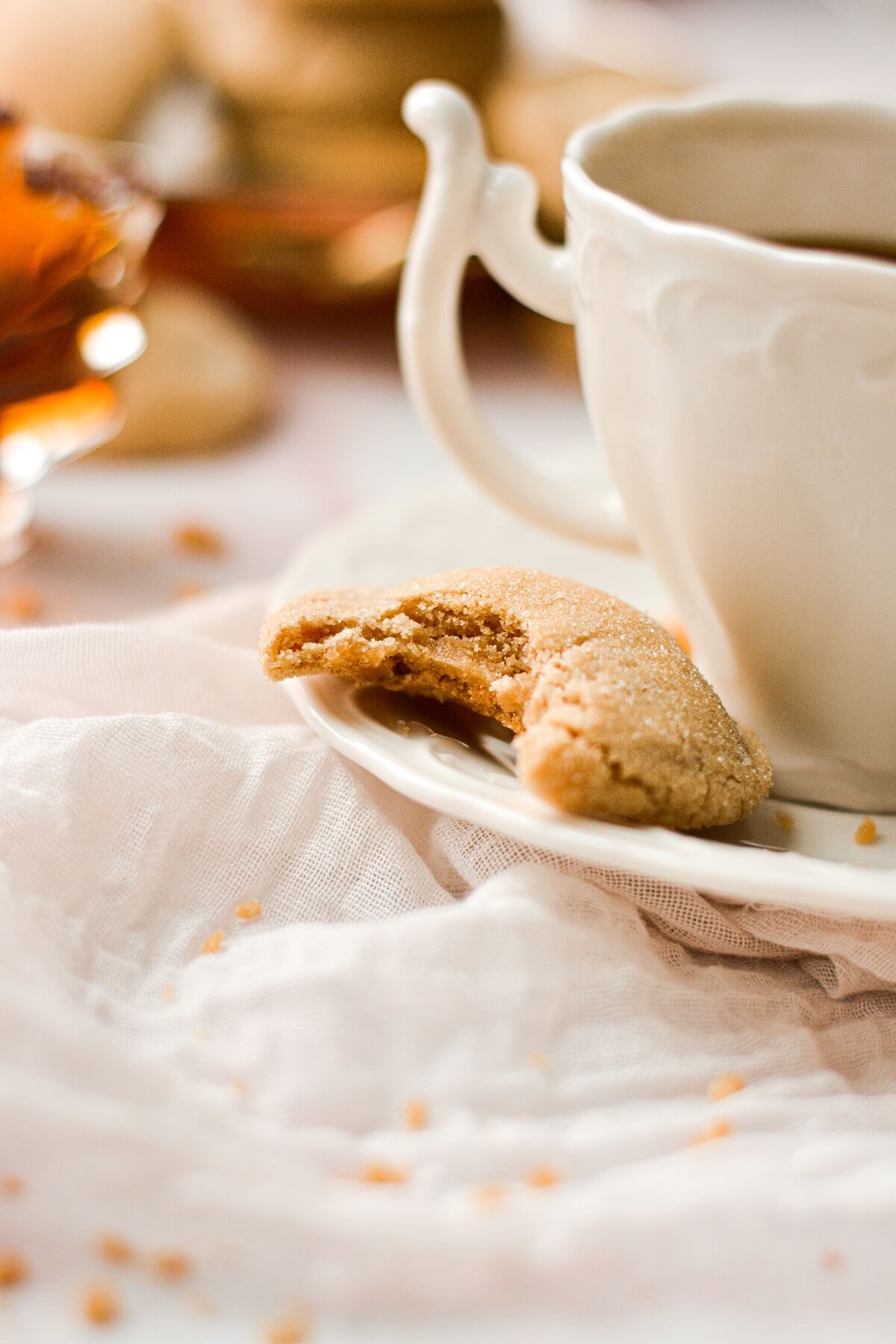 See the recipe card at the end of the post for the full ingredients list and instructions.
Ingredients
Unsalted Butter. The butter adds flavor and richness, and I almost always bake with unsalted butter, so I can control the salt level.
Granulated Sugar + Dark Brown Sugar. A combination of sugars adds more complex flavor and sweetness to these soft maple cookies. If you have maple sugar, you can certainly experiment with that, too, to add even more maple flavor. Maple sugar would be especially good for coating the cookie dough balls.
Egg. Adds structure, binds the dough together, and acts as a leavener.
Pure Maple Syrup. Use a dark or very dark pure maple syrup for the best flavor.
Maple Extract + Vanilla Extract. Since these soft maple cookies only use 2 tablespoons of maple syrup in the dough, we need to give the maple flavor an extra kick with some maple extract. Vanilla extract, too, complements the maple and enhances the flavor of the cookies. I've been using Rodelle Vanilla this winter, and it's wonderful in all my recipes.
All-Purpose Flour. Provides structure to the dough.
Corn Starch. A small amount of corn starch in cookie dough tenderizes the proteins for a very soft cookie.
Baking Soda. Leavens the cookies, making them puff up as they bake.
Coarse Kosher Salt. Balances the sweetness.
Cardamom. A pinch of cardamom nicely complements the maple and vanilla flavors. Feel free to omit it, though, if you don't like cardamom.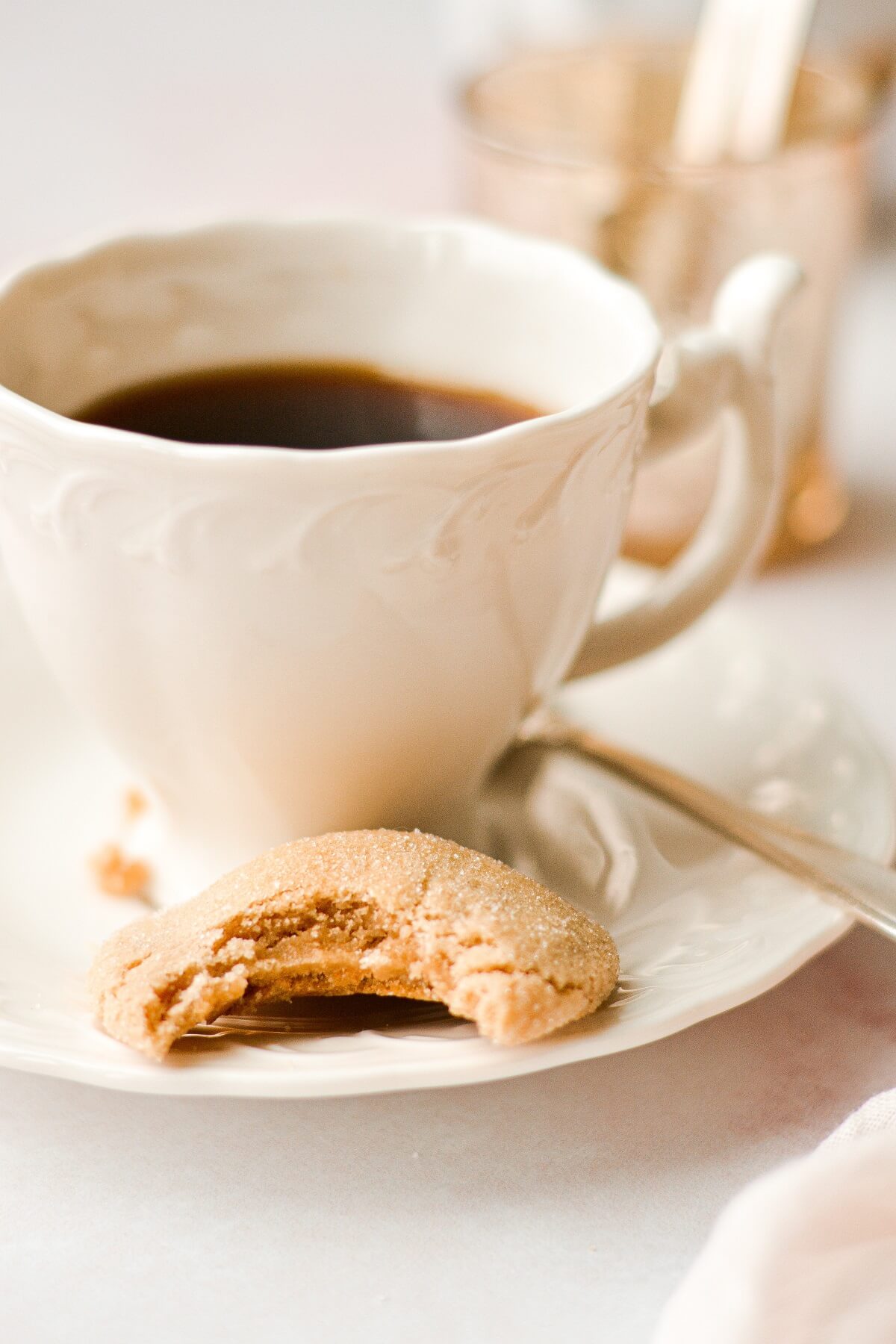 Making these soft maple cookies couldn't be easier! You don't even need a stand mixer to cream the butter and sugar. Just a simple hand-held mixer will do, and your cookie dough will be ready in minutes.
Instructions
Beat Together Liquid Ingredients and Spices.
Basically, you're just going to measure everything (except the flour), into a bowl, and beat it together with a handheld mixer for 2 minutes.
Mix in the Flour.
Now, just add the flour and briefly fold it in just until combined. Your maple cookie dough is done!
Shape and Chill the Dough.
Scoop the dough into 2 dozen portions, and roll each portion into a ball with your hands. Coat each ball of dough in granulated sugar (or maple sugar, for even more delicious maple flavor). If you like, flatten the cookies ever so slightly with the palm of your hand. I didn't flatten mine, and you can see that the centers are thick and puffed.
Now place all the dough balls in an airtight container, and chill in the refrigerator for 2 hours. Chilling the dough helps to firm up the warm butter and ensures the maple cookies don't spread and flatten while baking.
Bake.
Preheat the oven to 350 F, and line a baking sheet with parchment paper. Place the chilled cookie dough balls 2 inches apart on the baking sheet, and bake on the center oven rack for 8 minutes. Make sure you don't over-bake your cookies! Under-baking them just a little helps to ensure they stay soft and chewy as they cool.
Cool the cookies on the pan for 1 minute, then transfer to a cooling rack to cool completely.
The edges of your cookies will be slightly crisp from the sugar, while the centers will be so soft and chewy. You won't be able to resist these deliciously soft maple cookies!
Frequently Asked Questions
Can the cookie dough be frozen?
For freshly-baked cookies, I will often make a batch of cookie dough, shape it into balls, and freeze all the cookie dough balls in a ziplock bag. When I'm ready to bake my cookies, I just bake the frozen dough balls, adding a few extra minutes of bake time. The dough for these soft maple cookies freezes beautifully, and your kitchen will smell incredible when you bake them. I suggest flattening the dough balls slightly into disks, before freezing them, or the frozen dough won't spread enough.
Can I freeze these cookies?
The other option is to simply bake your cookies, let them cool completely, and then freeze the cookies in an airtight container or ziplock bag. Let them come to room temperature, and they'll be as soft and delicious as they were when they came out of the oven.
You Might Also Like
---
Favorite Products
---
Did you love today's recipe? Please rate the recipe and let me know in the comments what you thought! Also, be sure to follow Curly Girl Kitchen on Instagram, and tag me when you try one of my recipes so I can see all your delicious creations!
High Altitude Soft Maple Cookies
Soft and chewy maple cookies, made with real maple syrup, and spiced with a pinch of cardamom.
All recipes on Curly Girl Kitchen are developed for high altitude at 5,280 feet. See FAQs for adjusting to higher or lower elevations.
Ingredients
6

tbsp

unsalted butter,

softened

½

cup

granulated sugar

(plus 1/4 cup for rolling the cookies)

¼

cup + 2 tbsp

dark brown sugar,

lightly packed

1

large egg

2

tbsp

pure maple syrup

1

tsp

vanilla extract

½

tsp

maple extract

½

tbsp

corn starch

¾

tsp

baking soda

½

tsp

coarse Kosher salt

(if using table salt, use half the amount)

⅛

tsp

ground cardamom

2

cups

all-purpose flour,

spooned and leveled
Instructions
Measure the softened butter, sugar, brown sugar, egg, maple syrup, extracts, corn starch, baking soda, salt and cardamom into a mixing bowl.

Use an electric mixer (stand or hand held), and beat the mixture for 2 minutes until fluffy and well combined.

Add the flour, and use a spatula to fold the flour into the dough until completely incorporated.

Use a small cookie scoop with a release lever (or tablespoon) to scoop 2 dozen balls of dough.

Roll the dough balls in the 1/4 cup granulated sugar.

Place the dough balls in an airtight container and refrigerate for two hours.

Preheat the oven to 350 F, and line a baking sheet with parchment paper.

Place the chilled cookie dough balls 2 inches apart on the baking sheet, and bake on the center oven rack for 8 minutes.

Cool the cookies on the pan for 1 minute, then transfer to a cooling rack to cool completely.
Notes
Leftover cookies should be stored in an airtight container for up to 3 days, or wrapped well and frozen for 3-6 months.
https://curlygirlkitchen.com/