I believe in celebrating special occasions with cakes. And I believe in making beautiful cakes just for ordinary days, too. Layer cakes are my absolute favorite dessert to bake and photograph, and one of my goals I've been working through this year is to complete my series of high altitude tested Classic Cake Recipes. Today I've made for you this stunning Yellow Butter Birthday Cake with the dreamiest chocolate buttercream. Talk about a classic cake flavor!
This site contains affiliate links. This means that we may make a small commission if you purchase a product using those links. This in no way affects our opinion of those products and services. All opinions expressed on this site are our own.
High Altitude Cake Baking
The Challenges
Cake making can be particularly problematic for high altitude bakers. We face all kinds of challenges due to the low air pressure that sea level bakers simply don't have to worry about. As elevation rises, air pressure falls, which has two main effects on baked goods: they will rise more quickly, and lose moisture faster. As a result, cakes can end up too dry, dense and crumbly, they can collapse and fall, or become gummy from the concentrated sugars.
The Solutions
A few simple adjustments to the recipe solves these problems. We need to increase the flour to strengthen the structure of the batter. Sugar is reduced to avoid a gummy, sticky cake crumb. Lowering the amount of leavening agent will relieve pressure on the cell walls of the cake, allowing it to rise more gradually and evenly, rather than rising quickly and collapsing. And to allow for moisture loss, we need to add a bit more liquid.
Adjustment Guides
There are many helpful guides online for how to make specific adjustments for your exact altitude, with varying adjustments needed for every 1,000 or so feet of elevation. I really like this guide by King Arthur Baking. And I also encourage you to read my Baking FAQs for a comprehensive list of baking tips and answers to common questions. For reference, all of my recipes are baked and tested for Denver's elevation of 5,000 feet.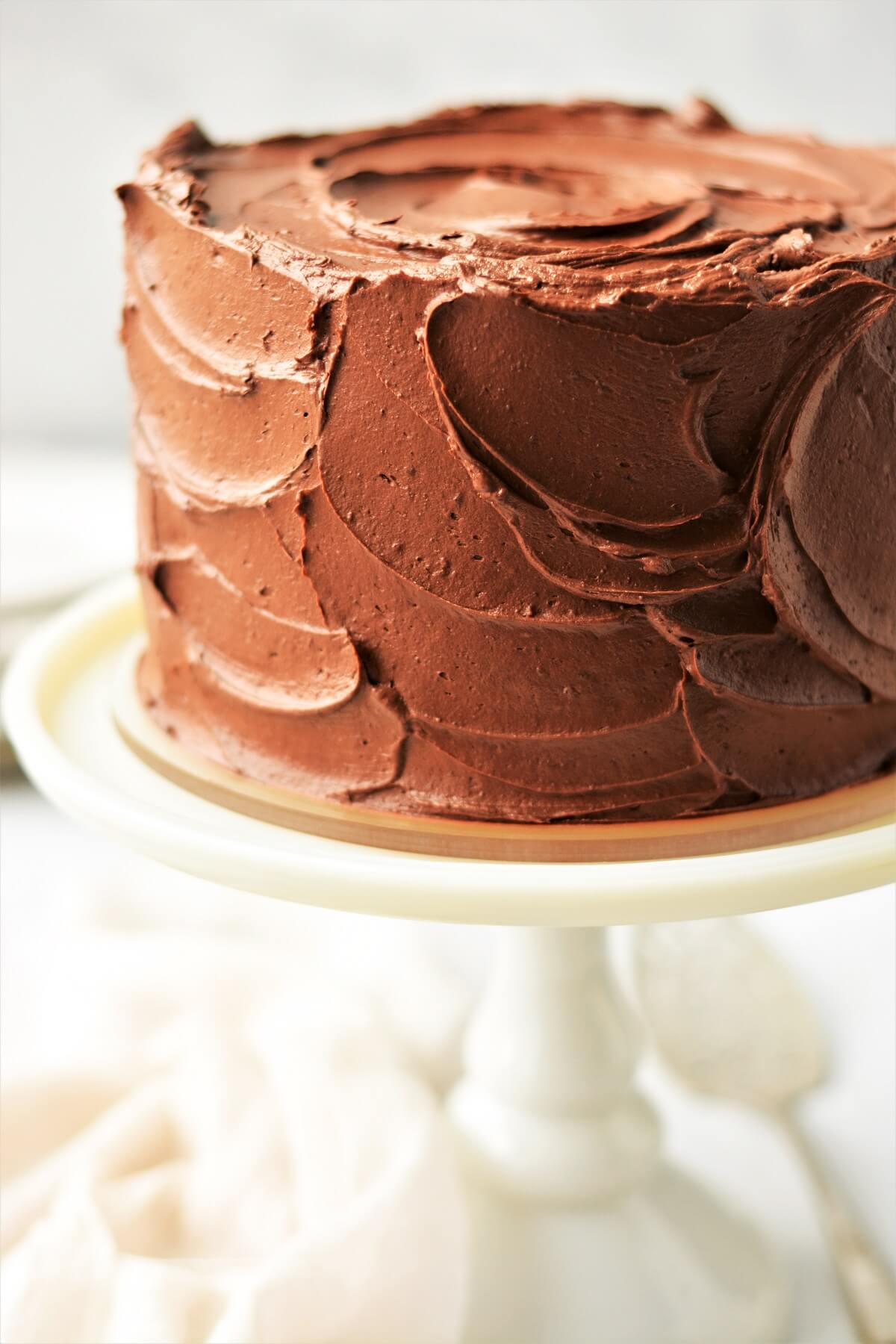 How to Make Yellow Butter Birthday Cake
A yellow butter birthday cake is known for being soft, tender and moist, and full of butter and vanilla flavor. A classic cake and frosting combination is yellow cake with chocolate buttercream, and it's the cake that reminds me of childhood birthday parties.
For my high altitude yellow cake, I make it using the traditional creaming method. This involves first creaming the butter and sugar together until light and fluffy, and then beating in the eggs. Lastly, I add the dry ingredients, alternating with the liquid, for a velvety batter that bakes up into the most beautiful, tender cake you can imagine.
Butter.
Use unsalted butter, so that you can control the saltiness of your cake. Maker sure your butter is softened to room temperature, or it will not cream properly with the sugar.
Sugar.
Granulated sugar makes the cake sweet, of course, but also moist. The reason for creaming the butter and sugar together first is to evenly disperse the sugar throughout the batter, as well as to beat in air and incorporate volume for a lighter, fluffier cake.
Eggs.
The eggs contain protein and fat, and they add structure to your cake. For my white velvet cake, I use just the egg whites, but for this yellow butter cake, I use the whole eggs.
Vanilla.
Vanilla extract flavors the cake, complementing the flavor of the butter.
Cake Flour.
I prefer to use cake flour in white cakes, vanilla cakes and yellow cakes, and all-purpose flour for chocolate cakes, carrot cakes, spice cakes, etc. Cake flour contains a lower percentage of protein than all-purpose flour and makes a very soft, tender cake.
Baking Powder.
Cakes are always leavened with baking powder, baking soda, or sometimes a combination of both. They are both leaveners, but are chemically very different. The difference between them, and when they should be used, can sometimes be confusing.
Baking soda is sodium bicarbonate, which requires an acid and a liquid to become activated and help baked goods rise. Baking soda is stronger, so you don't need much of it. Usually about 1/4 teaspoon of baking soda per cup of flour is needed to leaven a recipe. Remember that more isn't always better. If you use too much baking soda, not all of it will be activated, leaving leftover baking soda in your baked goods that adds an unpleasant metallic taste.
On the other hand, baking powder contains baking soda, cream of tartar (a dry acid), and cornstarch, so it only needs a liquid to become activated. Baking powder is not as strong as baking soda, so you need to use more of it, typically 1 – 1 1/2 teaspoons of baking powder per cup of flour is needed to leaven a recipe.
Since this yellow butter birthday cake contains acidic ingredients (buttermilk and sour cream), you could likely leaven the cake with baking soda instead of baking powder. But I was very happy with the results and rise using baking powder.
Salt.
I use coarse Kosher salt in all of my baking. A little salt balances the sweetness and enhances the flavor of the butter and vanilla.
Buttermilk.
Whole buttermilk is my liquid of choice for cakes. It adds a subtle tang, which balances the sugar, and creates a really lovely cake crumb.
Sour Cream.
Full-fat sour cream is also a fantastic ingredient in cakes, making them soft, flavorful and moist. A spoonful of sour cream just makes everything better.
Chocolate Buttercream
A yellow cake with chocolate frosting is the quintessential classic birthday cake flavor. And it's not hard to see why. The soft, buttery cake with fluffy, not-too-sweet chocolate frosting is simply irresistible.
My method for making buttercream is one I've honed for years, and if you struggle with your buttercream, then I encourage you to read my comprehensive guide on Perfect American Buttercream. It's a recipe that never fails me, and you'll find so many tips and flavor variations for making your buttercream simply perfect.
For my chocolate buttercream, I like to use unsweetened cocoa powder, rather than melted chocolate. It's less fussy than using melted chocolate, and with the cocoa powder replacing some of the powdered sugar, the result is a fluffy, richly flavored buttercream that's not too sweet. With a pinch of salt, it's just fantastic.
I love trying out different cocoa powders, and Dutch-processed cocoas are just wonderful for baking. My standard go-to cocoa powder of late has been Rodelle, but for today's recipe, I used Drost Cocoa Powder. Drost is a high-quality cocoa powder that's higher in fat than other cocoa powders, with a flavor that's deep, dark and rich. The powder is super-fine, so it makes an incredibly silky buttercream. You will fall in love with this buttercream.
You Might Also Like
Toasted Sugar Vanilla Cake with Brown Butter Frosting
Chocolate and Vanilla Sour Cream Birthday Cake
---
Favorite Products
---
Yellow Butter Birthday Cake with Chocolate Buttercream
A classic yellow butter birthday cake that's tender, moist and fluffy, frosted with the dreamiest chocolate buttercream.
Ingredients
Cake
1

cup

unsalted butter,

softened to room temperature

2 ¼

cups

granulated sugar

4

large eggs

2

tsp

vanilla extract

3

cups

cake flour or all-purpose flour

3 ½

tsp

baking powder

1

tsp

coarse Kosher salt

1 ⅓

cups

whole buttermilk

⅔

cup

full-fat sour cream
Buttercream
2

cups

unsalted butter,

softened to room temperature

3 ¼

cups

powdered sugar

¾

cup

unsweetened cocoa powder

1

tbsp

meringue powder

¼

tsp

coarse Kosher salt

2

tsp

vanilla extract

2-4

tbsp

milk or cream,

if needed
Instructions
Cake
Preheat the oven to 350 F. Prepare four 8-inch cake pans by spraying the bottoms of the pans with non-stick baking spray, lining them with a circle of parchment paper, and then lightly spraying the paper as well.

In the bowl of your stand mixer fitted with the paddle attachment, beat the butter and sugar for 5 minutes on medium speed, scraping the bowl several times, until light and fluffy.

Beat in the eggs, one at a time, beating each for 15 seconds before adding the next.

Scrape the bowl down and beat in the vanilla.

In a separate bowl, sift together the flour, baking powder and salt. In another bowl, combine the buttermilk and sour cream.

With the mixer on low, add the flour mixture in three additions, alternating with the buttermilk/sour cream, starting and ending with the flour. Use a spatula to finish bringing the batter together so that you don't over-mix.

Divide the batter between the pans, smooth out the top of the batter and tap the pans a few times on the counter to release any bubbles.

Bake the cakes on the center oven rack for about 27 minutes, until a cake tester comes out clean.

Set the pans on a wire coolilng rack, cover loosely with a clean kitchen towel, and cool completely in the pans before removing and frosting.
Buttercream
In the bowl of your stand mixer fitted with the whisk attachment, beat the butter for 1 minute until smooth.

In a separate bowl, whisk together the powdered sugar, cocoa powder, meringue powder and salt. With the mixer running on low, add the dry ingredients by spoonfuls, mixing until combined but clumpy. Add the vanilla.

Turn the mixer up to medium and whip for 5 minutes, scraping the bowl occasionally, until very light and fluffy. Add the milk only if needed for desired spreading/piping consistency. Turn the mixer back to low and mix for 1 minute to reduce any large pockets of air.
Assembly
The cakes are sticky, so it will help to place a small piece of wax paper on top the cake before you turn it out of the pan, so that it doesn't stick and pull apart from your fingers. Remember to remove all the parchment and wax paper from the cake layers as you assemble the cake.

Stack and fill the cakes with the chocolate buttercream, then frost all over with a thin crumb coat of buttercream. Chill the crumb-coated cake in the refrigerator for 20 minutes.

Finish frosting the cake with a final swirly layer of buttercream.
Notes
FREEZING
The cake layers can be baked in advance, wrapped individually in plastic wrap, and frozen until needed.  Thaw out overnight before frosting.
The assembled and frosted cake can also be frozen, in a bakery box or cake carrier, for several weeks. Thaw out overnight in the refrigerator, then set out to come to room temperature before serving.
LEFTOVERS
The leftover cake will stay soft, moist and fresh for days, if kept in an airtight container or cake carrier.  No need to refrigerate leftover cake.
Any extra buttercream can be frozen in a zip bag for another use.
STICKY CAKES
The cakes are very moist and sticky.  I STRONGLY recommend that you do not skip the steps of using parchment paper in the bottom of your cake pans, and placing a piece of wax paper on top of the cake to turn it out of the pan.  If you don't, you risk the cake sticking to the pan and your hand, causing it to fall apart.