This bakers' gift guide includes all the tools, equipment and ingredients you need for your holiday baking! From necessities like baking pans and rolling pins, to nice-to-have items like cookie stamps and vanilla beans, there's so much to choose from no matter your budget. Treat yourself this holiday season, or find the perfect gift for the baker in your life.
You might also love this all chocolate Christmas cookie box, snowman cake tutorial, and classic linzer cookies with bourbon cherry jam.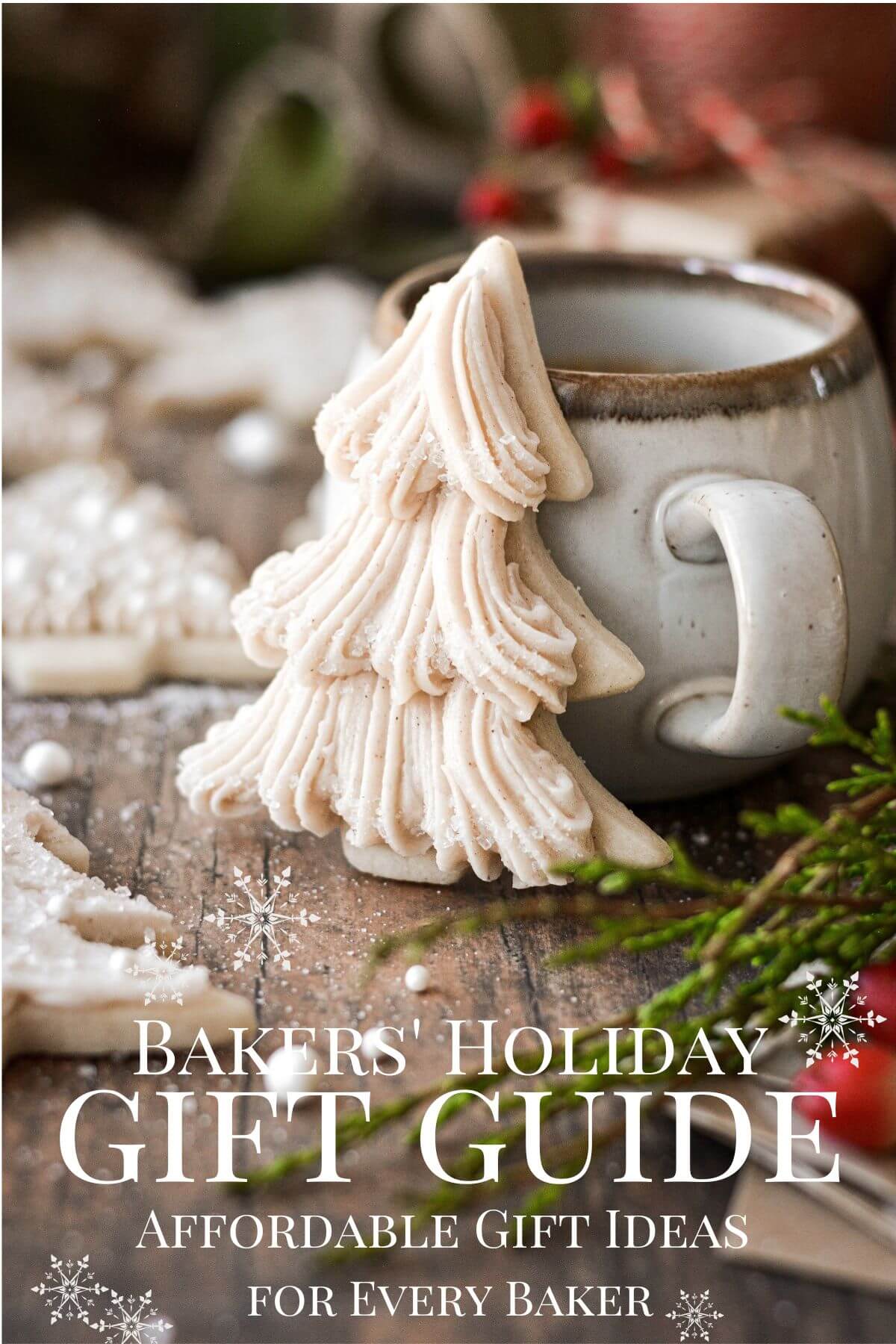 This site contains affiliate links. As an Amazon associate, I earn from qualifying purchases. This means that I may make a small commission if you purchase a product using those links. This in no way affects my opinion of those products and services. All opinions expressed on this site are my own.
Baking Pans
Cakes, pies and loaf breads all need just the right pan to turn out perfectly. Here are some of my favorites!
Deep Dish Pie Pan
This deep dish ceramic pie pan is a beauty. It's deep enough to hold all that juicy filling for your apple pies this holiday. Be sure to bake your pies in the lower third of your oven, to ensure the bottom crust is fully baked and golden brown.
Bread Pan
These USA Bread Loaf Pans are made from heavy gauge aluminized steel. Their corrugated design promotes air circulation for evenly baked goods and quick release.
Scone Pan
Make perfectly shaped scones or wedges of cornbread in this cast iron wedge skillet.
Bundt Pan
When it comes to bundt cakes, I like to keep a few pans on hand, including a classic 12-cup bundt pan, and one or two fancier ones, like this Nordic Ware Jubilee bundt pan.
Tart Pan
When baking tarts and quiche, a round tart pan with a pretty fluted edge and removable bottom yields beautiful results. A long tart pan makes especially elegant looking desserts.
Aluminum Cake Pans
My favorite cake pans that I use every week are these Fat Daddio's aluminum cake pans. I recommend every baker keep on hand at least a set of three 8-inch pans (with a 3-inch depth) and three 6-inch pans (with a 2-inch depth) for tall, beautiful layer cakes. I've used my set of pans for going on 10 years, and my cakes bake evenly and perfectly every time.
Fancy Loaf Pan
Your pumpkin bread has never been prettier until you bake it in this Nordic Ware classic fluted loaf pan. It's made of cast aluminum, and the nonstick coating ensures perfect release of your loaf breads and cakes.
Ingredients
Your baked goods will only taste as good as your ingredients! Treat yourself to some great quality vanilla extract, or stock up on meringue powder for decorating Christmas cookies.
Vanilla Beans and Vanilla Bean Paste
These Native Vanilla Grade A Tahitian Vanilla Beans are a great value for the price, and the flavor of real vanilla beans is just incredible in baked goods, ice cream and buttercream frosting. Or instead of using real vanilla beans, vanilla bean paste is a wonderful option, too, and so easy to add a spoonful to your recipes for both pure vanilla flavor, and beautiful specks of vanilla bean.
Vanilla Extract
Nothing beats the flavor of a good-quality, pure vanilla extract in your baking. These are a few of my favorite brands, with a variety of price points, that I use most often.
And if you love to make your own homemade vanilla extract after scraping the seeds from vanilla beans, these apothecary bottles and labels are the cutest! I've been using them to make my own extract, and I love how the labeled bottles look in my pantry.
Sprinkles
Everything is more fun with sprinkles, am I right? I love to keep a big variety of sprinkles and sanding sugar on hand to suit the mood of what I'm baking and decorating.
Meringue Powder
Commonly used for making royal icing for decorated cookies, meringue powder also adds stability to buttercream, and I use it every time I frost a cake. Meringue powder has a long shelf life, and will keep for several years in your pantry.
Lemon Paste
For a bright lemon flavor in your cakes, buttercream or baked goods, try some lemon paste. It's more concentrated than lemon extract, and can be used in place of lemon extract, lemon juice and lemon zest.
Almond Flour
Good quality almond flour is a necessity for making French macarons, as well as for adding a nutty flavor and texture to other baked goods.
Natural Coconut
Another ingredient I just love is natural, unsweetened flaked coconut. It tastes a million times better than the bags of sweetened shredded coconut, and looks so beautiful covering a coconut cake.
Yeast
For everything from cinnamon rolls to sandwich bread to doughnuts to dinner rolls, good quality yeast is a must have for a light, fluffy texture.
Small Baking Tools and Equipment
From biscuit cutters to cookie stamps to a good rolling pin, some of these are tools I use almost every day, while others are nice to have on hand for more special holiday baking. Not included on this list are the more obvious tools every baker needs, like a set of heat-proof mixing bowls, silicone spatulas, whisks, saucepans, measuring cups and measuring spoons.
Biscuit Cutters
A set of biscuit cutters comes in handy not only for biscuits, but also cookies and doughnuts, too.
Various Cookie Cutters
Round fluted cookie cutters in various sizes give your cutout cookies a classic, elegant look. When making linzer cookies, pair a large cutter with a small one for the center cutout.
A mini gingerbread house cookie cutter set is so fun to use for the holidays! Make tiny cookie houses to add to a Christmas cookie box, to decorate the top of a layer cake, or just to enjoy with a cup of hot chocolate.
These plunger-style snowflake cutters make a variety of delicate snowflakes out of fondant, pie dough or cookie dough, for decorating your baked goods.
And of course, you'll need a variety of cookie cutters for all those Christmas cookies you'll be baking and decorating!
Rolling Pin
This black walnut French style rolling pin is a must have for rolling out pie dough and cookie dough. The tapered ends allow you to easily hold the rolling pin while rolling the dough to an even thickness.
Bench Scraper
Used for everything from scooping up chopped vegetables, cutting dough, smoothing the sides of a cake and even scraping play-do off the kitchen counter, a bench scraper is a multi-use tool that I use every single day.
Digital Instant Read Thermometer
I use an instant read digital meat thermometer to check the temperature of the inside of a loaf of bread, oil for frying doughnuts and hot sugar or caramel sauce.
Icing Spatulas
Offset icing spatulas in a few different sizes are something every cake decorator needs.
Parchment Paper
No more dealing with a roll of parchment paper that refuses to lie flat. Individual pop up parchment paper sheets make life so much easier.
Cookie Scoops
Cookie scoops with a release lever make it easy to evenly portion cookie dough and scoop cupcake batter into muffin pans.
Piping Tips Set
For piping buttercream frosting or royal icing to decorate cakes, cupcakes and cookies, or for filling doughnuts or tartlets, a set of piping tips makes it easy to get beautiful results.
Cookie Stamps
You can make gorgeous cookies by pressing the dough with cookie stamps, then glazing the baked cookies with icing to highlight the details. Some of my favorites that I use every Christmas are these Nordic Ware Yuletide Cast Cookie Stamps, Nordic Ware Starry Night Cast Cookie Stamps, or these springerle type wooden cookie dough molds.
Pie Crust Cutters
Pie crust cutters are a great way to decorate your pies with cutouts of leaves, flowers and snowflakes.
Appliances
If you have a bigger budget, consider buying your loved one the equipment they'll need for mixing up cookie dough and bread dough, making ice cream and whipping buttercream.
Kitchen Aid Stand Mixer
As my passion for baking grew, the first Christmas present my husband ever bought for me was my Kitchen Aid Mixer. Thirteen years later, the mixer (and our marriage) is going strong. I use it 3-4 times a week for whipping buttercream, whipped cream or meringue, mixing cake batter or cookie dough, and kneading bread dough.
Ice Cream Maker
If you enjoy making homemade ice cream, the Kitchen Aid Ice Cream Maker Attachment is a wonderful companion to the stand mixer. It churns ice cream to perfection, and it's the only ice cream maker I've ever used.
Food Processor
For small chopping jobs like chopping nuts or grinding oats, I like to use my small Ninja Food Chopper. It's super quick, efficient, and easy to clean.
For larger jobs like quickly making sugar cookie dough or pureeing roasted sweet potatoes for casserole, I love my Cuisinart Food Processor.
Digital Food Scale
A digital food scale greatly helps when precision with measuring is important to the recipe. Be sure to look for one that includes pounds, ounces and grams.
Miscellaneous
Don't forget to include a gift that's just for fun! Think t-shirts, aprons, cake stands and coffee mugs.
Aprons
I love the vintage plaid pattern on this holiday apron. And the simplicity of this linen pinafore apron makes it really easy to move around in while cooking and baking.
T-shirts
You can never have enough t-shirts, right? I love this Christmas cookie baking t-shirt and baker girl t-shirt.
Cake Stand
A beautiful cake deserves a beautiful cake stand to sit on. This gorgeous wood and marble cake stand is one of my absolute favorites that I own.
I hope you found something you loved in today's bakers gift guide for the holidays! Don't forget to check out my latest Christmas recipes here!