A collection of high altitude tested, old fashioned Christmas cookie recipes for your holiday baking list. Today's post has eight delicious Christmas cookies, all classic recipes that are perfect for Christmas cookie boxes to give to family, friends, neighbors, coworkers and your kids' teachers. Grab all the recipe links at the end of today's post!
And don't miss this Christmas cookie box planning and styling guide and last year's all chocolate Christmas cookie box.
You might also love these recipes for buttercream frosted snowflake cookies, gingerbread whoopie pies, and homemade salt dough Christmas ornaments.
This site contains affiliate links. As an Amazon associate, I earn from qualifying purchases. This means that I may make a small commission if you purchase a product using those links. This in no way affects my opinion of those products and services. All opinions expressed on this site are my own.
What's In the Cookie Box?
Drop Cookies
There are so many options when it comes to an old fashioned Christmas cookie theme. To start, I included a few easy drop cookies, like soft ginger molasses cookies, iced oatmeal cookies and pecan snowball cookies.
Shortbread Cookies
Then, I had to add a few classic shortbread cookie recipes, including almond shortbread and hazelnut shortbread.
Cutout Cookies
And lastly, some cutout sugar cookies, of course. There are the prettiest red and white candy cane cookies and pinwheel cookies. Some easy almond sugar cookies with sparkling sugar. And some pretty frosted sugar cookies with Christmas sprinkles.
More Old Fashioned Christmas Cookie Ideas
There are so many more cookies you could consider making for an old fashioned cookie theme, such as old fashioned fudge, peanut butter blossoms, spritz cookies, date ball cookies, pecan sandies, cream wafers, checkerboard cookies and raspberry rugelache.
Everything in today's cookie box can be baked in advance and frozen, so you can take your time all month long to get your baking done and your cookie boxes assembled and ready for gifting. You might also like my Christmas cookie box styling guide, with tips for planning and creating your own cookie boxes.
One More Cookie
If you're wondering about that cookie with the beautiful imprinted design of the trees and moose, I made those with my standard no spread vanilla sugar cookie recipe. The cookie cutter I used is this Forest Moose Cookie Cutter by Bakerlogy. I just love it!
You Might Also Like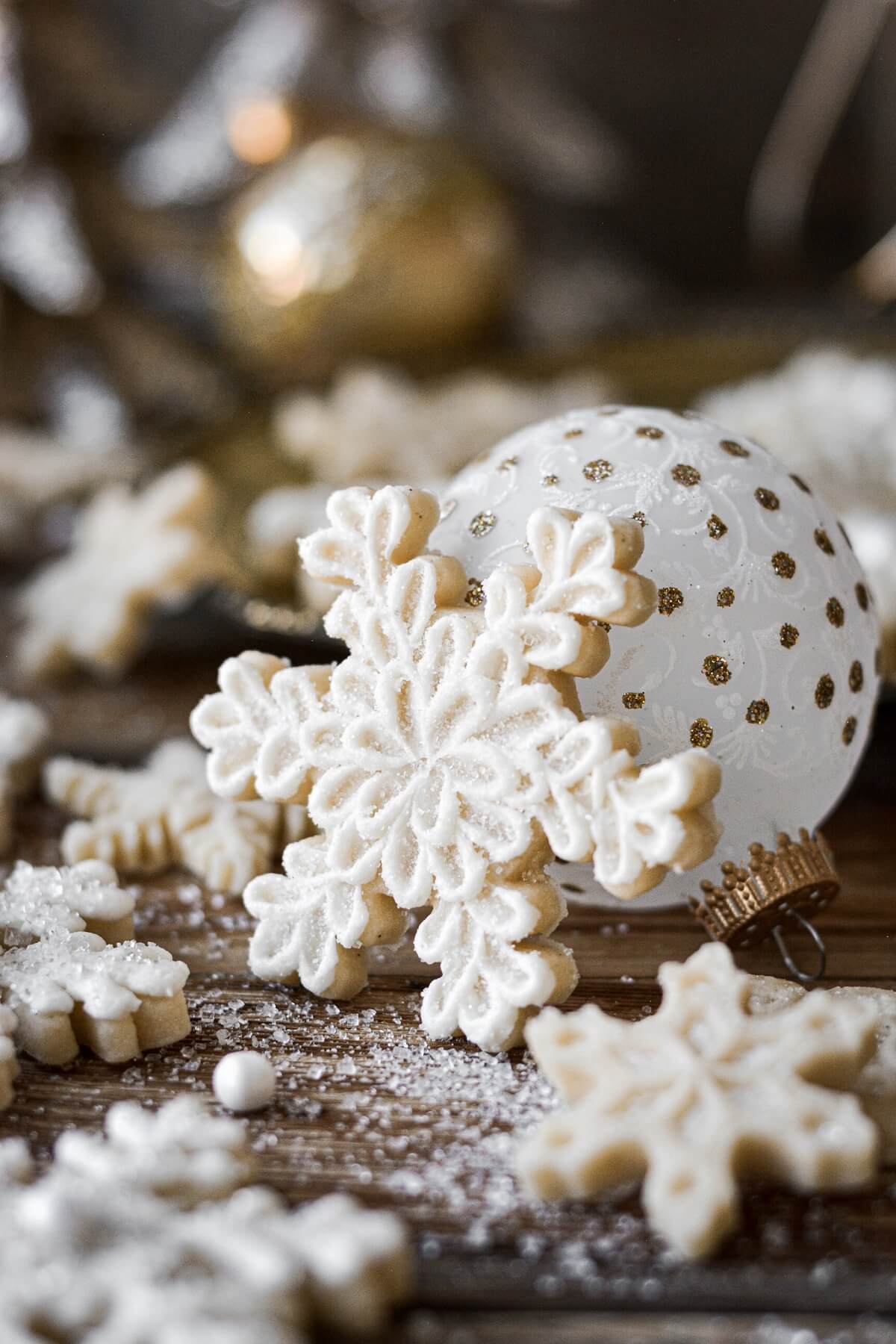 Favorite Products