Cookie season is in full swing, and if you haven't planned your baking list yet for your Christmas cookie boxes, then I have 12 delicious cookie recipes for you today. Starting on December 1st, I've been sharing a recipe a day for my 12 Days of Christmas Cookies series. And to conclude the series, I've styled our Christmas cookie box with all 12 tempting treats. From biscotti, to delicate shortbread snowflakes, to homemade caramels to sparkling almond Christmas trees, there's something for everyone in this box.
In addition, I've included a guide to planning and organizing your recipes and baking schedule, as well as styling your own Christmas cookie boxes. And if you're in need of some baking equipment, don't miss my baker's holiday gift guide, with affordable gift ideas for every budget.
Also, be sure to check out this all chocolate Christmas cookie box and an old-fashioned Christmas cookie box.
Looking for more Christmas cookie recipes? Don't miss these Christmas tree sugar cookies with buttercream, cranberry pecan shortbread cookies, and Linzer cookies with bourbon cherry jam.
This site contains affiliate links. As an Amazon associate, I earn from qualifying purchases. This means that I may make a small commission if you purchase a product using those links. This in no way affects my opinion of those products and services. All opinions expressed on this site are my own.
What's in My Christmas Cookie Box?
All 12 cookie recipes are linked at the end of this post, so be sure to scroll all the way down so you don't miss any! For this year's cookie box, I included a variety of flavors, spices and textures. There are soft cookies and crunchy cookies, shortbread cookies and sugar cookies and drop cookies and sandwich cookies and chocolate dipped cookies. Our freezer has been so full of cookies the last few months, there has hardly been room for anything else!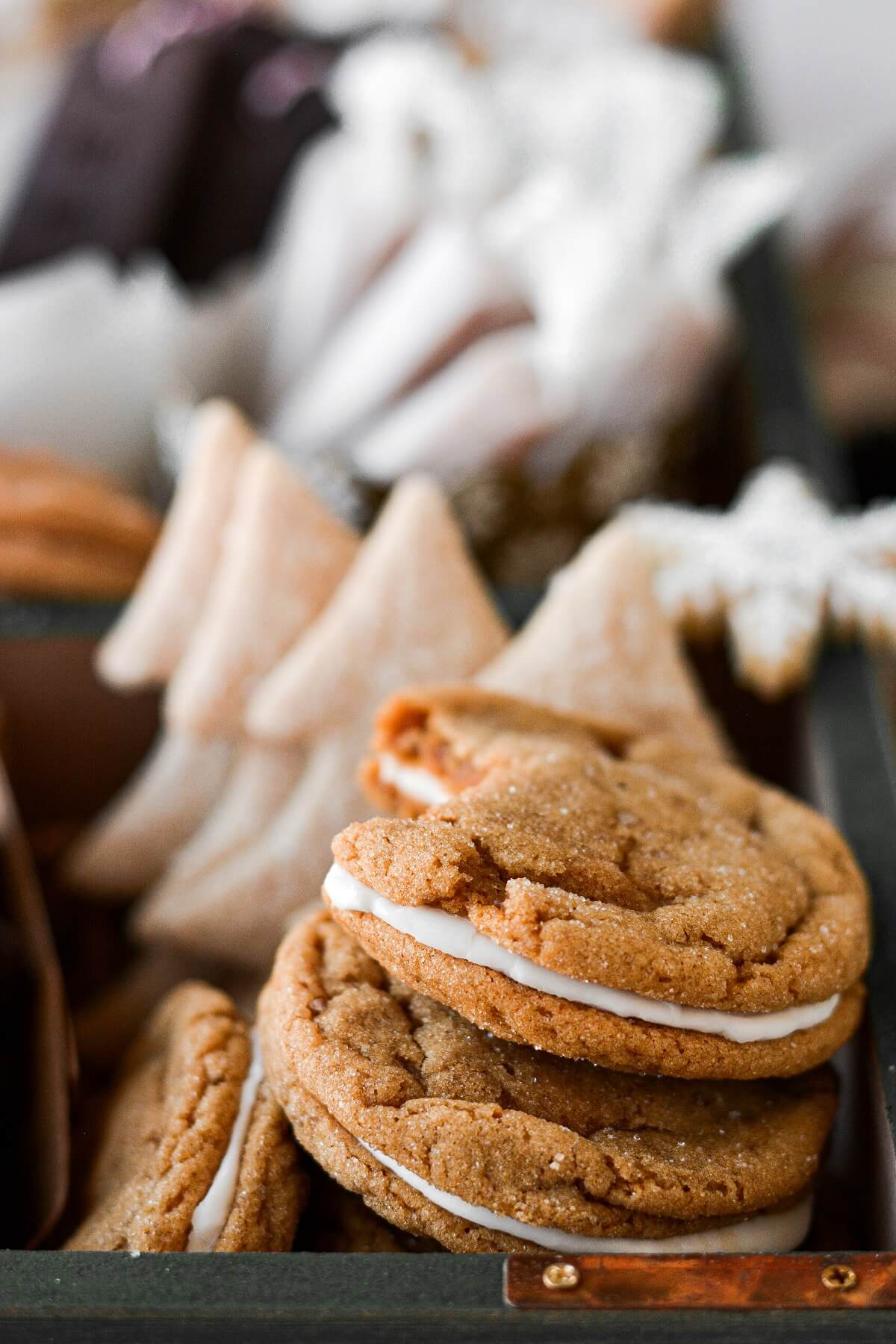 When it comes to baking this many cookies, whether you have a large family to feed over the holidays, you like to entertain, or are planning on giving them away as gifts, organization is key.
Organizing and Planning
Select Your Christmas Cookie Recipes
Assorted Cookie Box. When choosing what kinds of cookies to include in a Christmas cookie box, there's really no right or wrong combination of cookies. You can just make what you like, or if you're giving them away, make all of your family's favorite cookies.
Themed Cookie Box. A themed Christmas cookie box makes a thoughtful and beautiful gift to present to someone. Think of a box with nothing but different flavors of biscotti to serve with coffee for a simple holiday breakfast or to accompany a hot chocolate bar. Or an all chocolate cookie box for the chocolate lovers in your life (chocolate chip cookies, cookies that are drizzled or dipped in chocolate, iced chocolate sugar cookies, fudge, chocolate bark, truffles…) A box with a variety of shortbread cookies would have my heart. Or if you love nuts, incorporate an assortment of toasted nuts into each cookie recipe.
Organize the Recipes and Shop for Ingredients
Read the Recipes, Thoroughly. Then read them again, to make sure you fully understand the steps involved, and how much time each cookie takes from start to finish.
Organize the Recipes. Personally, I write recipes down in a notebook, so that as I'm baking, I can cross each ingredient off as I use it and make notes about the recipe. Otherwise, I get too distracted by my little boys running around the kitchen, and I forget what I've already done.
Make an Ingredients List. After you've organized your recipes, you can tally up all the butter, flour, sugar and eggs that you'll be needing, and shop for it all at once. There's nothing more frustrating than getting ready to make cookie dough, only to realize you don't have enough butter, or you ran out of powdered sugar.
Gather All the Equipment and Tools. Do you have baking sheets and parchment paper? Cooling Racks? Rolling pin, pastry cutter and bench scraper? Cookie cutters and cookie stamps/presses? Meringue powder for royal icing? Piping bags, piping tips and food coloring? Check, check, check.
Make and Freeze the Dough in Batches.
Batch Process the Cookie Dough. Put your stand mixer and food processor to work, and make all the batches of cookie dough, one right after the next. If I'm making both vanilla and chocolate shortbread, I'll start with the vanilla, and finish with the chocolate, so I don't even need to wash my food processor in between batches.
Label and Freeze the Dough. Can cookie dough be frozen? Most of the time, yes, it can! For dough that needs to be rolled out and cut, shape the dough into flat disks, wrap in plastic wrap, and label. For drop cookies, go ahead and shape the dough into balls, and freeze the cookie dough balls in an airtight container or a labeled freezer bag. Unbaked cookie dough can be refrigerated for 5 days, or frozen for 3-6 months.
Bake the Cookies.
Drop Cookies. Drop cookies (chocolate chip cookies, oatmeal cookies, soft ginger molasses cookies, etc.) can usually be baked frozen. I will often just bake the frozen balls of dough, and simply add a few extra minutes of bake time. The chill also helps greatly in preventing the cookies from spreading too much as they bake.
Cut Cookies. For dough that needs to be rolled out and cut, you should thaw the wrapped disks of dough in the refrigerator overnight. Then set them out on the counter to warm up for a bit, until they're still cool, but pliable enough to roll without too much difficulty.
Cool and Store the Cookies.
Cookies, Cookie Bars and Biscotti. Most cookies need to be cooled completely before they're decorated. The exception to this would be something like these stamped cookies, which need to be warm from the oven when you brush on the warm glaze. But if you're dipping cookies in chocolate, or sprinkling with powdered sugar, or decorating with royal icing, you need a cooled cookie. Cool the cookies completely on a cooling rack. Then store in an airtight container until ready to decorate, or freeze the cookies if decorating them much later. Remember that biscotti should be stored separately from the rest of the cookies, or it can absorb their moisture and become soft.
Chocolate, Caramels and Candy. You'll need to pay attention to the specific recommendations on each recipe for making ahead and freezing, since not all candy can be frozen. Some will need to be cooked fresh and stored at room temperature, so plan accordingly. My soft salted vanilla caramels can be cooked, cut, wrapped tightly and frozen until you're ready to enjoy!
Freezing Baked Cookies. I've had many people ask me for tips on how to freeze baked cookies. For cookies without icing, I will bundle 4-6 cookies together and wrap them in plastic wrap. Then I put all the cookie bundles into large Tupperware containers to place in my freezer. This will help to keep the cookie flavors from mingling together in the container. If the cookies are frosted with buttercream, they have to be frozen in single layers. Yes, this takes up a lot of room, but stacking them, even once the buttercream is frozen, will ruin the buttercream. If the cookies are iced with royal icing, the icing should be fully hard and dry before storing the cookies. Usually these can be stacked, separated by pieces of wax paper, without fear of smashing the royal icing.
Decorate the Cookies.
Besides eating your Christmas cookies, decorating is the most fun part! So shower those snowflake cookies with powdered sugar. Drizzle your biscotti with chocolate, and fill your sandwich cookies with buttercream. Or put your royal icing skills to work and create something unique and stunning.
Be sure to let all of the icing and chocolate set and harden completely before you stack or store your decorated Christmas cookies.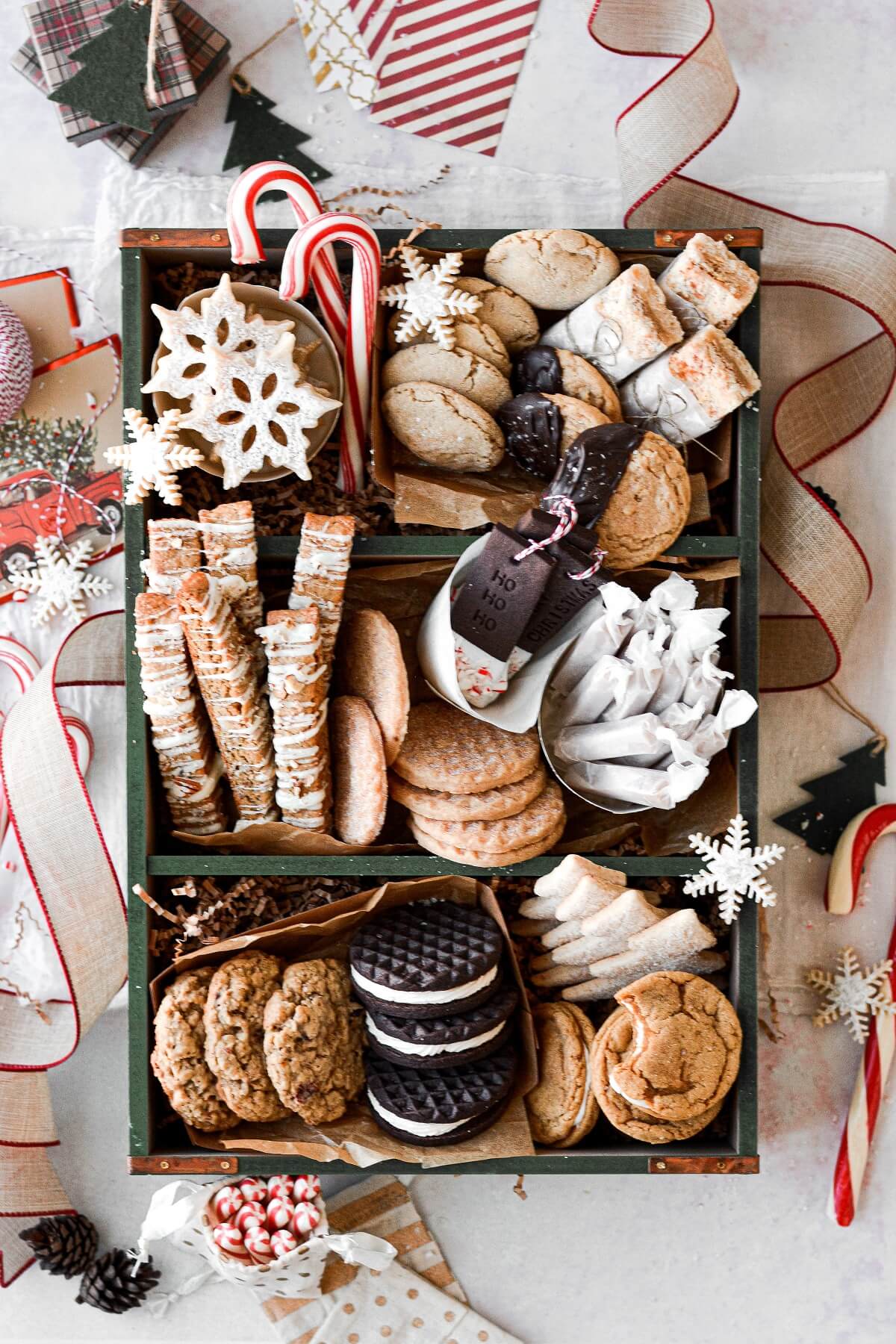 Styling a Christmas cookie box is so much fun. Whether you're putting a box together for a photo shoot, or gifting boxes to your loved ones, there are so many ways to make your box beautiful, tempting and abundant.
Styling Tips
Choose a Pretty Box.
Buy a doughnut at your grocery store and grab a rectangular bakery box to go along with it. The shape and size should be just right for arranging your Christmas cookies.
Use a pretty gift box. For my Christmas cookie box last year, I used a gorgeous cardboard gift box from my local craft store.
Order a pack of divided treat gift boxes for gifting multiple recipients with your home-baked cookies and treats.
Check out the wooden boxes with the Christmas decorations at local craft stores. For today's post, I found this beautiful hunter green, large wooden box with 3 dividers. After photographing my cookies, I filled it with ornaments and other Christmas decorations to use as a centerpiece on my dining room table.
Use Filler.
If your box is very deep, add some filler to raise everything up to make it look more abundant. I filled my box with shredded brown craft paper to add texture, visual interest and height.
For photography purposes, this also lifts the cookies up out of the box where they can catch the light. This way, they're not shadowed by the tall sides of the box.
Look for Items to Divide the Box.
If your treat box isn't pre-divided (and even if it is), you'll need to find ways to divide it up, both for visual interest, and to separate the different cookies.
Small treat cups or mini loaf cake pans (disposable), crumpled wax paper, small gift boxes, or even just pieces of card stock all work to divide your box into sections.
Make the Cookies Abundant.
For food photography, an abundant Christmas cookie box looks the prettiest. Let the cookies fill the space. It also looks nice to vary the way that you arrange the cookies in the box. Place some in stacks if you want to see the top design of a cookie, and others on their sides.
For gifting cookie boxes, then you'll need to pack them into the box in a way that you can still get the lid on.
Add Christmas Cues.
To make things really festive and fun, add Christmas cues such as candy canes or peppermints, a beautiful sparkly ornament, Christmas cards, red and white striped baker's twine, tiny treat bags, a ribbon, or a few packets of homemade hot chocolate mix.
You Might Also Like
---
Favorite Products
---
12 Days of Christmas Cookies for a Christmas Cookie Box
---
Day 1: Butter Pecan Biscotti
Brown butter, crunchy toasted pecans, a drizzle of white chocolate, and the perfect amount of salt make a sweet and salty cookie that's totally acceptable to eat for breakfast.
---
Day 2: Cranberry Oatmeal Toasted Almond Cookies
Toasted almonds and bursts of sweet and tart cranberries add texture and flavor to these hearty oat cookies. They are perfect for dunking in a cold glass of milk.
---
Day 3: Chocolate Dipped Peanut Butter Cookies
Chocolate and peanut butter is the ultimate treat. These cookies don't disappoint with the soft peanut butter oatmeal cookies dipped in dark chocolate.
---
Day 4: Maple Cookies
A little cardamom nicely complements the flavor of the maple syrup in these soft maple cookies.
---
Day 5: Soft and Chewy Salted Vanilla Caramels
When your friends and family taste these soft and buttery caramels, they'll be begging you for the recipe! Or begging you to make a whole batch just for them.
---
Day 6: Soft Ginger Molasses Cookies Sandwiched with Lemon Icing
Ginger and molasses are perfectly paired with tart lemon in these sweet and spicy sandwich cookies.
---
Day 7: Almond Crumb Bars
If you love almond pastries, you'll LOVE these almond crumb bars. They're quick and easy to make, but big on almond flavor.
---
Day 8: White Chocolate Dipped Chocolate Sugar Cookies with Peppermint
A Christmas cookie box wouldn't be complete without a little peppermint! Sprinkle it on top of these white chocolate dipped chocolate cookies for a pretty finish.
---
Day 9: Snickerdoodle Shortbread Cookies
This cookie is a delightful mashup of a classic snickerdoodle and rich shortbread.
---
Day 10: Snowflake Shortbread Cookies
No need to worry about your snowflake cookies spreading with this recipe. This no-spread shortbread cookie recipe will beautifully preserve every detail of your snowflake cookies.
---
Day 11: Almond Sugar Cookies
If decorating Christmas cookies with royal icing isn't in your skill set, it's easy to decorate these almond sugar cookie Christmas trees with a crunchy layer of sparkling sugar baked right on top.
---
Day 12: Chocolate Coconut Cream Sandwich Cookies
With this decadent sandwich cookie, you get two eat two cookies, plus frosting, but it only counts as one cookie. What could be better?
---