For the third year now, I've loved putting together a beautiful Christmas cookie box. For this year's theme, I decided to go with just chocolate cookies and treats, and all you chocolate lovers are going to adore what's included. There's chocolate biscotti to accompany your coffee, homemade hot chocolate mix, truffles, dipped pretzels, fudge brownies, and more! I'll be packing up all these yummy treats into chocolate cookie boxes for my son's preschool teachers. Because if anyone needs chocolate, it's our teachers. Find all the recipes at the end of today's post!
For more Christmas cookie box recipes and ideas, my 2020 Christmas cookie box also includes a guide to styling and photographing your cookie box. My 2019 cookie box has so many varieties of shortbread, which I just can't get enough of. And my 2022 Christmas cookie box is full of classic, old-fashioned cookie recipes.
This site contains affiliate links. As an Amazon associate, I earn from qualifying purchases. This means that I may make a small commission if you purchase a product using those links. This in no way affects my opinion of those products and services. All opinions expressed on this site are my own.
What's in my Chocolate Cookie Box
Chocolate Dipped Pretzels (no recipe)
Between the cookies, chocolate truffles, biscotti and other treats, there's something in this chocolate cookie box to please everyone. For all of these recipes, be sure to use a good-quality Dutch-processed cocoa powder and semi-sweet chocolate.
Chocolate Shortbread
I absolutely love shortbread cookies, and chocolate shortbread looks especially beautiful when pressed with cookie stamps then iced to highlight the design. While I didn't include these in today's photographed cookie box, they would make a delicious addition.
Stamped Chocolate Shortbread Cookie Recipe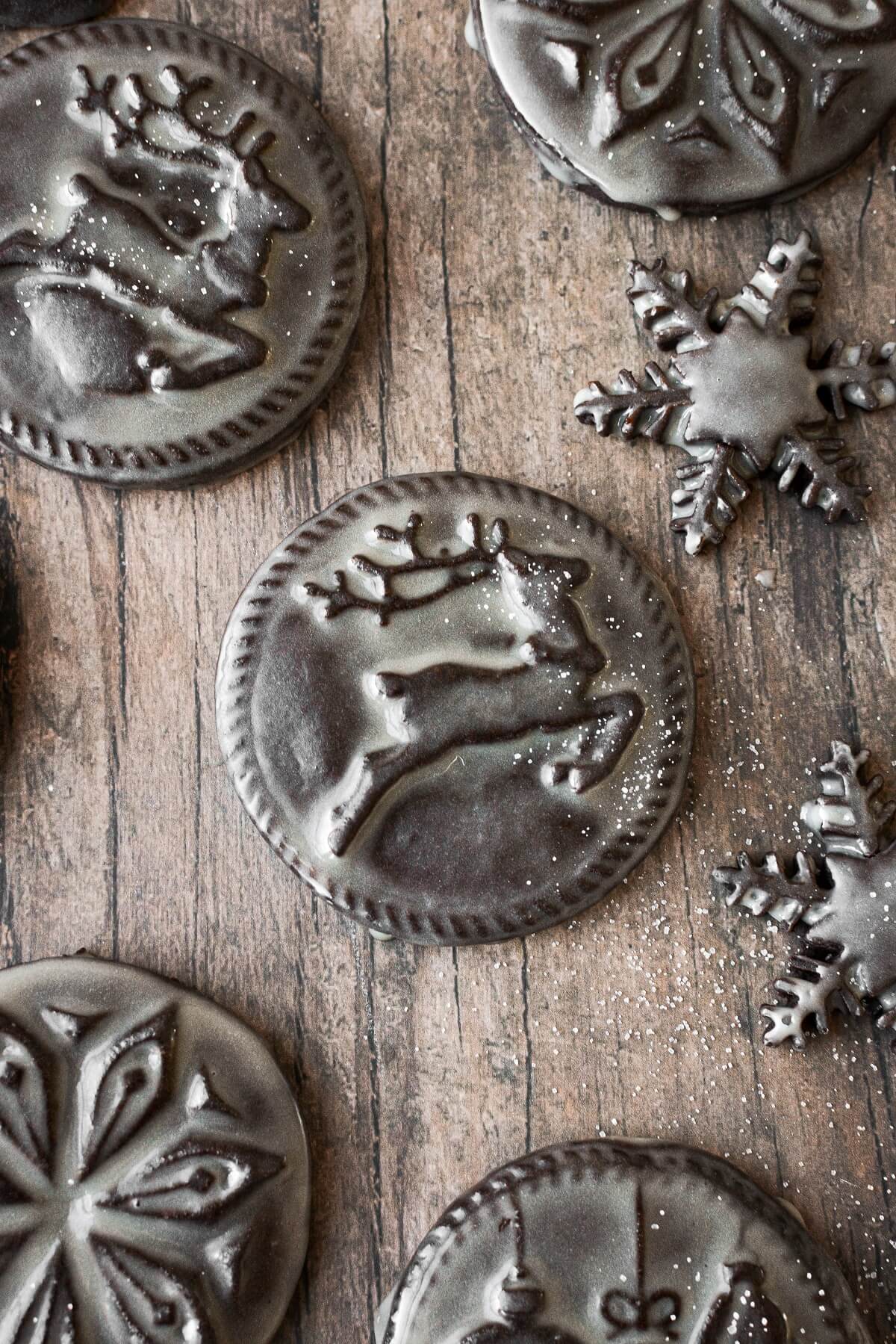 Chocolate Biscotti
Since biscotti has such a long shelf life, it's a wonderful addition to a Christmas cookie gift box. This recipe is really easy to make, and I've included lots of step-by-step instructions to guide you through the process, if you're new to making biscotti.
This easy high altitude recipe for chocolate biscotti makes the most perfect biscotti for dunking in hot coffee or tea. There's chocolate chips and Dutch-processed cocoa powder in the biscotti for a rich chocolate flavor, and each one is spread with swirls of melted dark chocolate.
Fudge Brownies
I absolutely adore brownies any time of year. My fudge brownies have a shiny, crackly top that looks so beautiful, and they stay soft and moist for days! Dutch-processed cocoa powder and melted dark chocolate gives these brownies rich and complex chocolate flavor that's not too sweet. So throw out those boxed brownie mixes and get ready to make the most incredible fudge brownies you've ever tasted!
TIP: For a cookie gift box, be sure to wrap the brownies individually, or the cookies and biscotti will draw their moisture out and make them dry.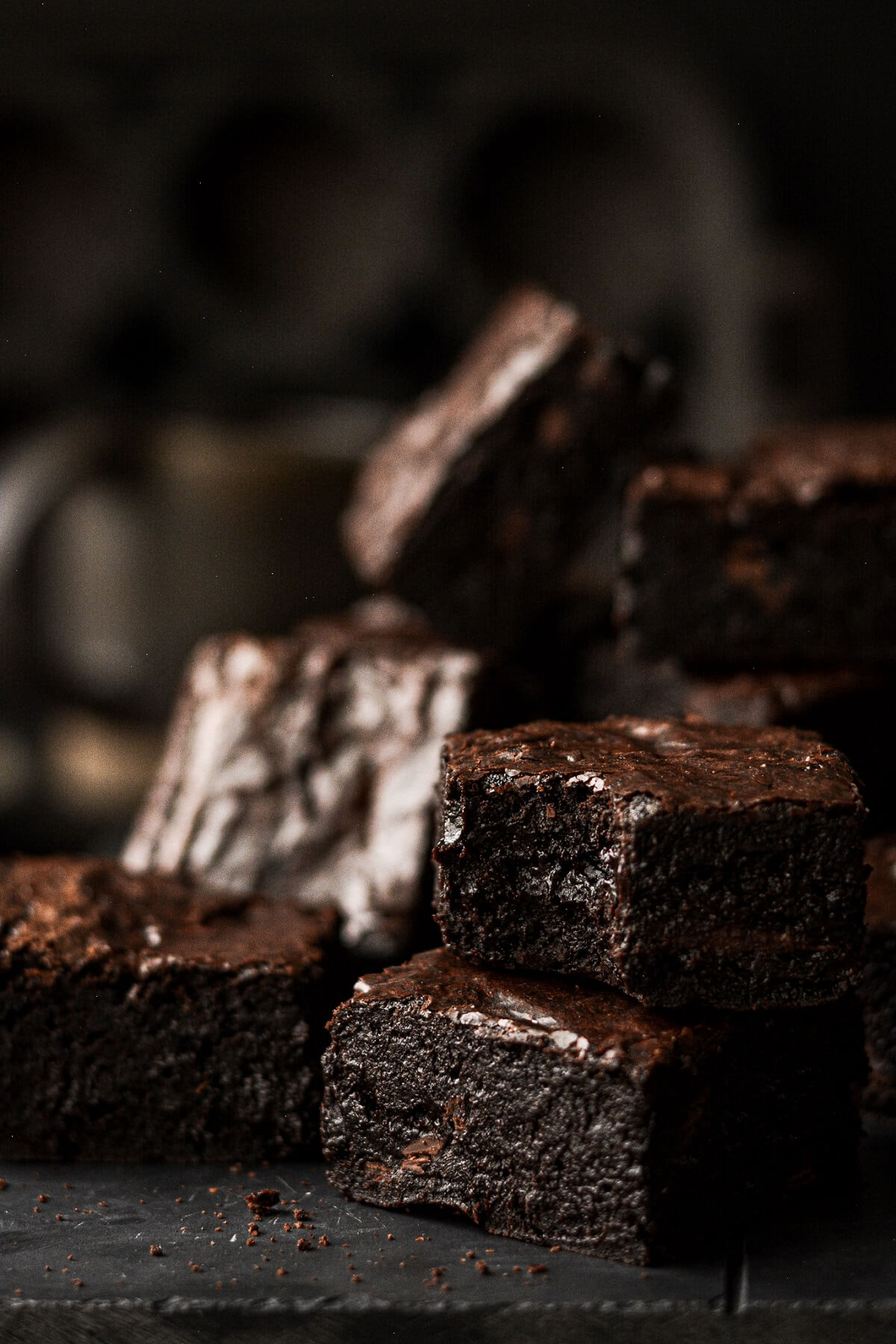 Strawberry Chocolate Truffles
These 3-ingredient chocolate strawberry truffles are made from creamy dark chocolate ganache coated in crushed freeze dried strawberries for an easy and delicious treat. And their red strawberry coating looks so beautiful for Christmas.
Strawberry Chocolate Truffles Recipe
Chocolate Chip Cookie Dough Truffles
These are the most delicious chocolate chip cookie dough truffles, made with edible cookie dough coated in dark chocolate and sprinkled with flaky salt. I like to keep these in the refrigerator and eat them cold.
Chocolate Chip Cookie Dough Truffles Recipe
Cookies and Cream Bark
This easy to make cookies and cream bark only requires two ingredients and no special equipment. A delicious no bake treat for a Christmas cookie box! One of my absolute favorite store bought cookies are the white fudge covered Oreos that are only available around the holidays. But when they're not on store shelves, this simple candy is quick to make and tastes just like those cookies.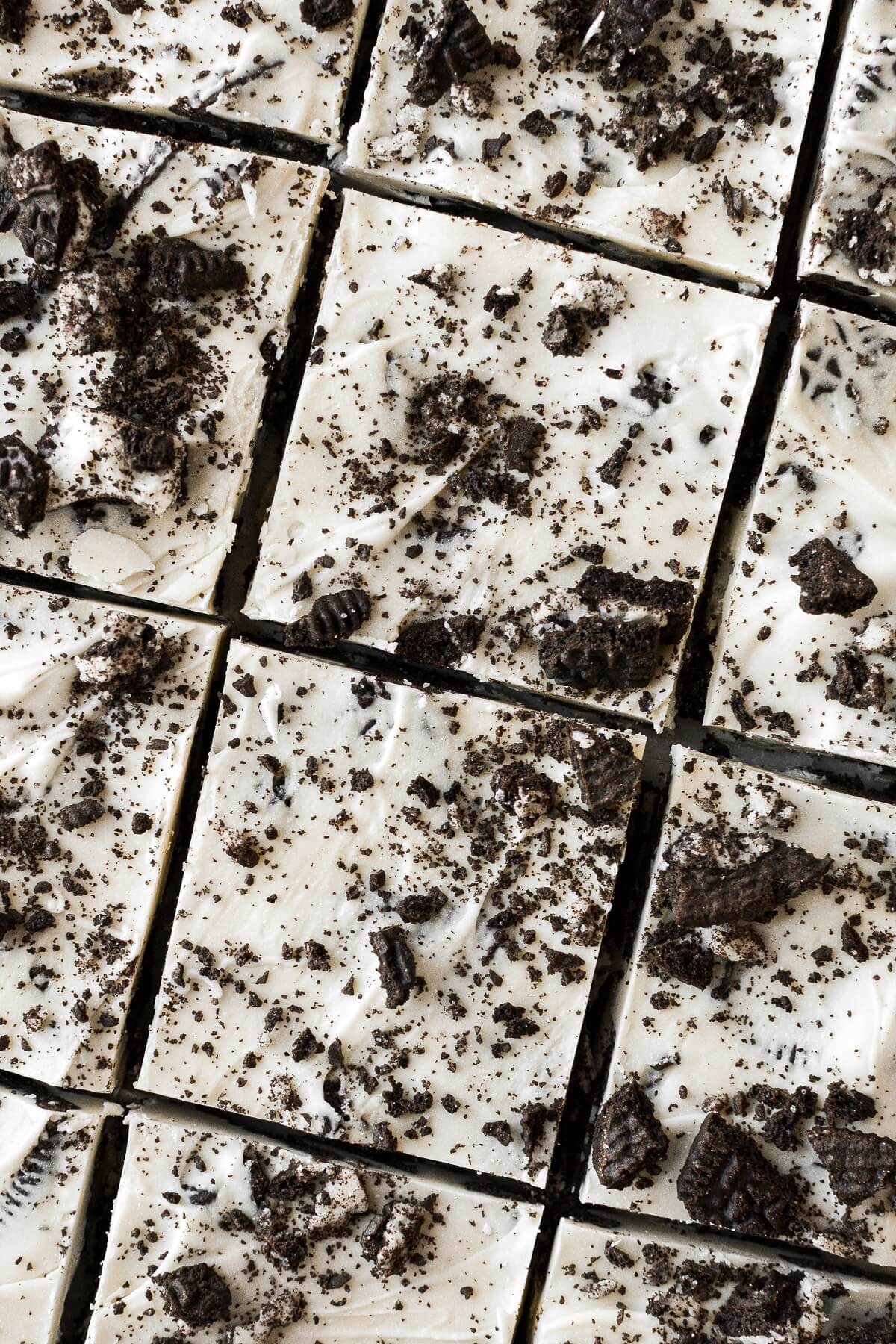 Chocolate Chip Cookies
What would a chocolate cookie box be without classic chocolate chip cookies? If you're looking for a great recipe for high altitude chocolate chip cookies that are soft and chewy, then look no further. This is a classic chocolate chip cookie recipe developed specifically for high altitude bakers. So no fear of a flat cookie that spreads all over your baking sheet. These cookies are thick and chewy, soft for days after baking, perfectly salty and sweet, and loaded with chocolate chips.
What's special about this cookie recipe is that instead of creaming softened butter with the sugar and other ingredients, you'll simply be mixing in melted butter and stirring the dough completely by hand. The chocolate chip cookie dough only needs a brief time to cool and chill before it's ready to bake, so you'll have a fresh batch of warm, gooey cookies in less than an hour!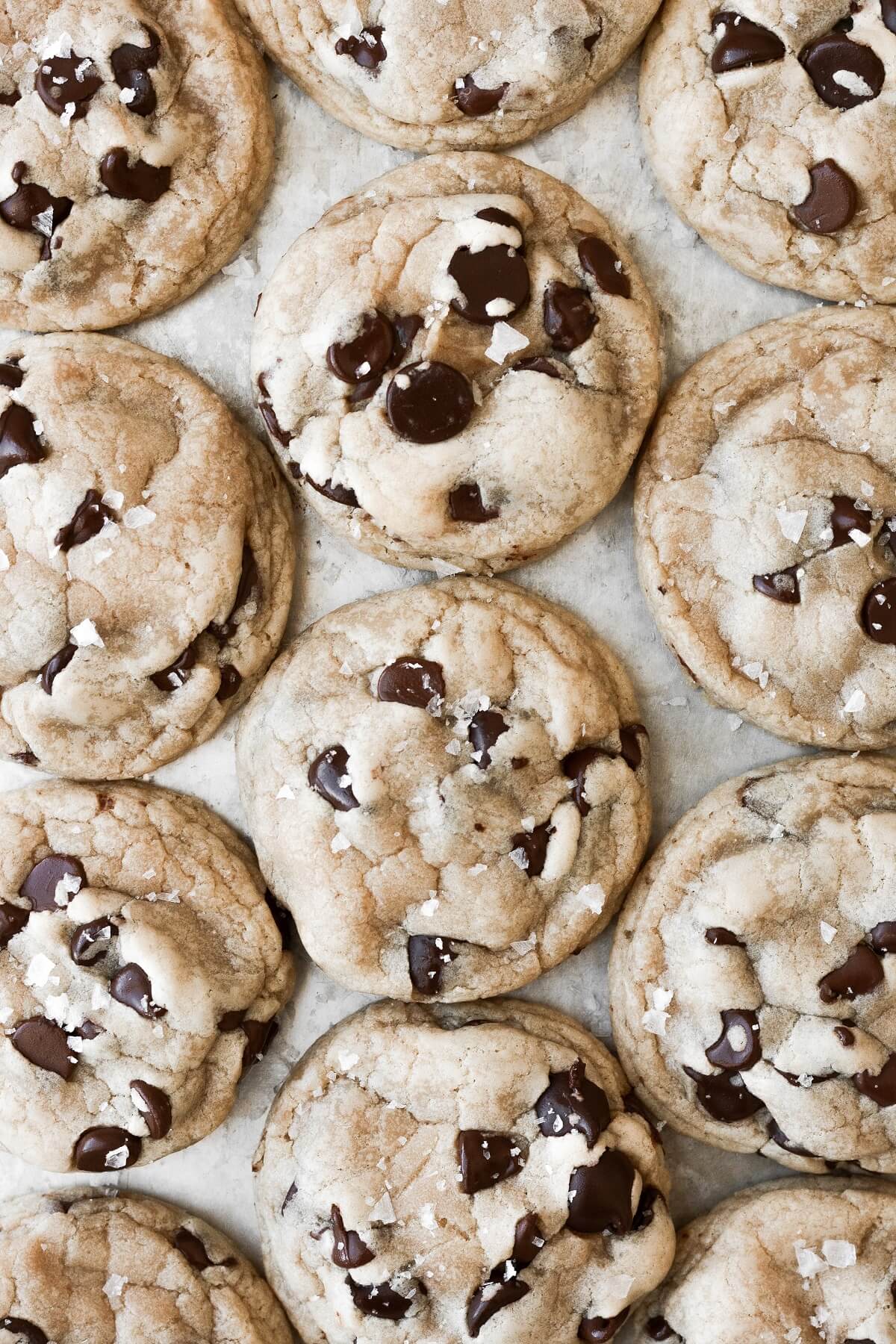 White Chocolate Chip Chocolate Cookies
These thick and chewy chocolate white chocolate chip cookies have a rich chocolate flavor from Dutch-processed cocoa powder, and they're loaded with both dark and white chocolate chips. They have crisp edges with soft and chewy, brownie-like centers. White chocolate chips add a nice sweetness to balance the bitterness of the cocoa, and a sprinkling of flaky salt is the perfect finish. This is a quick and easy, high altitude chocolate cookie recipe, with no chill time and no mixer required!
White Chocolate Chip Chocolate Cookies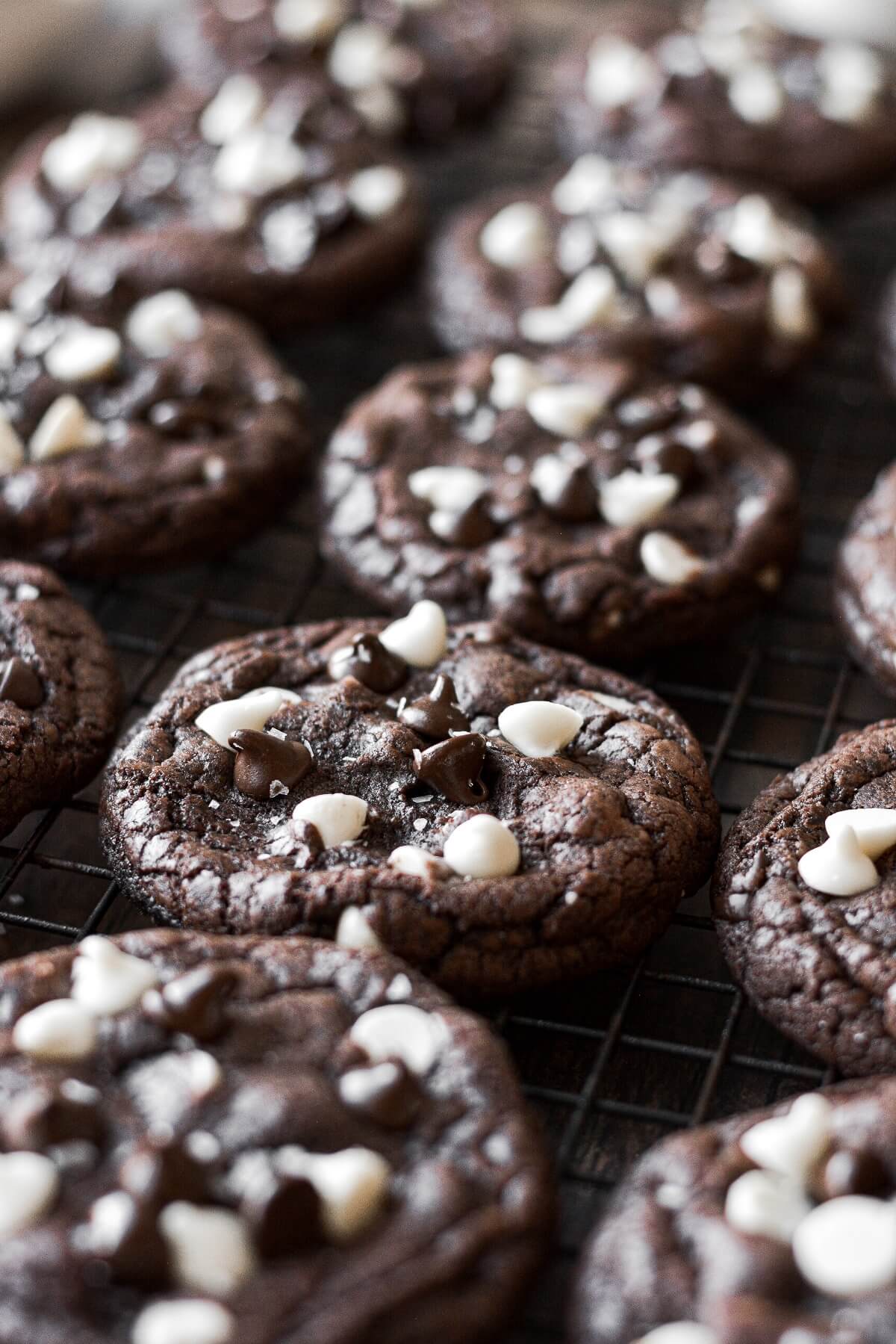 Homemade Hot Chocolate Mix
There's nothing like a warm, cozy mugful of hot chocolate on a cold day. After playing outside in the snow, my little boys immediately ask for hot chocolate with lots of marshmallows. It's such a nostalgic drink that's perfect for sipping on a cold night, while snuggling under blankets, watching movies and eating popcorn. And since my little boys love hot chocolate so much, I've been keeping plenty of my homemade hot chocolate mix on hand. It's quick and easy to make, and so much tastier than store bought powdered mixes.
TIP: Hot chocolate mix is so cute packaged in clear treat bags, tied up with red twine and a candy cane. You could even include a coffee mug, and some homemade vanilla bean marshmallows.
Chocolate Dipped Pretzels
I don't have a recipe on my site for chocolate dipped pretzels, since they're so straightforward. All you need are pretzels of some kind – sticks, rods and twists all work fine. I used long pretzel rods which I dipped into melted semi-sweet chocolate, then placed them on wax paper to set. Before the chocolate hardened, I sprinkled them with mini chocolate chips.
You Might Also Like
---
Favorite Products
---