One of my most popular Christmas cakes is this gorgeous Christmas Tree Cake! Read on for everything you need to know to create your own cake with a piped buttercream Christmas tree to impress your friends and family this holiday season.
Looking for more Christmas cake ideas? You'll love this beautiful eggnog cake, cranberry Christmas cake, and snowman cake.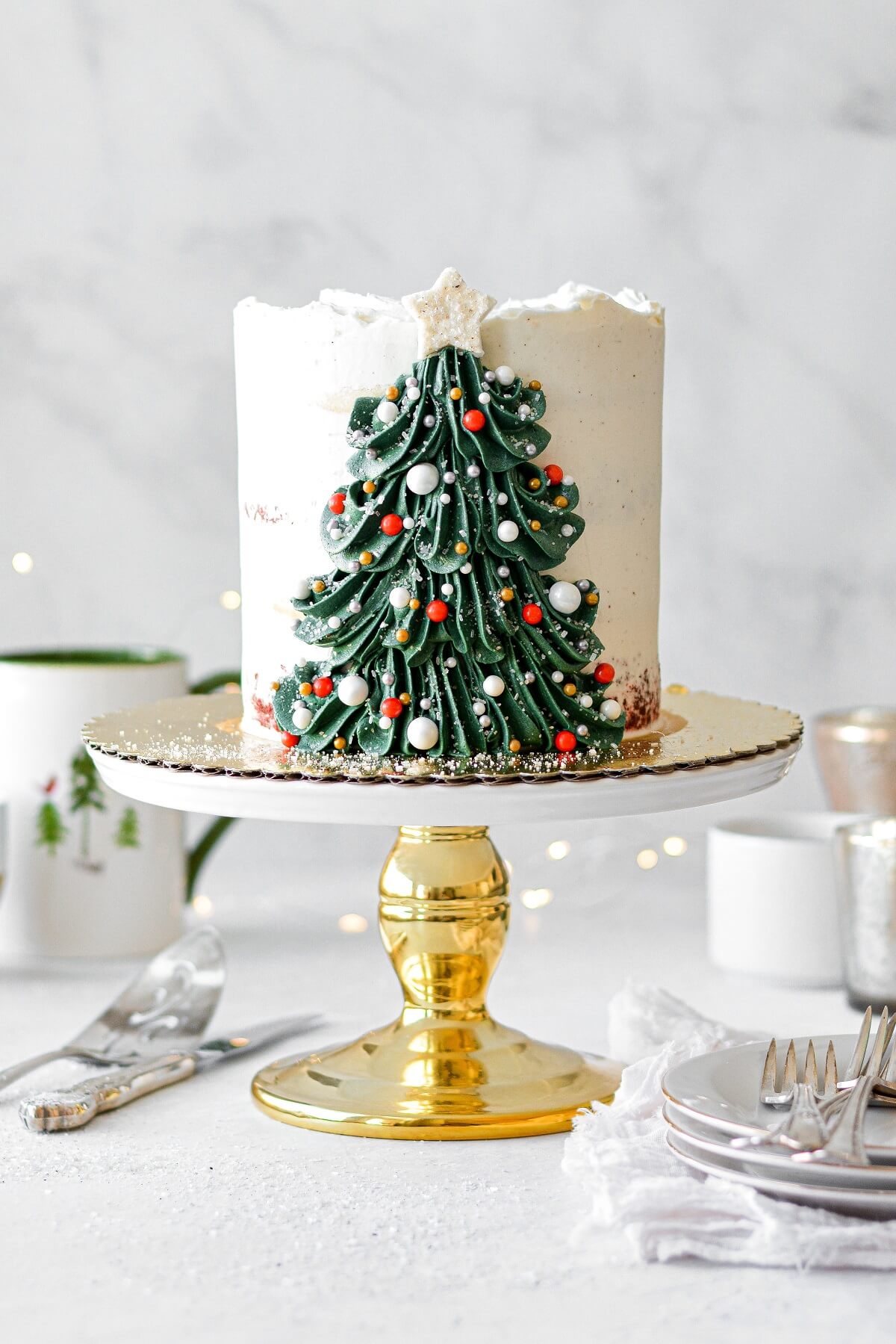 This site contains affiliate links. As an Amazon associate, I earn from qualifying purchases. This means that I may make a small commission if you purchase a product using those links. This in no way affects my opinion of those products and services. All opinions expressed on this site are my own.
What You'll Need
Cake
Any standard-sized cake recipe (or box cake mix), baked in four 6-inch cake pans.
The cake flavor is totally up to you.
This particular style with the Christmas tree piped up the side of the cake in buttercream works best with a tall cake, preferably 4 layers. Most of the cake recipes on my blog are written for a standard layer cake, which I prefer to bake in three 8-inch pans. For today's Christmas tree cake, I'd recommend filling and stacking four 6-inch cake layers for a taller cake. A shorter cake just won't give you enough height to work with for piping a pretty Christmas tree. So filling smaller cake pans with more batter will give you more cake layers that you can stack taller. If you feel like using all 4 layers is too tall, then just wrap and freeze one of the layers to use for another project.
Buttercream
For today's cake, you'll need to make 4x my buttercream recipe.
You can make it any flavor that complements your cake, but it'll look best if you keep it white.
I'd encourage you to read my comprehensive guide on Perfect American Buttercream. It includes not only my perfect buttercream recipe with flavor variations, but also essential ingredients and tools, tips and techniques, and how to achieve a perfect texture and consistency in your buttercream.
Essential Tools.
Instructions
Bake and cool your cake.
After baking your cake, cool the cake layers completely before assembling and frosting your cake.
With a tall cake like this, it can be easier to wrap the cake layers individually in plastic wrap and freeze them, then stack and fill the frozen layers.
Make the Buttercream.
After making your buttercream, you can refrigerate it in an airtight container for up to 1 week, or freeze it for up to 3-6 months.
Let the buttercream come to room temperature, and if necessary, re-whip it for several minutes with your mixer.
Fill and Frost the Cake.
Once you've baked and cooled your cake layers, and made your buttercream, you can get started on the decorating. Stack and fill your cake layers with buttercream, then frost your cake all over with a thin crumb coat of buttercream.
Chill your crumb-coated cake for 30 minutes, then frost all over with a final coat of buttercream, saving the extra buttercream for the tree. You can smooth out the buttercream on the sides of the cake, or leave it swirly, whatever you like.
Once your cake is frosted, chill it in the refrigerator for 30-60 minutes before piping your Christmas tree.
Be sure to read my post How to Stack, Fill, Crumb Coat and Frost a Cake for lots of tips.
Decorating your cake.
Getting a Deep Green Buttercream Color.
It can be a little tricky to get a deep, woodsy green color with food coloring, but the key is to use several different colors until you're happy with the shade. There are so many shades of green gel food coloring available, but I'll just explain how I achieved this shade with the colors I have on hand. All of my gel colors are the AmeriColor brand.
With my bowl of extra buttercream, I started by adding a few drops of Forest Green. You would think from the name that it would make a deep green buttercream, but it doesn't. Then I added a very small amount of Super Black to darken it a little. Be careful with the black, as too much can make your frosting gray. From there, I added a touch of Electric Green and a small dab of Turquoise and Leaf Green. Then I just kept adding a bit more of each as needed until I was pleased with the shade of green. If you search online, there are many articles that can guide you on how to combine food colors to get the specific shade you're after.
I've also done this exact Christmas tree cake design in all white, which you can see here on my Eggnog Christmas Tree Cake. How gorgeous is the white tree with gold and silver sprinkle "ornaments"?
Piping the Buttercream Christmas Tree.
To pipe the Christmas tree, fit a piping bag with tip #1M, and fill with buttercream. Start at the bottom of the cake, piping swoops upwards to create the branches of the tree. Pipe the bottom row first, then the next row, working your way up the side of the cake. The top branch of the tree should be the last branch you pipe.
Before the buttercream crusts over, decorate the Christmas tree with sugar pearls and sprinkle "ornaments".
Making a Buttercream Star.
For the star, spread a small amount of buttercream onto a piece of wax paper. The buttercream should be about 1/4 inch thick or slightly thinner. Sprinkle with sparkling sugar, and press it gently into the buttercream. Freeze the buttercream on the wax paper for about 10 minutes, until firm.
Use a mini star cutter to cut a star from the frozen buttercream. If you don't have a star cutter, you can just use a knife. Carefully lift the frozen star off the paper, and place on your cake to top the Christmas tree.
Be sure to read all of my BAKING FAQs where I discuss ingredients, substitutions and common questions with cake making, so that you can be successful in your own baking! I also suggest reading my comprehensive posts on making Perfect American Buttercream and How to Stack, Fill, Crumb Coat and Frost Layer Cakes.
You Might Also Like
---
Favorite Products
---