Our Valentine's Day cake this year is pure romance.  The cake inside is dark chocolate, filled with chocolate buttercream, chopped chocolate, and extra cake crumbs soaked in chocolate syrup.  Outside, a demure coat of pink peppermint buttercream is covered in a shower of sparkling sugar that's infused with peppermint and vanilla bean.  The sparkling sugar is so beautiful that the cake doesn't really need any other decoration, but I placed a few roses on top for a little extra flair. This sparkling sugar covered cake makes the loveliest cake for so many special occasions, whether for Valentine's Day, birthdays or baby showers.
Looking for more Valentine inspiration? Don't miss these buttercream filled Valentine Linzer cookies, heart shaped strawberry shortbread cookies, and ruby chocolate truffles.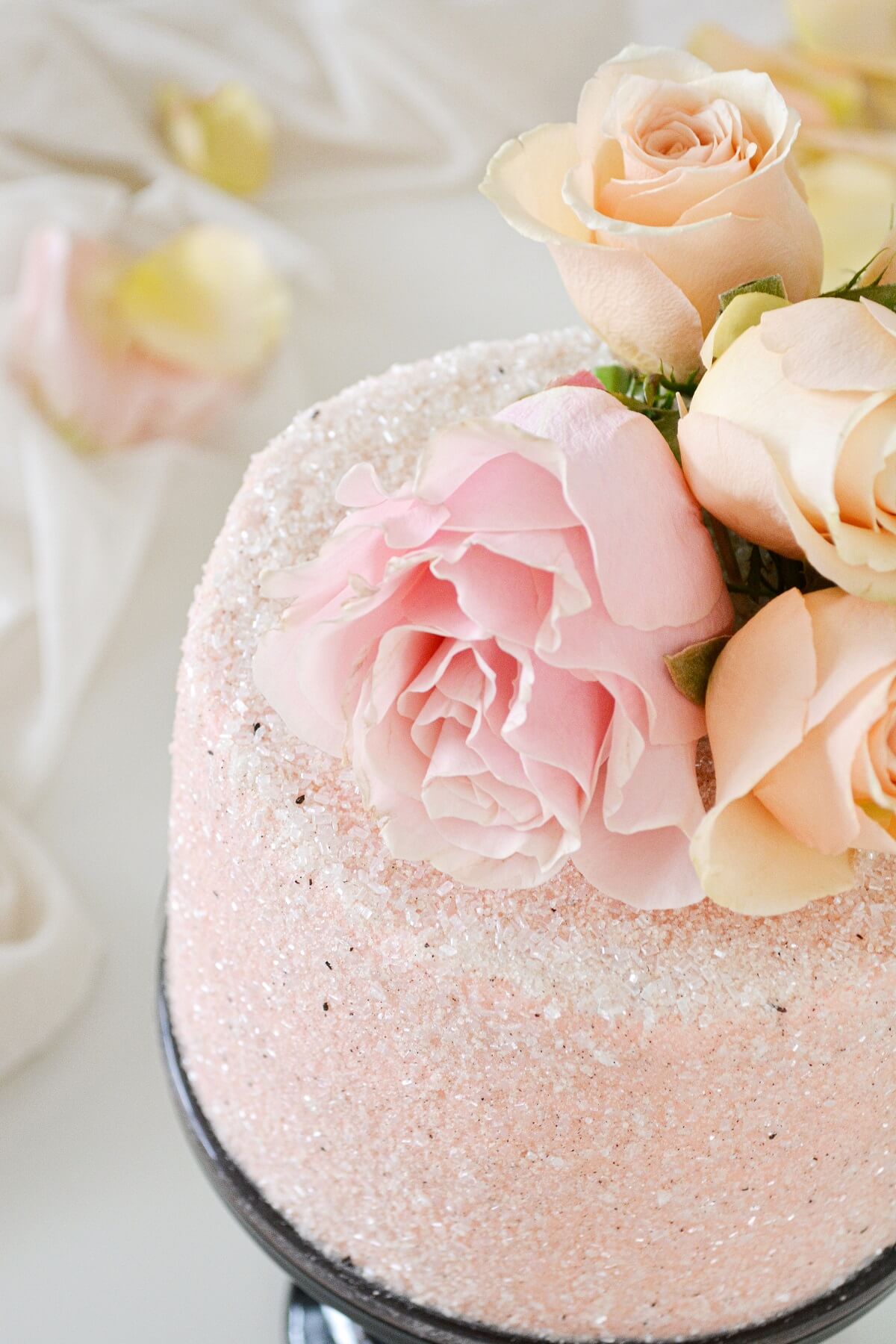 This site contains affiliate links. As an Amazon associate, I earn from qualifying purchases. This means that I may make a small commission if you purchase a product using those links. This in no way affects my opinion of those products and services. All opinions expressed on this site are my own.
Chocolate Cake
I tend to save and freeze bits of leftover buttercream and cake so that nothing goes to waste, and I made this cake completely from my freezer stash! So I started with layers of my favorite chocolate cake, that I filled with chocolate buttercream. I also found some extra chocolate cake crumbs, which I soaked in homemade chocolate syrup, and piled between the cake layers. This step added an extra depth of chocolate flavor in the filling, and was a good use of leftover cake scraps. The cake was soft, moist and decadently chocolatey.
Peppermint Buttercream
The peppermint buttercream adds a bit of freshness that's so nice with all the rich chocolate. I tinted the buttercream with pink gel food coloring, which looked beautiful showing through the white sparkling sugar.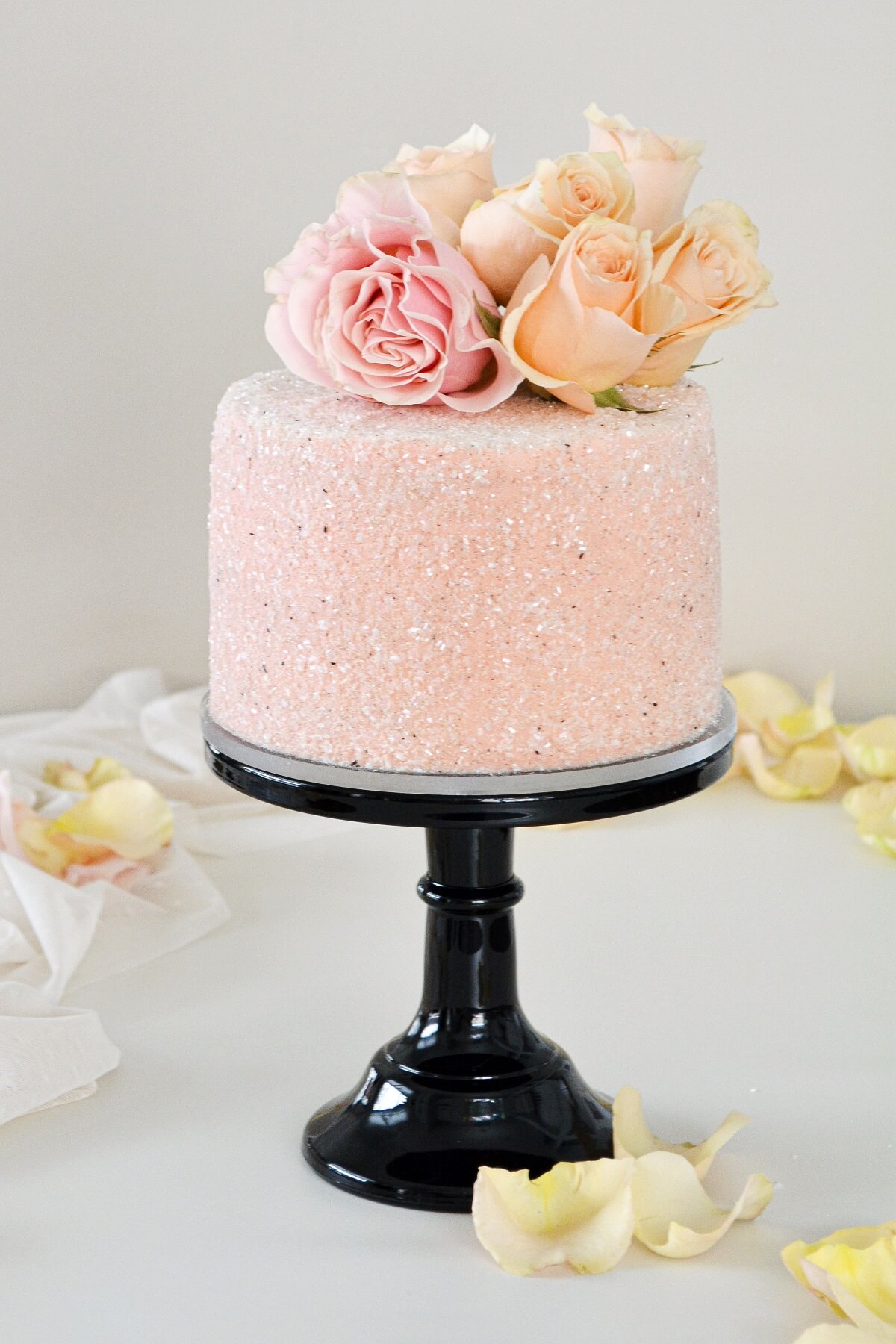 How to Cover a Cake with Sparkling Sugar
It's so easy to make a sparkling sugar covered cake! You don't need any cake decorating experience for this technique, and it takes less than 5 minutes to apply the sugar.
What You'll Need
Decorative Sanding Sugar + Coarse Sparkling Sugar. I like to use a mix of coarse sparkling sugar and finer sanding sugar. The coarse crystals look so striking, while the fine sugar helps get better coverage on the cake. I started with a medium-sized decorating sugar that was infused with flecks of vanilla bean, then mixed it with coarse white sparkling sugar and silver sanding sugar.
Instructions
Before you cover a cake with sparkling sugar, the cake should be freshly frosted all over with its final coat of buttercream. You'll need to press the sugar on while the buttercream is still tacky, before it has a chance to crust over, or the sugar won't stick.
Now place a large baking pan or cookie sheet on the counter. This will catch the falling sugar.
Place a small bowl upside-down in the pan, set a non-slip pad on top, and set the frosted cake on the bowl. Setting the cake on the overturned bowl will elevate it a few inches above the pan and make the whole process easier.
Starting with about a cup of sparkling sugar, scoop up handfuls and pat it onto the buttercream. Continue scooping handfuls and patting it onto the sides of the cake, then finish the top. Any sugar that falls into the pan can be scooped back up and used again.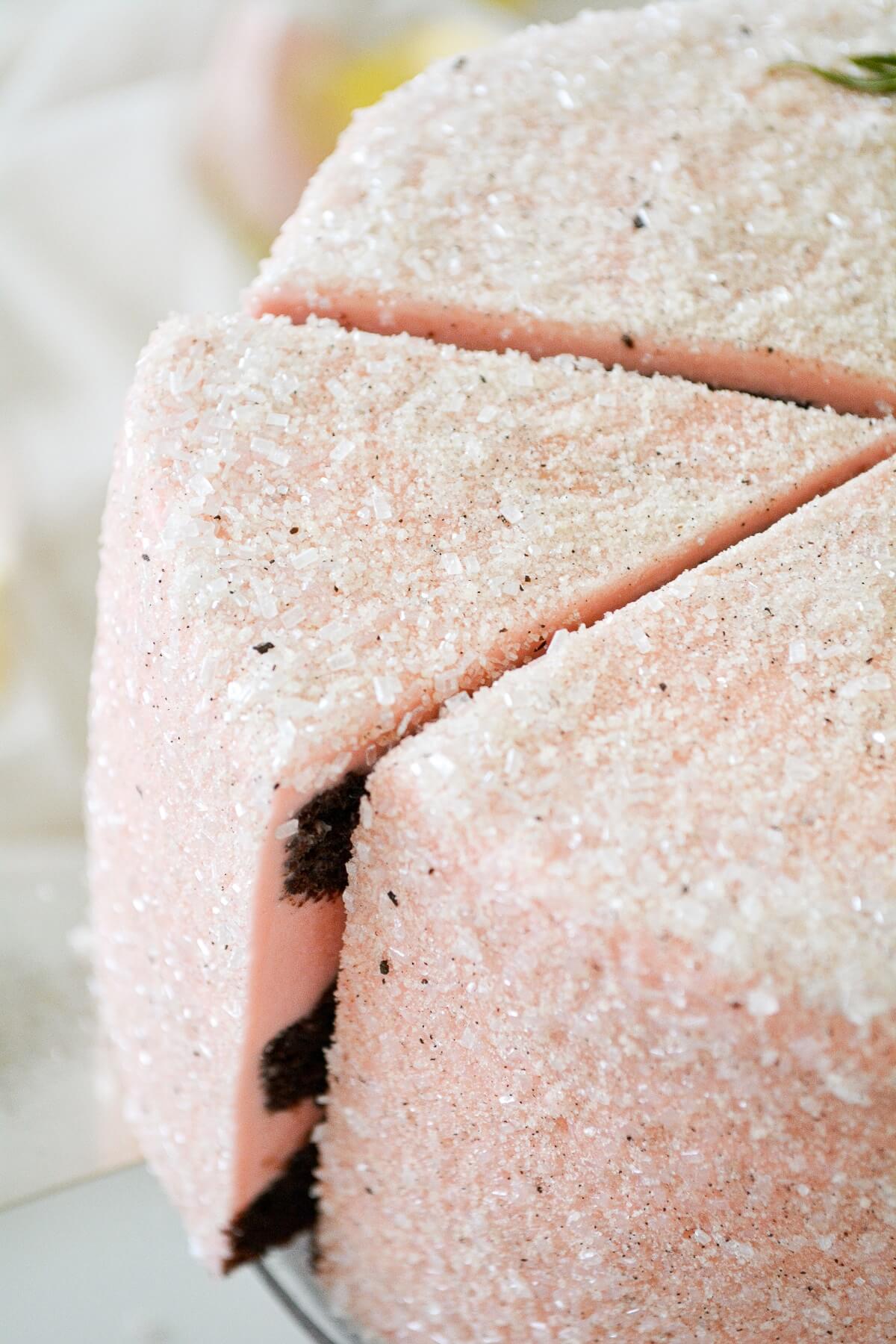 Be sure to read all of my BAKING FAQs where I discuss ingredients, substitutions and common questions with cake making, so that you can be successful in your own baking! I also suggest reading these comprehensive posts on making Perfect American Buttercream, How to Stack, Fill, Crumb Coat and Frost Layer Cakes and How to Use Piping Bags.
Frequently Asked Questions
Does the sparkling sugar make the cake too sweet?
No, there's actually very little sugar sticking to the buttercream. My buttercream is about half as sweet as most American buttercreams, so overall, the result is not too sweet. It adds a nice little crunch, and of course, beautiful sparkle.
What kind of sugar should I use?
I recommend a mixture of coarse sparkling sugar and decorative sanding sugar for the best sparkle and coverage. You can find both on the baking aisle of your local craft stores.
Where can I get the recipe for the pictured cake?
Chocolate Cake with Chocolate Buttercream
You Might Also Like