There's no holiday I love as much as I love Christmas. And baking Christmas cookies is such a fun and festive tradition that I look forward to every year. From buttery, nutty shortbread, to drop cookies, to crunchy biscotti dunked in hot coffee, homemade candy and cutout sugar cookies decorated with royal icing, powdered sugar or buttercream, there's no shortage of sweet treats in our house this time of year. Today I'm sharing more than 55 of my most popular high altitude Christmas cookies and candy recipes. Each of these Christmas cookie recipes is developed for Denver's altitude of 5,280 feet, so mountain bakers can bake with confidence this holiday season!
You might also love this buttercream Christmas tree cake tutorial, my Christmas cookie box styling guide, and this gingerbread sheet cake with powdered sugar snowflakes.
This site contains affiliate links. As an Amazon associate, I earn from qualifying purchases. This means that I may make a small commission if you purchase a product using those links. This in no way affects my opinion of those products and services. All opinions expressed on this site are my own.
Shortbread Cookies
Hazelnut shortbread cookies have a buttery, crumbly texture and rich hazelnut flavor that's perfect for the holidays. Enjoy these cookies plain, dipped in your coffee, or topped with a swirl of chocolate hazelnut spread and chopped hazelnuts for a pretty presentation. Tuck a few of these hazelnut cookies into your Christmas cookie boxes for a treat everyone will love.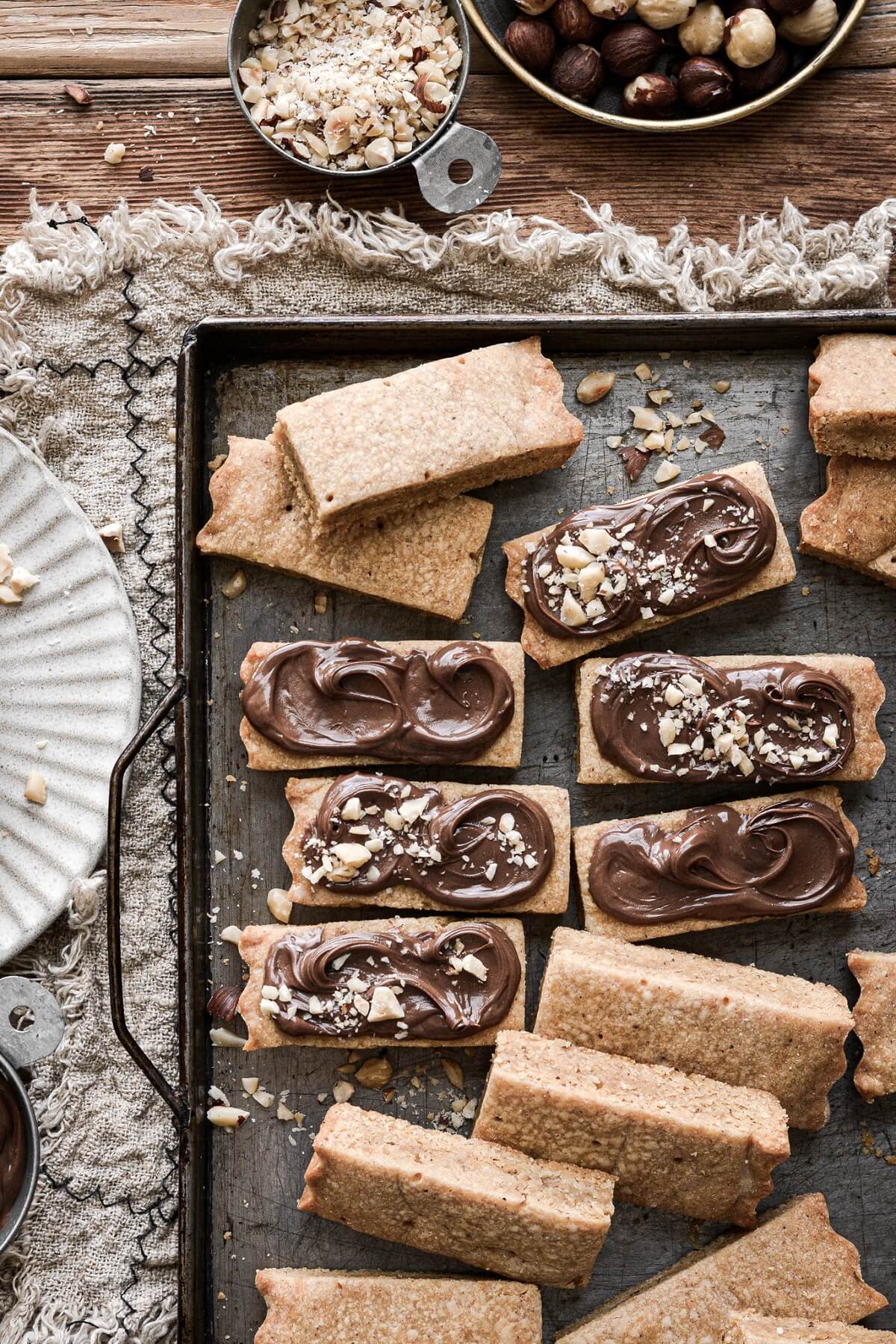 Maple walnut shortbread is easy to make, with a rich, buttery texture and maple walnut flavor. Cut in pretty wedges, this is a classic cookie to add to your Christmas cookie boxes!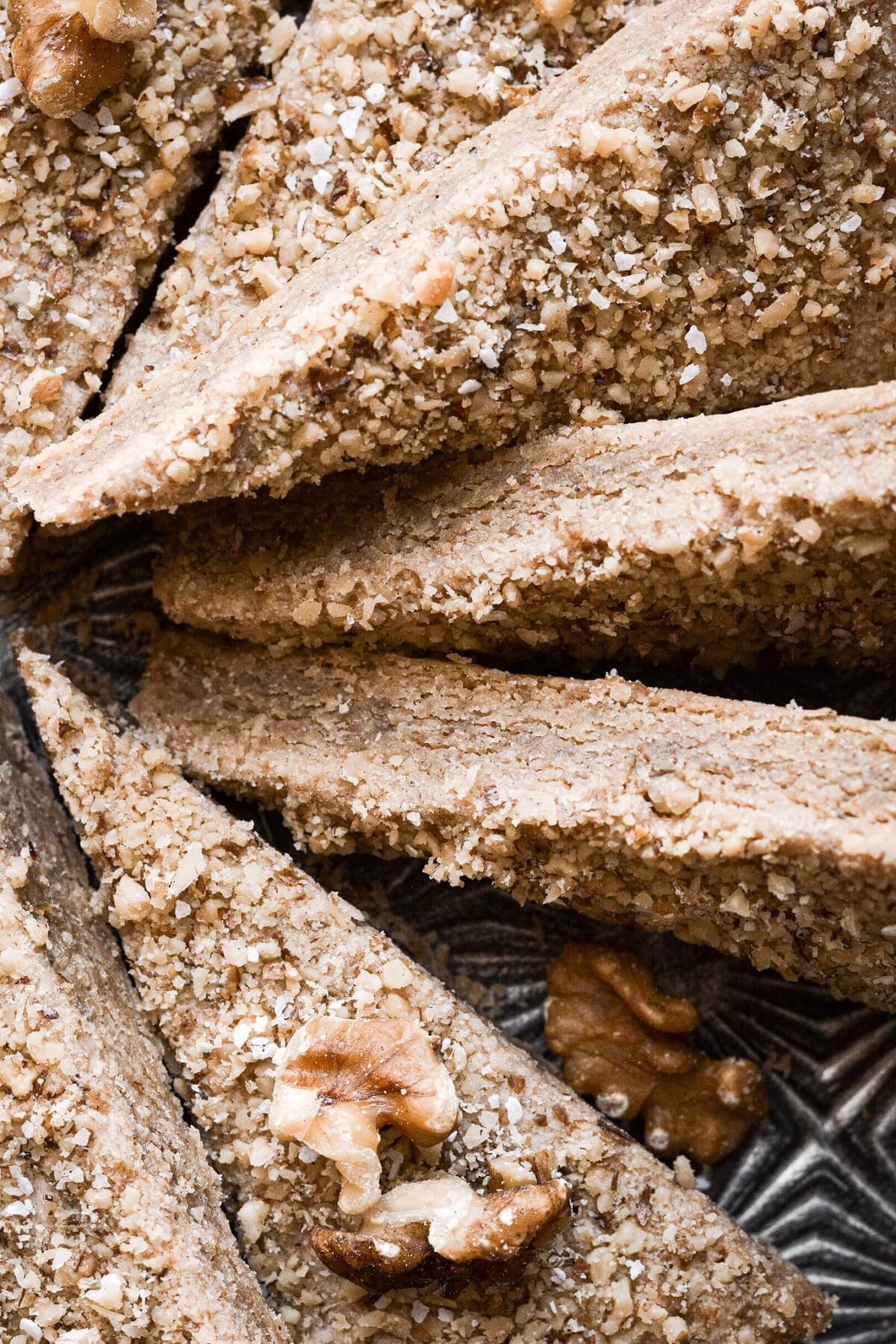 This classic recipe for almond shortbread cookies is easy to make, with a buttery, crumbly texture and delicious almond flavor that's perfect for a Christmas cookie box, or any time during the holiday season. The cookies look especially pretty sprinkled with sugar and cut in a diamond pattern.
Soft and buttery cranberry pecan shortbread cookies, flecked with dried sweetened cranberries, pecans and candied orange peel, and drizzled with orange icing. The combination of flavors in these delicious cookies is so perfect for Christmas!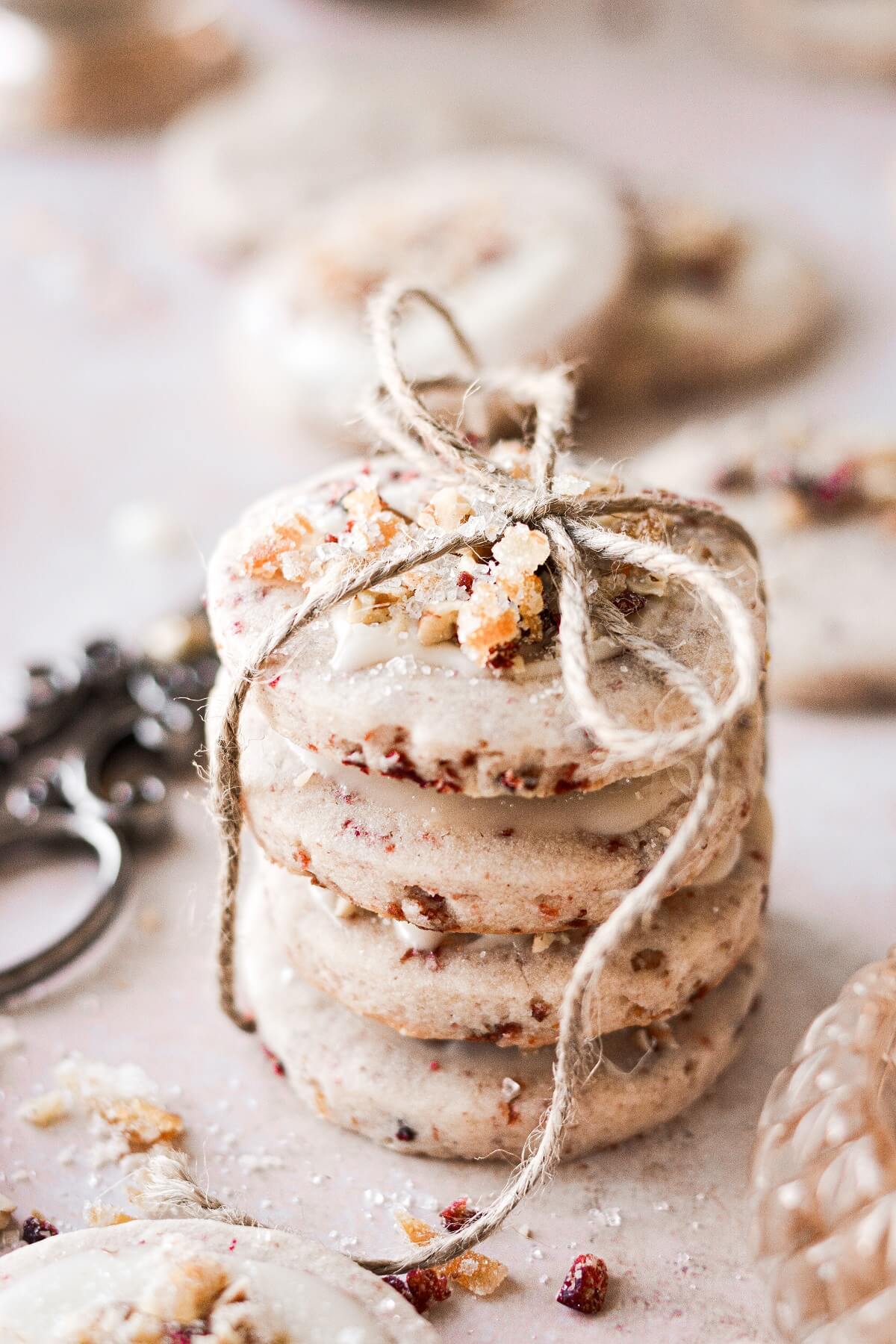 These stamped chocolate shortbread cookies are buttery, and not too sweet. They hold their shape perfectly when they bake, so the stamped design is beautifully preserved. And the icing brushed over the cookies while they're still warm highlights all the gorgeous details of the cookie stamp design.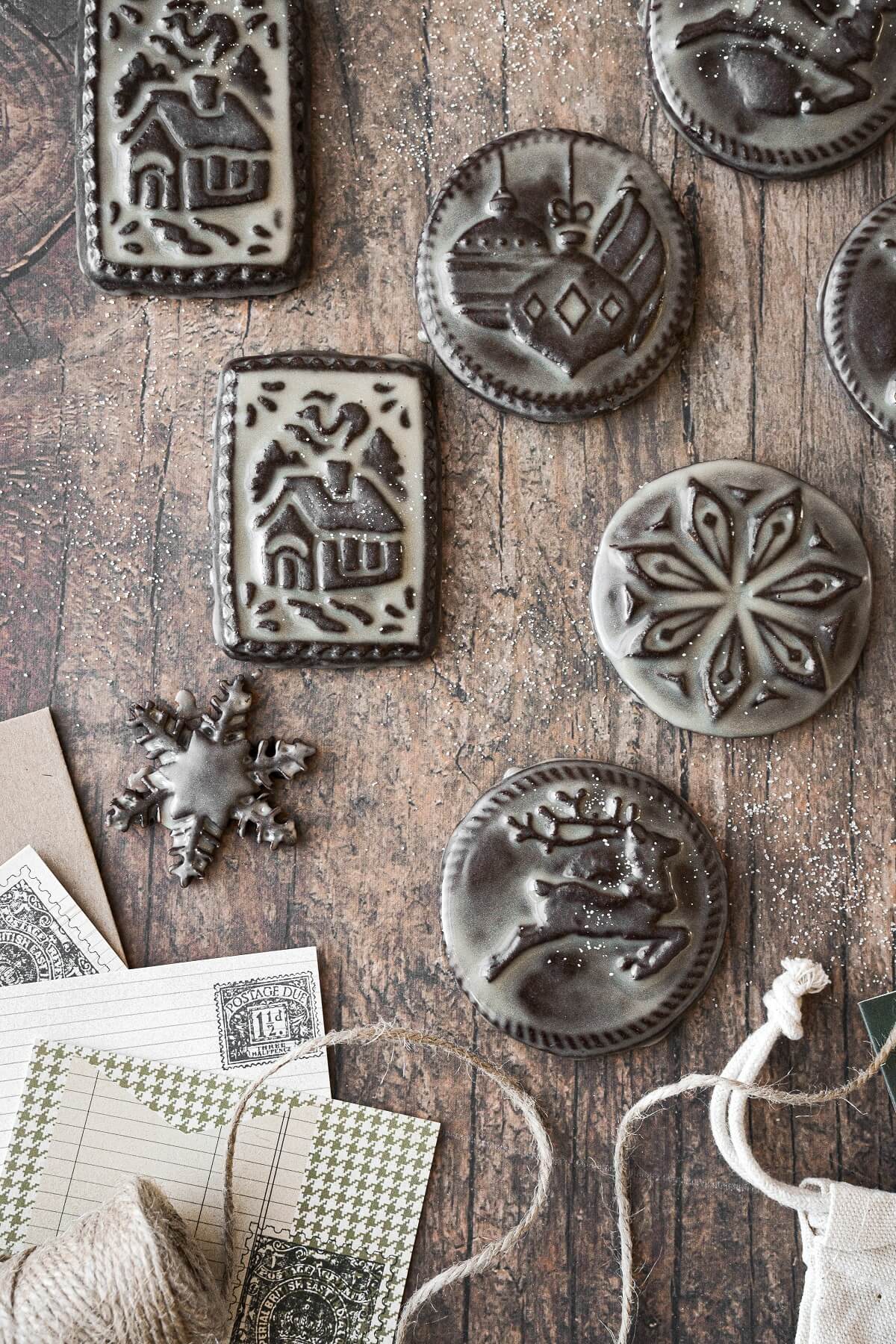 These chocolate chip toffee shortbread cookies look simple, but their soft, tender texture and buttery flavor make the perfect cookie to nibble with a cup of strong coffee. Mini chocolate chips and toffee bits add texture and crunch to these delicious cookies.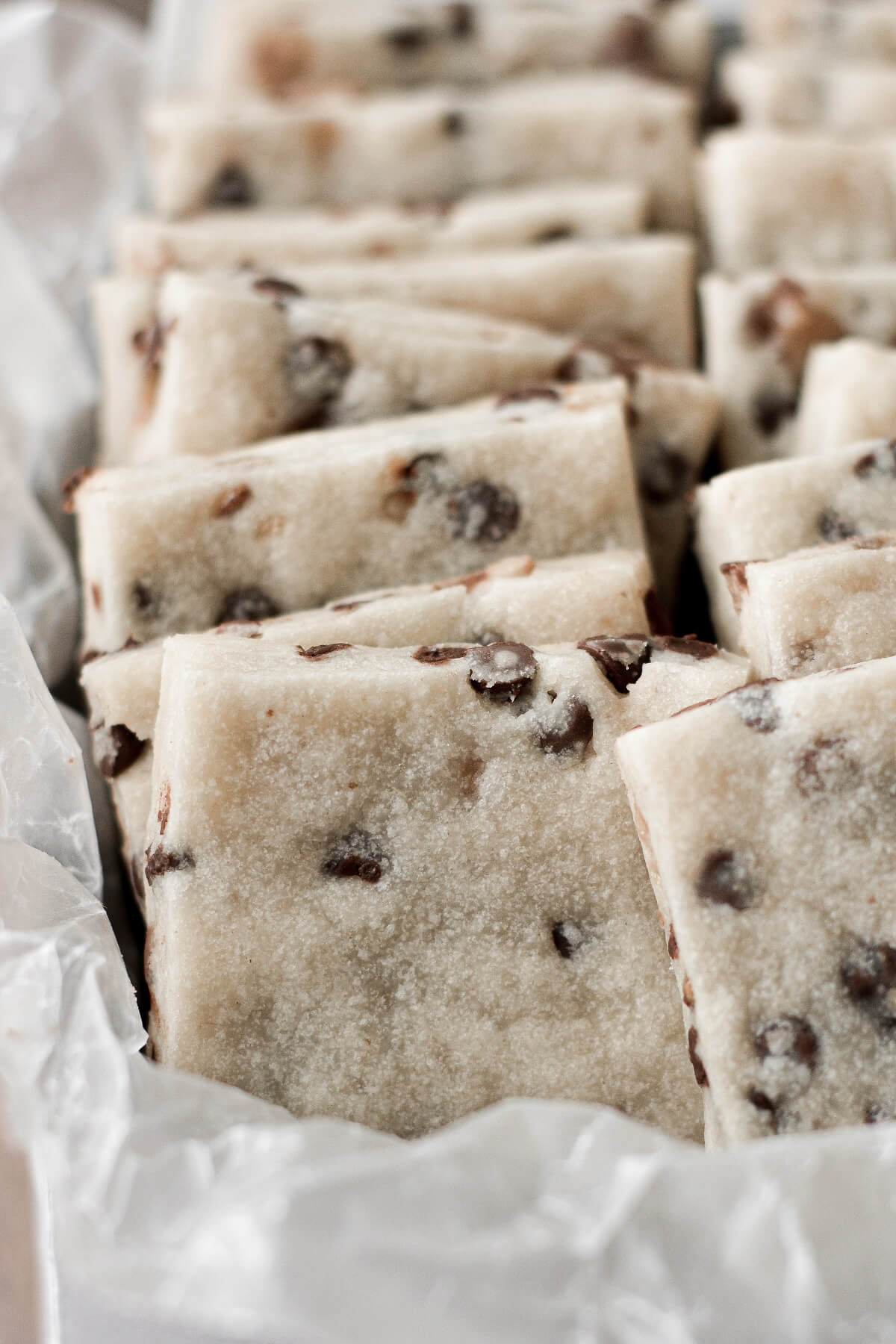 These orange ginger shortbread cookies are buttery and not too sweet, spiced with candied orange peel, as well as both ground ginger and candied ginger. A thin glaze of orange icing adds more delicious orange flavor that's just perfect with these slightly spicy cookies.
These stamped snickerdoodle shortbread cookies are crisp around the edges with a chewy center, and just so pretty for the holidays. A shower of cinnamon and sugar on top is the perfect crunchy finish!
Drop Cookies
These high altitude soft and chewy ginger molasses cookies are one of my favorite holiday cookies to bake. The spicy heat of the ginger is so delicious with the sweet molasses and hints of cinnamon and cloves, and the crackled cookie tops look just beautiful.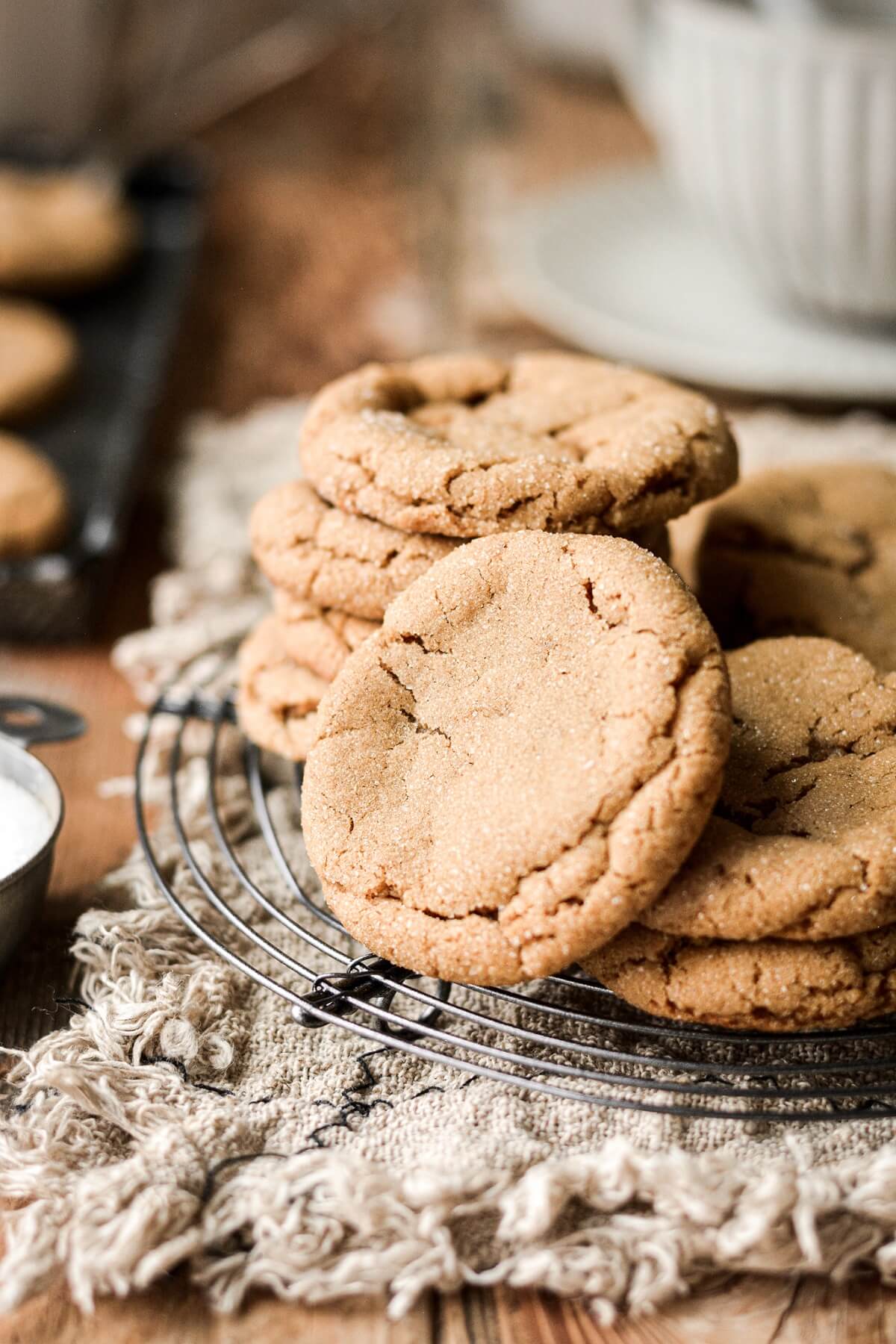 These beautiful old fashioned iced oatmeal cookies are a hit with everyone who tastes them. The cookies are so soft and chewy, slightly spicy with a hint of molasses, and dipped in sweet vanilla glaze.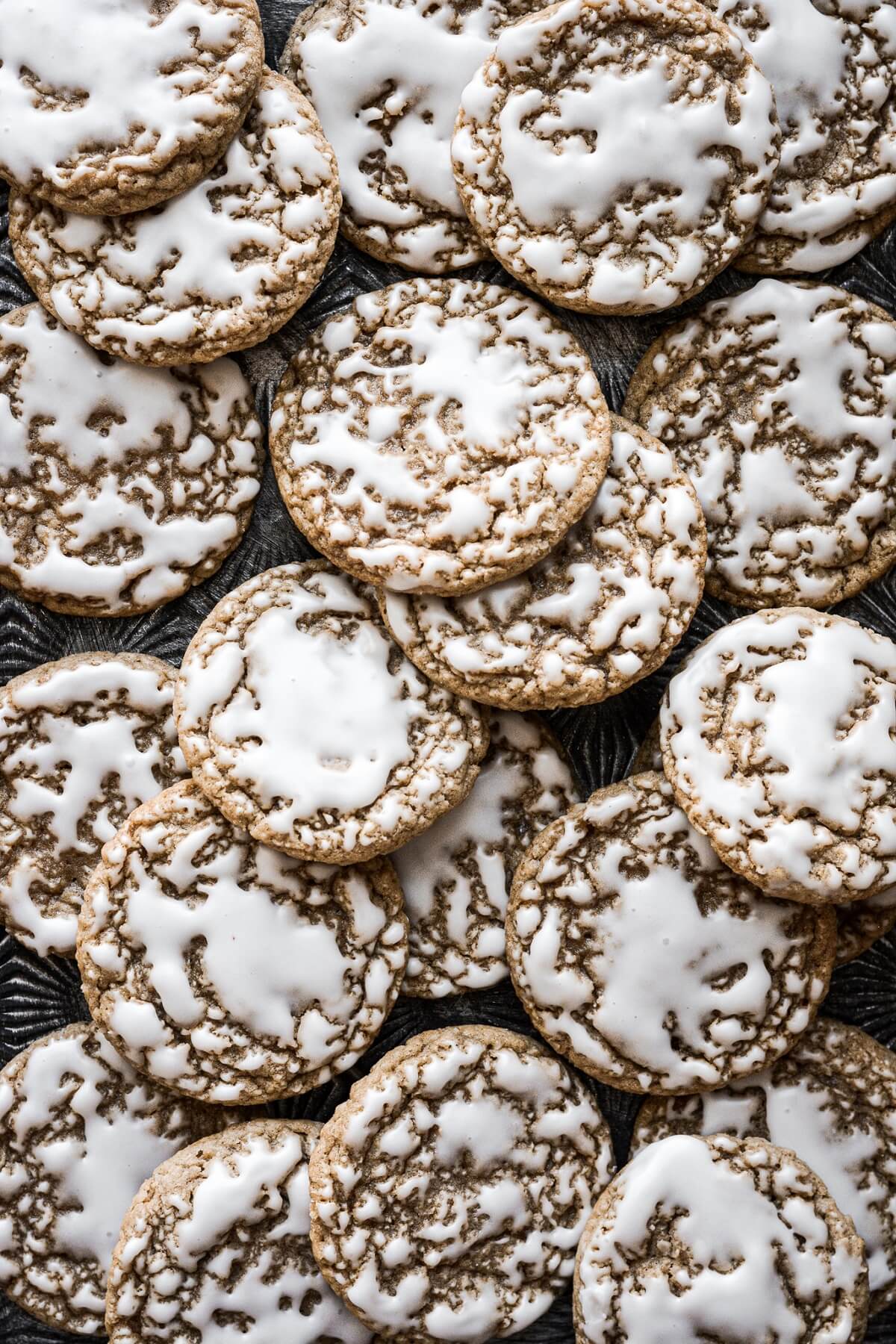 These thick and chewy cranberry almond oatmeal cookies have a hearty oat texture, crunchy almonds, sweet bursts of dried cranberries, brown butter and hints of cinnamon, nutmeg and cloves.
Buttery snowball cookies, full of nutty pecans, with a sweet coating of powdered sugar. These classic Christmas cookies are perfect for a cookie exchange during the holiday season.
An easy, high altitude recipe for chocolate brownie cookies with crisp edges and soft chewy centers. The cookie dough comes together without a mixer, and there's no chill time required!
If you're looking for a great recipe for high altitude chocolate chip cookies that are soft and chewy, then look no further! This is a classic chocolate chip cookie recipe developed specifically for high altitude bakers. So no fear of a flat cookie that spreads all over your baking sheet. These cookies are thick and chewy, soft for days after baking, perfectly salty and sweet, and loaded with chocolate chips. And don't miss these big chocolate chip cookies for two, for a treat you can bake with someone special.
Soft butterscotch cookies, sandwiched together with creamy chocolate ganache filling. They're great on their own, or you can even mix in some butterscotch chips to add more butterscotch flavor.
Soft and chewy brown sugar pecan cookies, coated in sparkling sugar and spiced with a little cardamom. These are incredibly soft brown sugar cookies that are full of nutty chopped pecans, although you can leave the pecans out for a plain brown sugar cookie, too.
Soft raspberry thumbprint sugar cookies, with a soft and chewy sugar coated cookie and sweet raspberry jam filling. A hint of almond extract in the cookie dough adds a lovely complementary flavor to the raspberry jam, and the cookies stay so incredibly soft for days.
Soft and fluffy sugar cookies, spiced with vanilla bean and cardamom, and topped with a swirl of buttercream. Decorate with red, white and green sprinkles for a festive touch.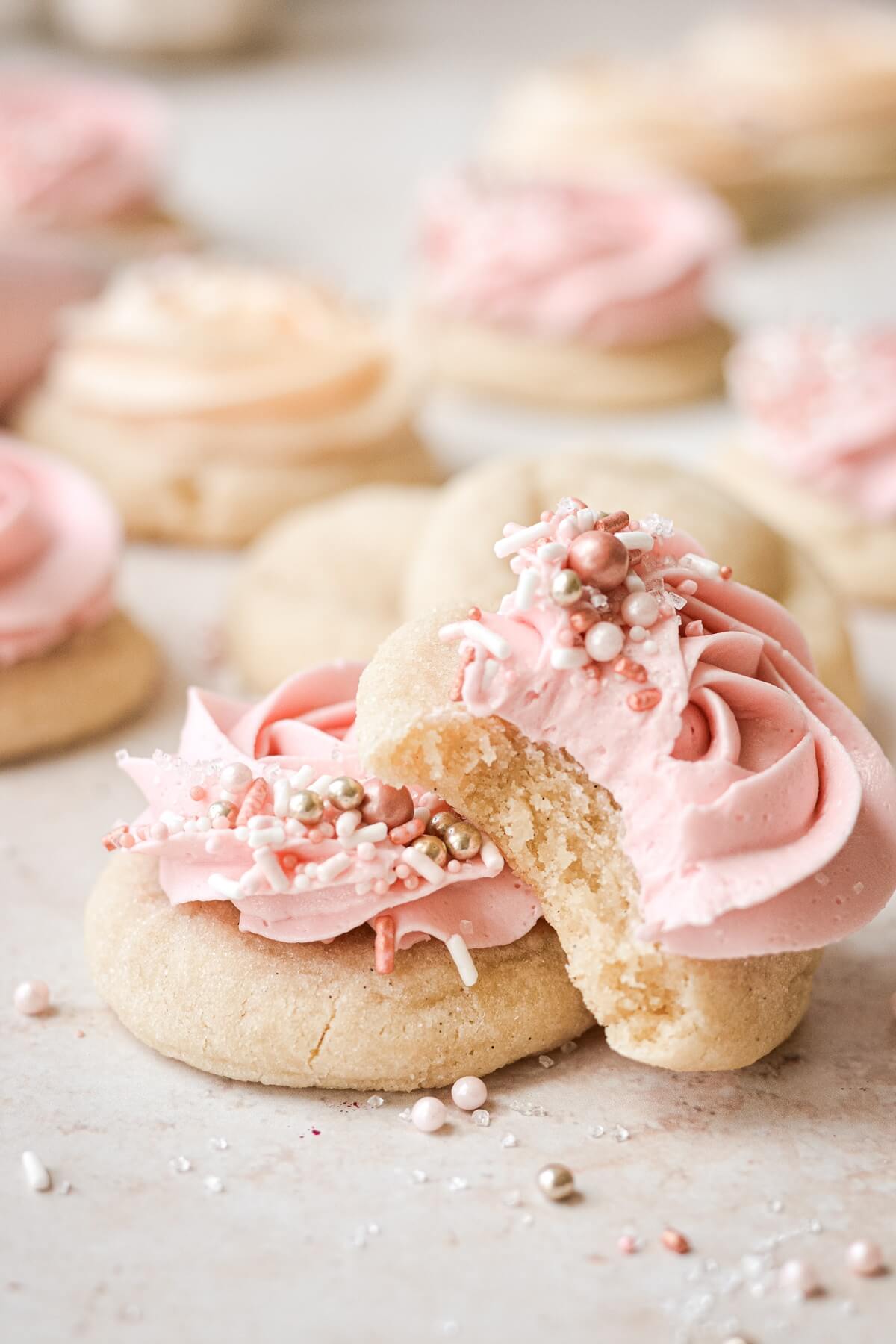 Nutty white chocolate chip butterscotch cookies, loaded with pecans, almonds, hazelnuts and macadamia nuts, with both white chocolate chips and butterscotch chips for an irresistibly sweet and salty cookie.
Crispy edges and soft chewy centers make these high altitude date pecan cookies simply irresistible! Date syrup keeps them moist and chewy, while oats and pecans add texture and crunch. Fill them with pecan buttercream for a delicious sandwich cookie.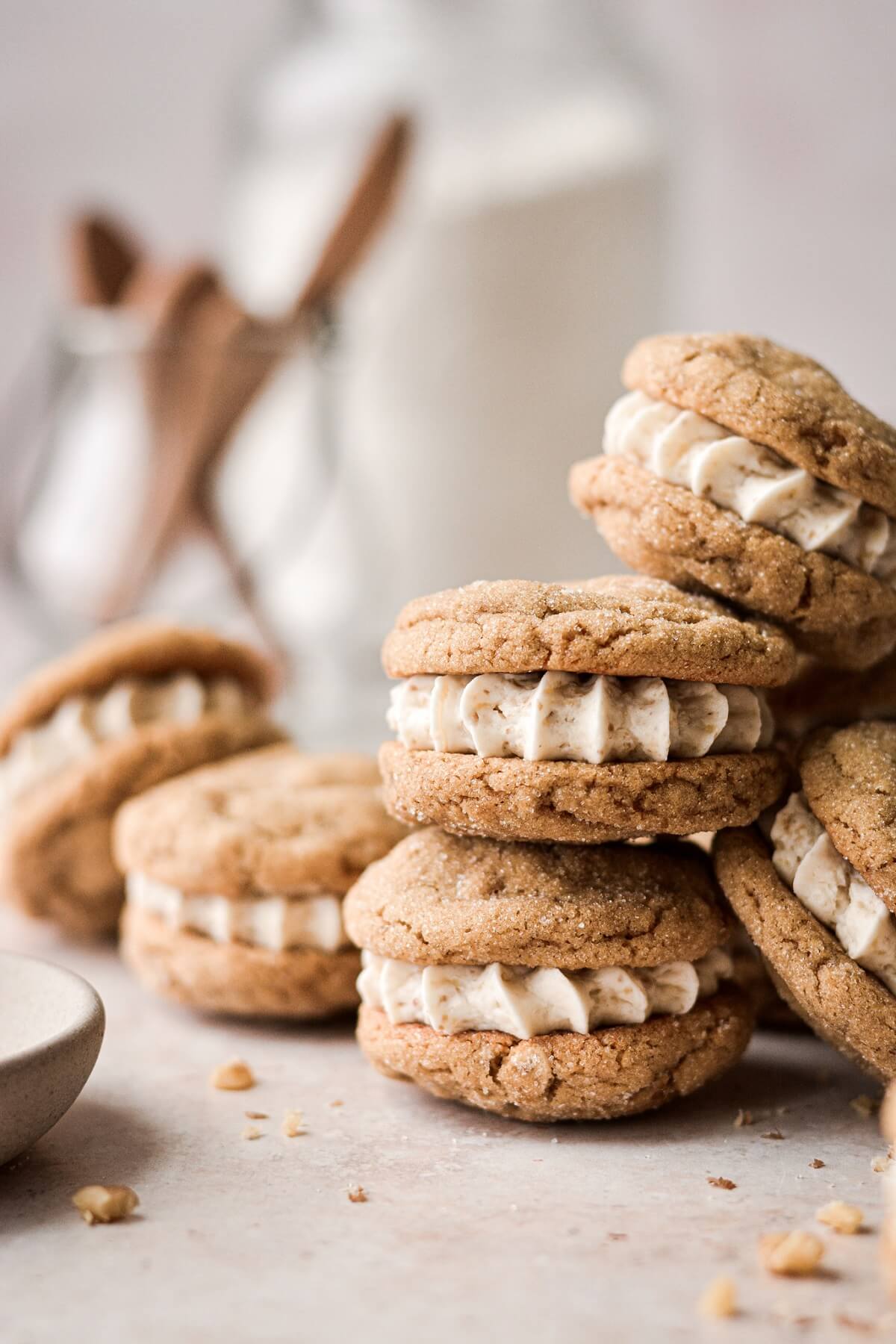 Thick, soft and chewy snickerdoodles, with a delicious coating of cinnamon and sugar. These make a wonderful holiday cookie.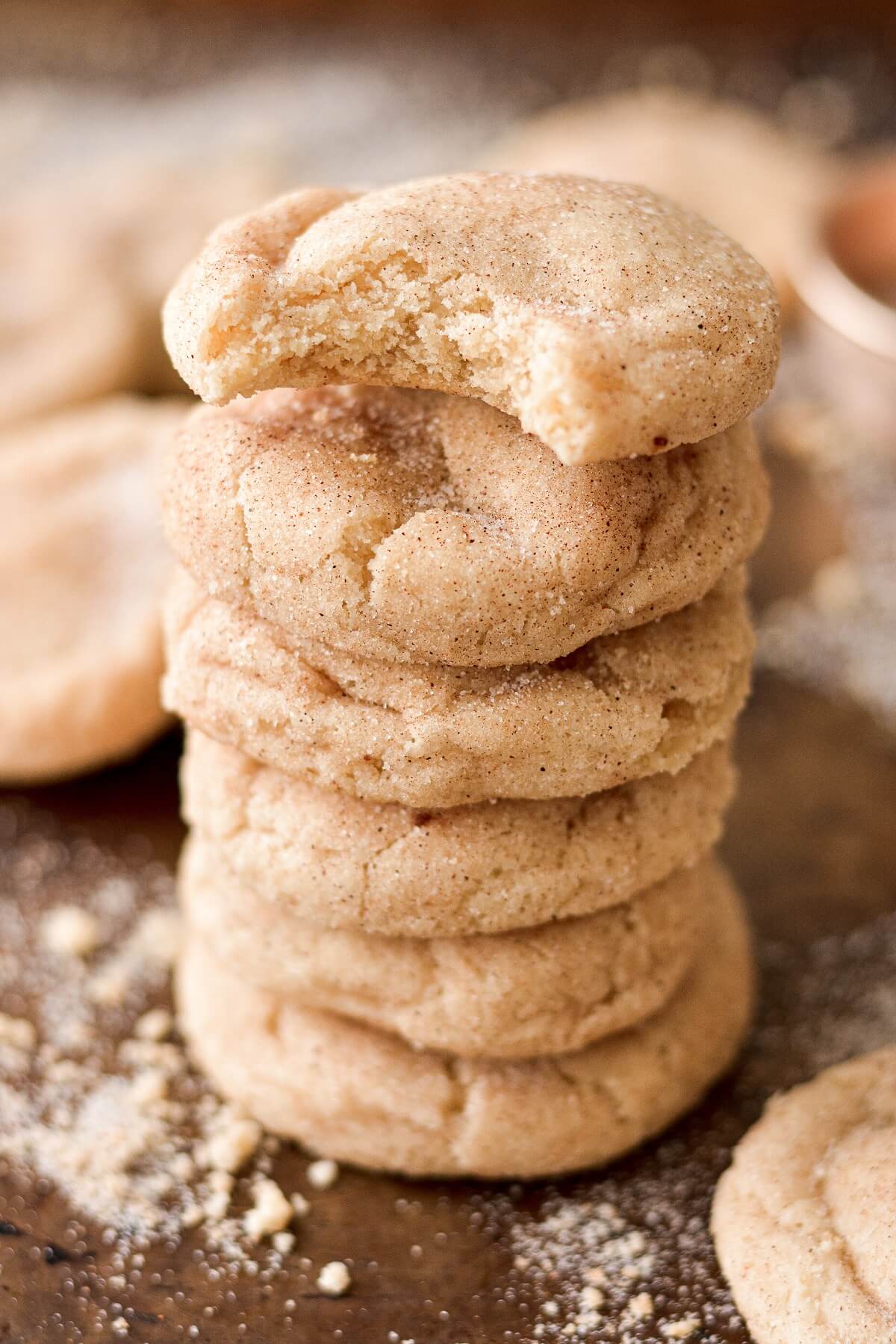 Butter pecan cookies, with nutty browned butter, the rich flavor of brown sugar, a noticeable saltiness, and of course, plenty of pecans. These are the perfect cookie for butter pecan lovers.
Cutout Cookies
Soft, buttery almond flavored snowflake sugar cookies, decorated with fluffy buttercream frosting and sprinkled with sparkling sugar. These delicate cookies make the most beautiful Christmas cookies for the holiday season.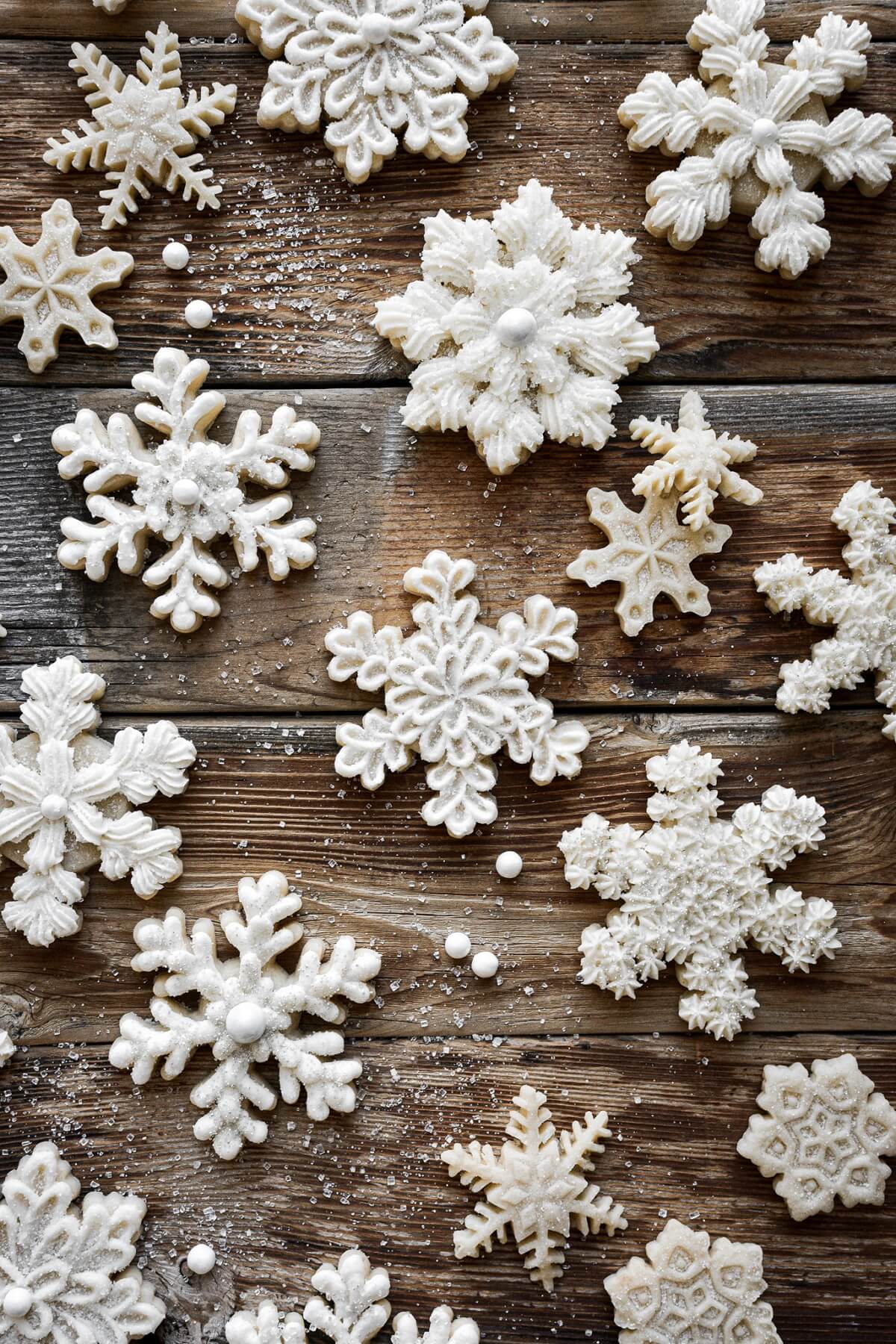 These soft and chewy high altitude gingerbread cookies are subtly spiced so they aren't too dark and spicy, and are delicious with both royal icing and buttercream frosting. This is a no spread gingerbread cookie recipe, so the shape of your cookies will be perfectly preserved after baking!
These place card cookies are easy to make with no-spread chocolate sugar cookies stamped with the names of your friends, family and loved ones, then glazed with vanilla icing. The embossed cookies look so beautiful placed on each place setting for Christmas, weddings, or any special occasion!
A step-by-step tutorial for the most beautiful Christmas tree cookies with buttercream and snowman cookies. These are so easy to decorate!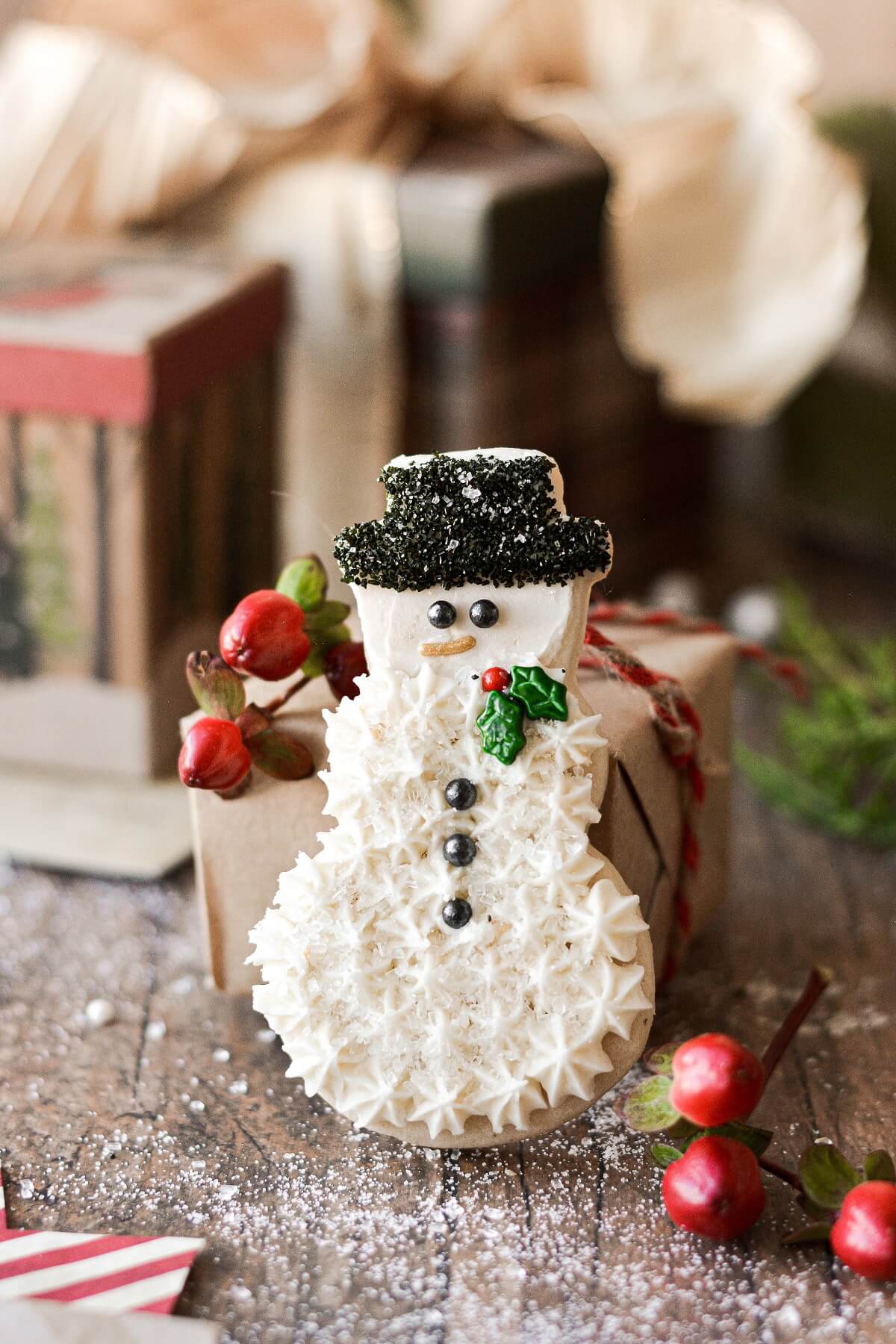 These classic high altitude Linzer cookies start with a buttery, soft almond shortbread cookie, filled with homemade bourbon cherry jam, and dusted with powdered sugar. The pretty peek-a-boo cutout in the top cookie reveals the jewel-hued jam inside, with the powdered sugar dusting the cookie like freshly fallen snow. These make a beautiful cookie for Christmas!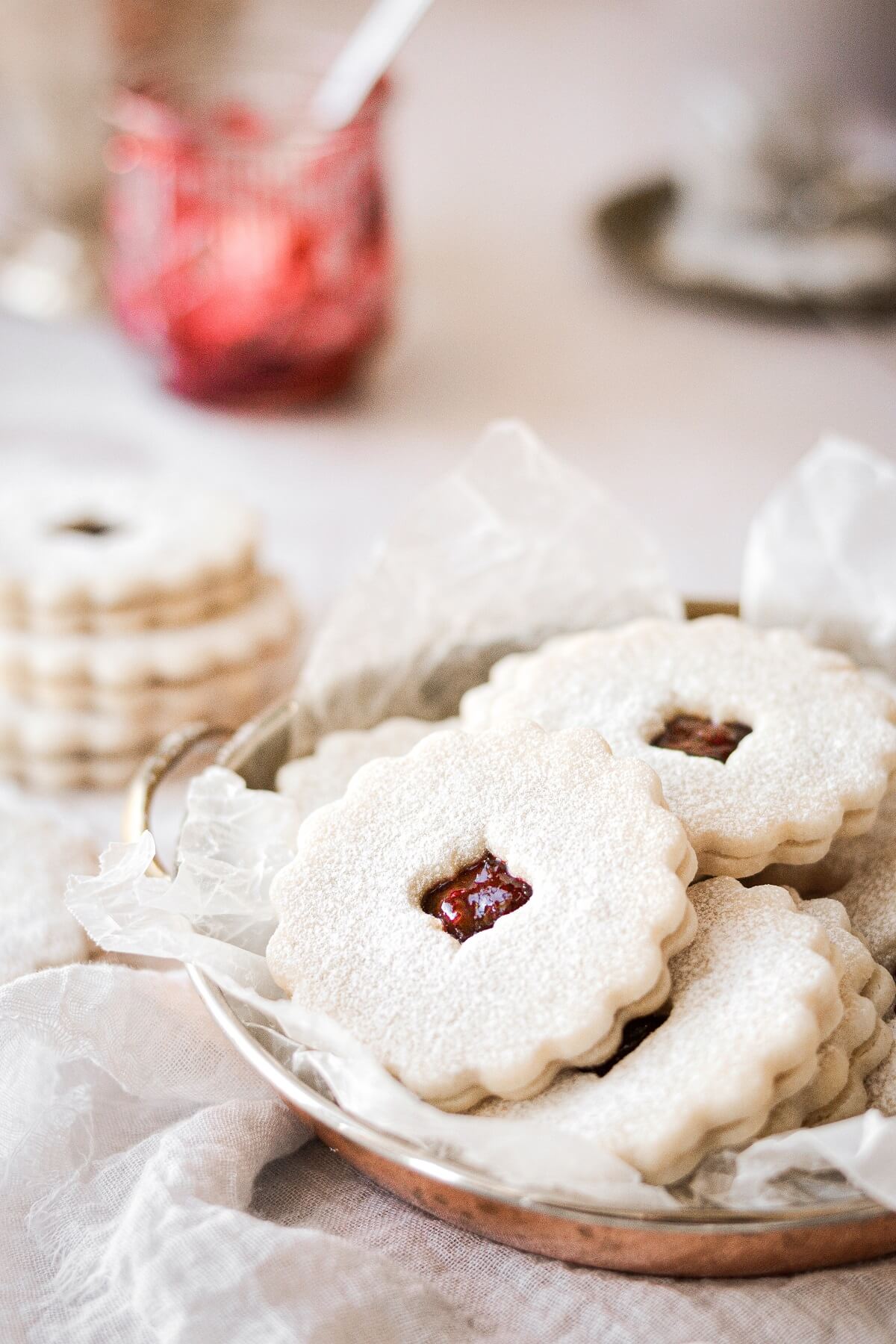 Almond sugar cookies, made with both finely chopped almonds and almond extract, and cut into Christmas shapes like bells, trees, snowflakes and candy canes. Instead of decorating these almond cookies with royal icing, a sprinkling of sugar baked on top of the cookies adds a crunchy finish and a beautiful sparkle. This is a Christmas cookie recipe you'll definitely want to make this holiday season!
Linzer cookies are beautiful holiday cookies made of two buttery almond shortbread cookies that are traditionally filled with sweet jam. But I've filled my chocolate hazelnut linzer cookies with creamy Nutella for a delicious twist on this classic Christmas cookie.
Buttercream filled linzer cookies, with a beautiful red sugar cookie dough and vanilla buttercream peeking through the cutout.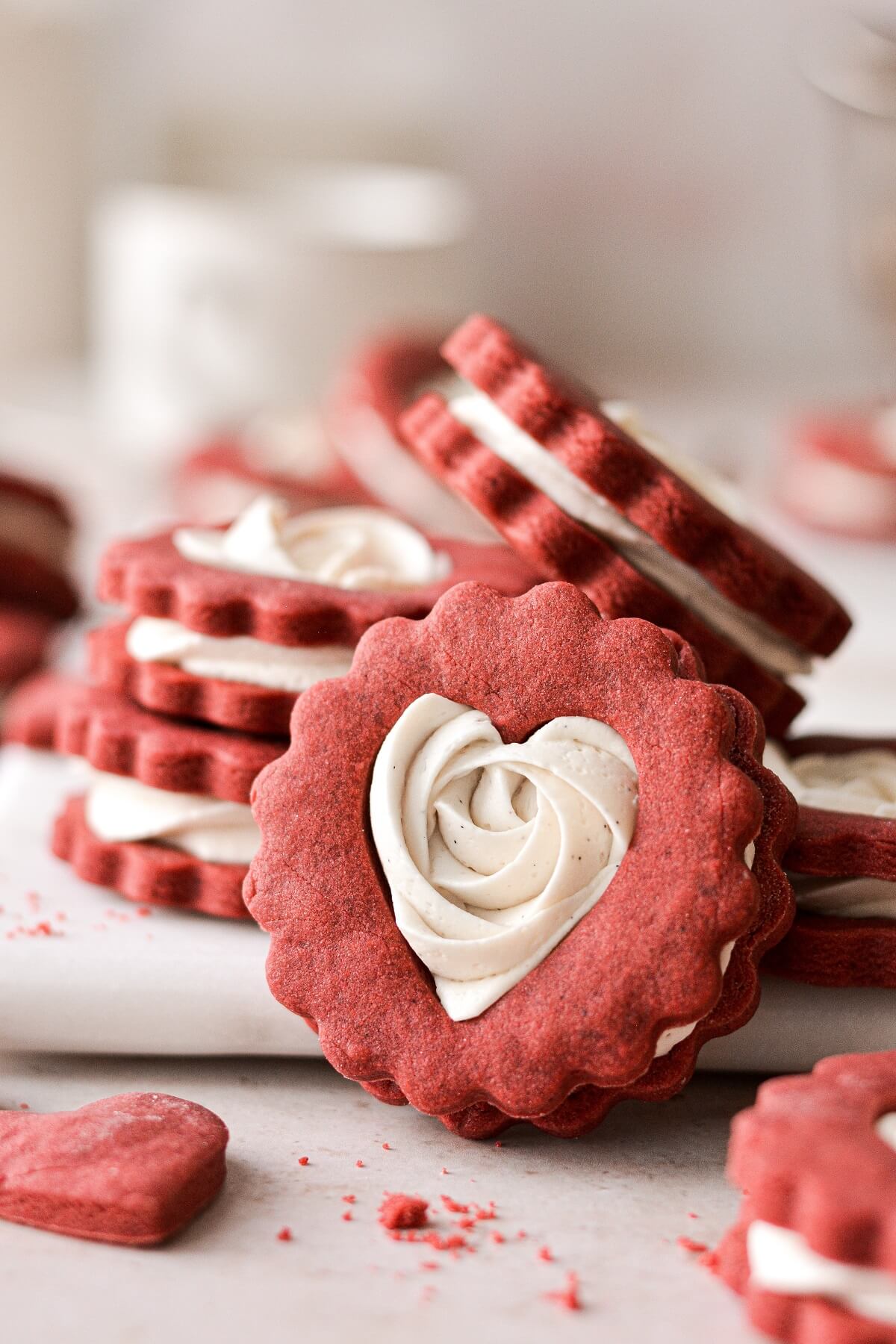 A good classic vanilla bean shortbread cookie recipe is one of the most versatile and adaptable pastries for bakers. Roll the dough out for perfectly shaped cutout cookies that don't spread or lose their shape. And whether you're baking at high altitude or at sea level, this recipe will work perfectly.
My no spread recipe for soft, perfect high altitude chocolate sugar cookies has the most delicious balance of rich dark chocolate, butter and vanilla. They're not very sweet on their own, so they're perfect for icing with royal icing or buttercream frosting, without becoming cloyingly sweet. These chocolate sugar cookies also hold their shape beautifully when they're baked, which is exactly what you want from a perfect cutout cookie recipe.
The most perfect high altitude vanilla sugar cookies. With flecks of real vanilla bean, the flavor of these sugar cookies is just incredible, with a delicious balance of sugar, butter and vanilla. They're soft, not too sweet, and hold their shape beautifully when they bake. These no spread sugar cookies never fail me whenever I want to make a perfectly shaped, cutout sugar cookie.
Soft gingerbread cookies pressed with cookie stamps and glazed with vanilla icing. These pretty stamped gingerbread cookies are the perfect thing to bake for Christmas.
You only need one batch of vanilla sugar cookie dough to make these festive and old fashioned Christmas cookie recipes for candy cane cookies and red and white pinwheel cookies. These pretty holiday cookies are soft and buttery, and you can flavor them with vanilla, almond or peppermint extract. The whole family will love helping to make these!
The best, no spread cutout vanilla sugar cookies, frosted with vanilla buttercream and decorated with cute Christmas sprinkles. It just wouldn't be the holidays without making a batch of frosted Christmas cookies with sprinkles. And you'll love the soft texture of these cookies, the rich flavor of butter and vanilla, and the festive, holiday sprinkles on top.
Make the most beautiful homemade salt dough ornaments (not edible) for your Christmas tree with this easy recipe and assorted Christmas cookie stamps. This is a fun and creative project that the whole family can do together!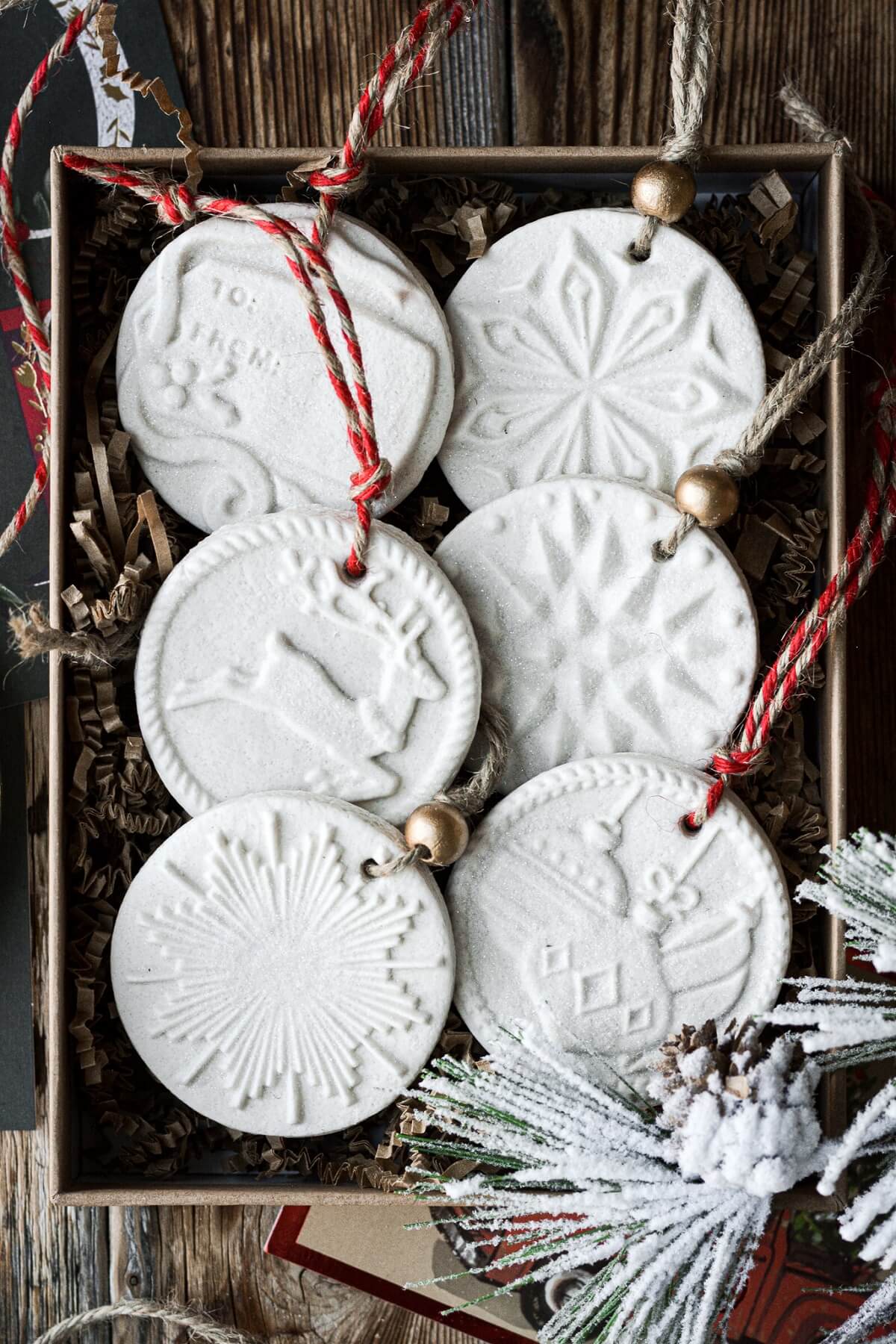 Biscotti
Butter pecan biscotti with brown butter and toasted pecans. They have so much rich, nutty flavor that's just delicious with a drizzle of sweet white chocolate.
Maple biscotti with crunchy macadamia nuts is easy to make, and perfect for dunking in your coffee or tea. For a sweet and salty finish, I drizzled the biscotti with maple icing and finished them with a sprinkling of chopped macadamia nuts and flaky salt.
Chocolate biscotti made with both chocolate chips and Dutch-processed cocoa powder for a rich chocolate flavor, and each one is spread with swirls of melted dark chocolate.
Simply the best almond biscotti that's crunchy, nutty and subtly spiced with vanilla and cardamom. You'll love this classic Italian cookie for a sweet treat with your coffee for breakfast or dessert!
Candy
These 4-ingredient white chocolate coconut truffles are coated in dark chocolate with a creamy, white chocolate coconut filling. With the dark chocolate coating and the creamy coconut filling, these white chocolate truffles taste a lot like a Mounds candy bar.
These ruby chocolate truffles only require three ingredients for a small batch of delicious homemade truffles. The filling is a creamy ganache made from ruby chocolate and cream, and the crisp dark chocolate coating is rich and bittersweet to contrast the sweet, fruity filling.
This easy to make white chocolate Oreo cookies and cream bark only requires two ingredients and no special equipment. A delicious no bake treat for a Christmas cookie box!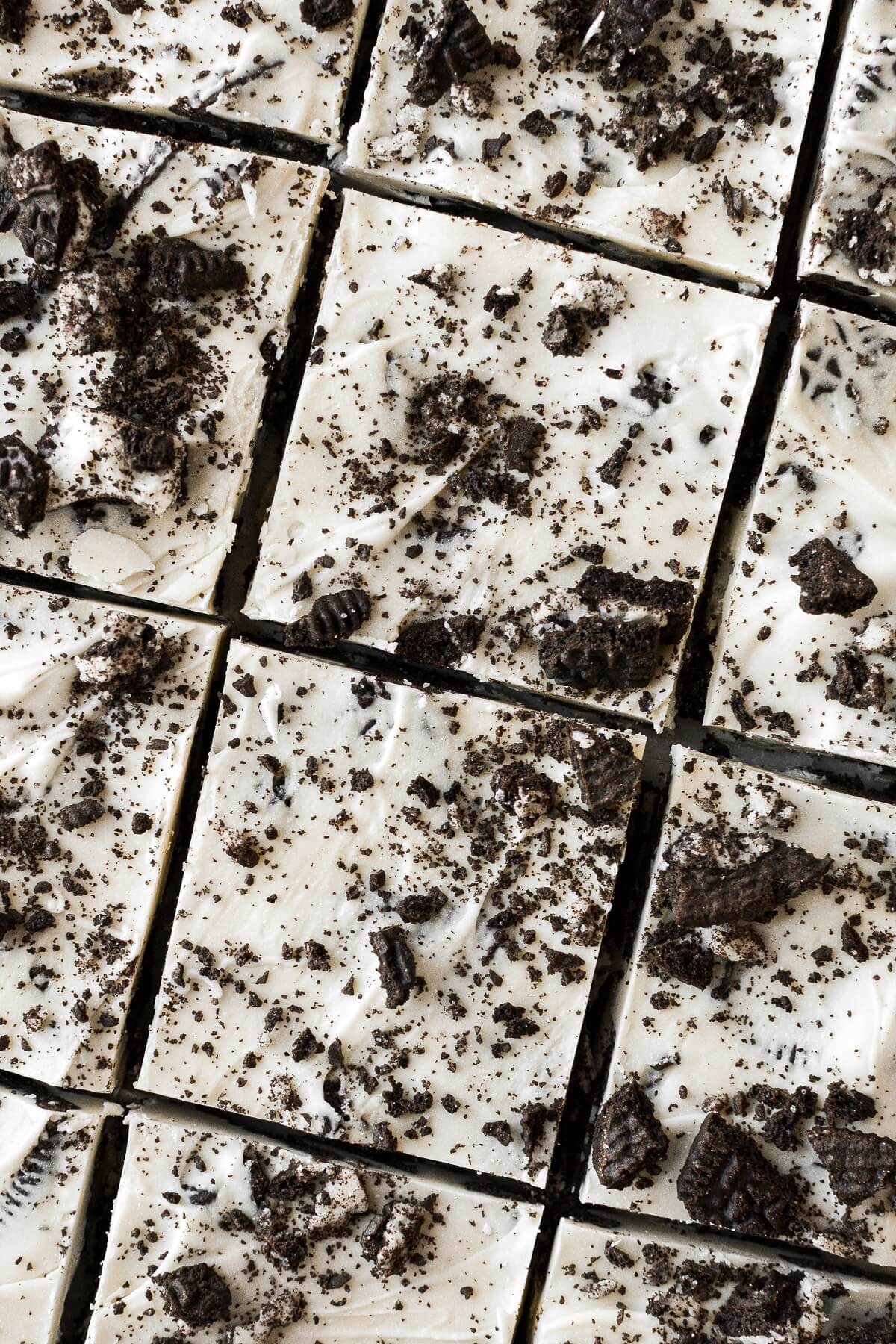 These soft and fluffy homemade marshmallows are flecked with real vanilla bean seeds. They're sweet and pillowy, and so much better than store bought marshmallows. Serve these vanilla bean marshmallows with hot chocolate, or toast them for s'mores!
This classic recipe for buttery, crunchy English toffee is loaded with almonds, with a layer of bittersweet chocolate. Whether you call it buttercrunch toffee, almond roca, or almond English toffee, this delicious treat is perfect for holiday gift giving, Christmas cookie boxes and dessert tables.
An easy recipe for homemade trail mix, made with assorted nuts and dried fruit, toasted in coconut oil and spiced with cinnamon and cloves. This addictive and delicious nutty mix is perfect for snacking or gifting!
The most delicious chocolate chip cookie dough truffles, made with edible cookie dough coated in dark chocolate and sprinkled with flaky salt.
Making these soft and chewy salted vanilla caramels every Christmas has become a yearly tradition in my kitchen. They look so beautiful wrapped up in wax paper, and they make wonderful homemade Christmas gifts for friends, family, neighbors and coworkers.
Brownies and Bars
An easy high altitude recipe for soft, moist and chewy coffee blondies, flecked with espresso powder for a hint of coffee in every bite. If you're a coffee lover, then you'll love these coffee flavored cookie bars that stay soft for days.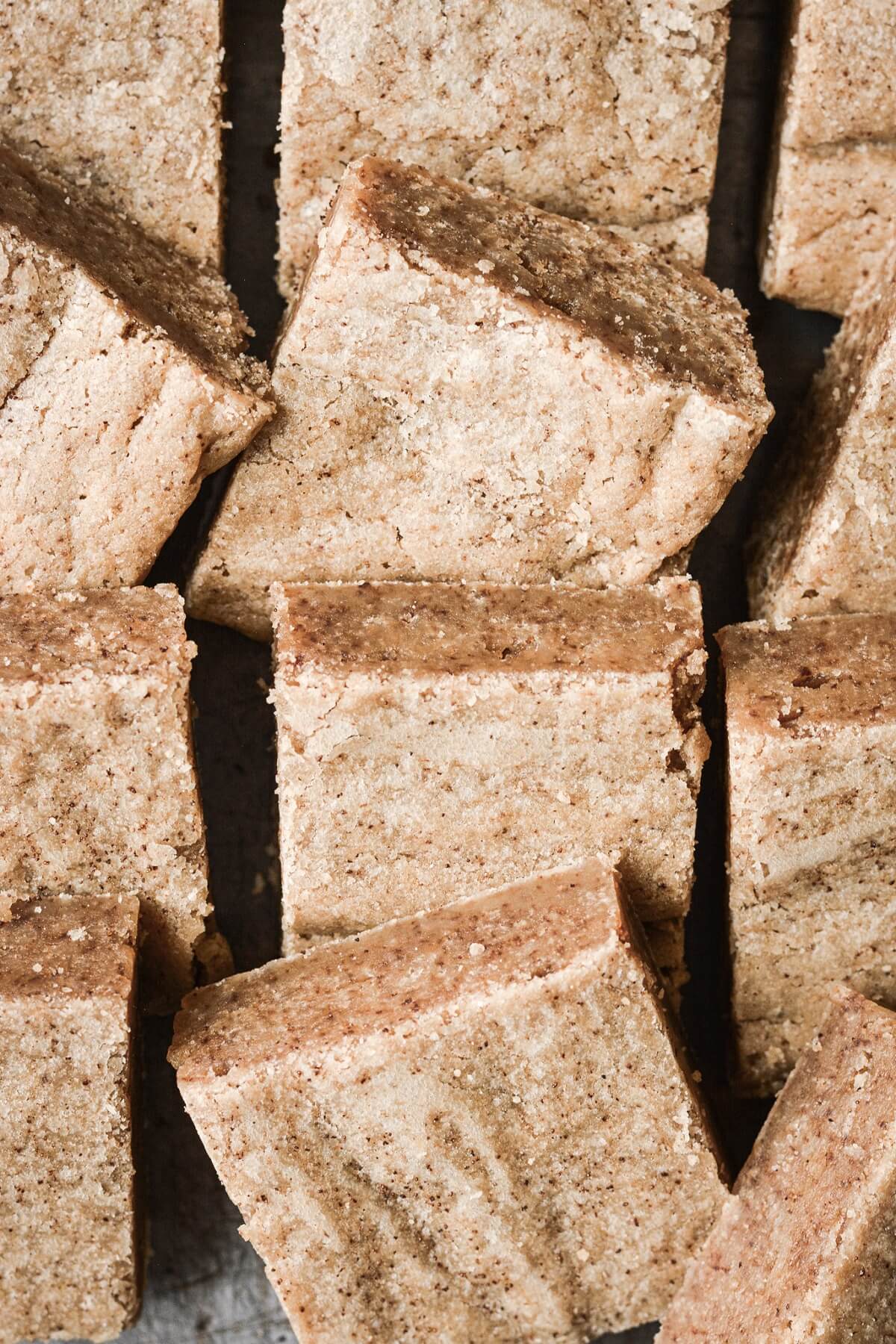 The best ever high altitude fudge brownies with a shiny, crackly top, that stay soft and moist for days! Dutch-processed cocoa powder and melted dark chocolate gives these brownies rich and complex chocolate flavor that's not too sweet. So throw out those boxed brownie mixes and get ready to make the most incredible fudge brownies you've ever tasted!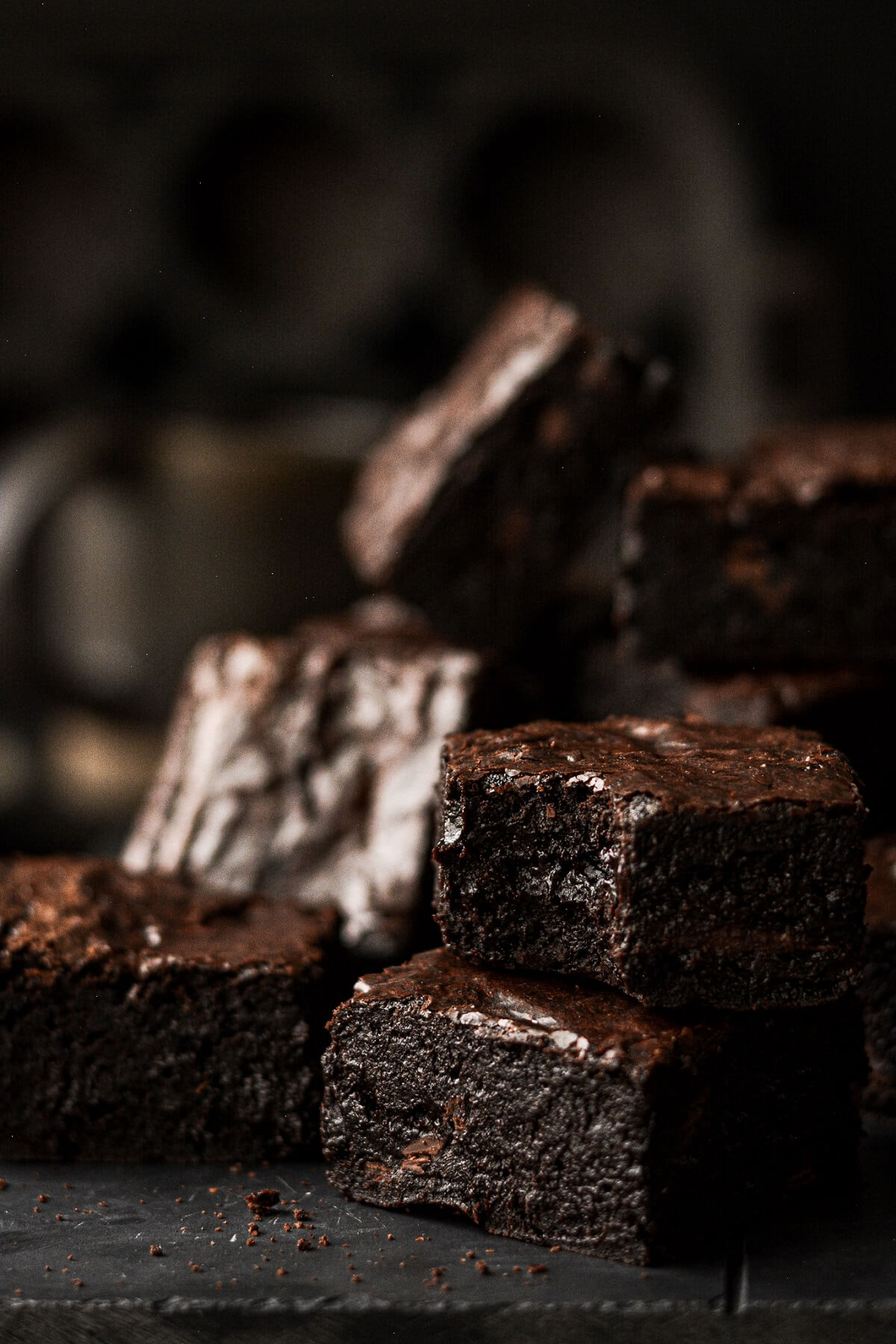 The most delicious high altitude cream cheese swirl brownies, made with rich and fudgy brownies swirled with creamy vanilla cheesecake. I based today's recipe on my classic fudge brownies, which are fantastic on their own. But when you swirl brownie batter with creamy cheesecake, you get a dessert that's on another level of deliciousness.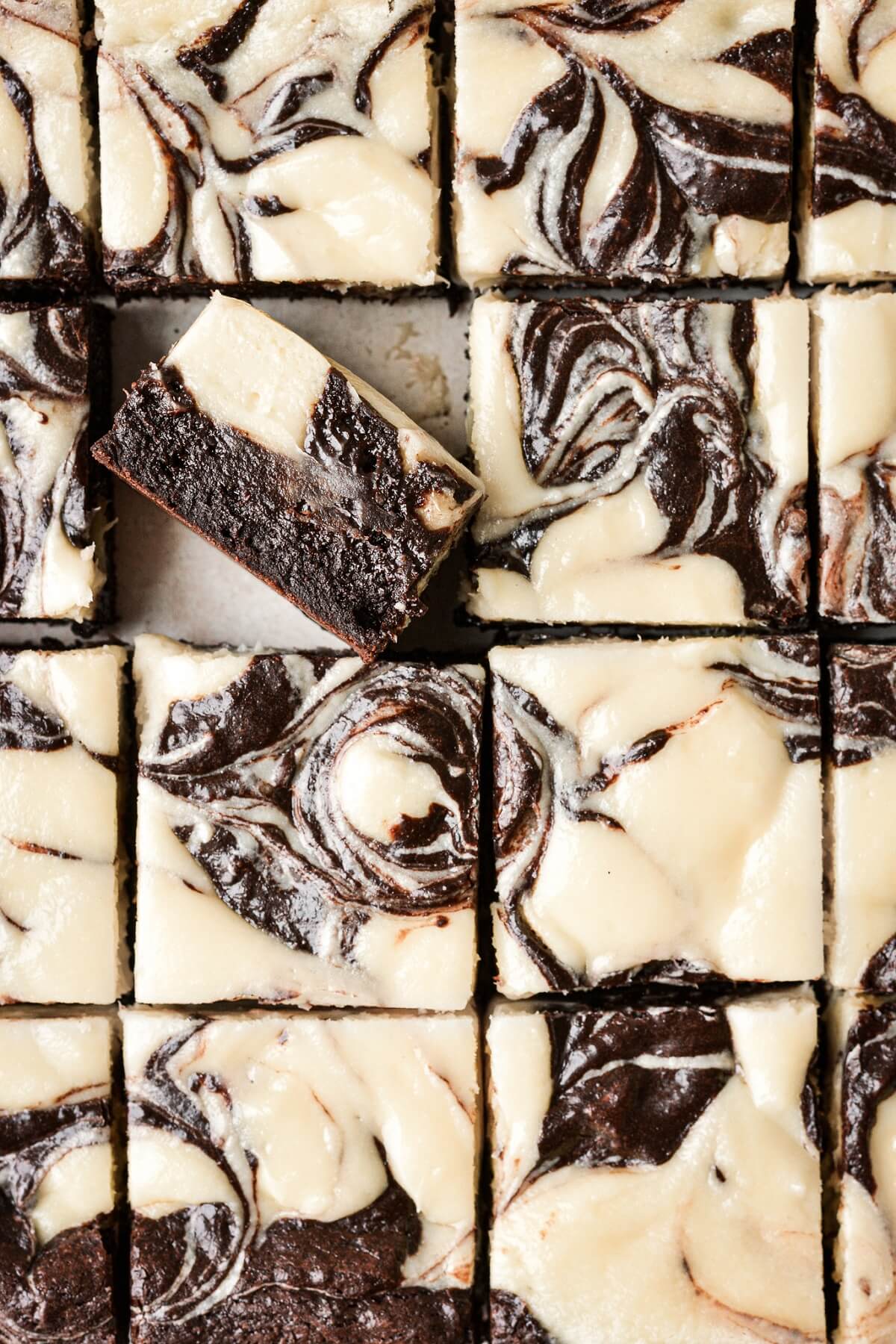 These soft and moist high altitude maple sugar cookie bars are studded with chopped hazelnuts, and frosted with a rich brown butter maple hazelnut frosting. They're incredibly soft and chewy, and so addictive you won't be able to eat just one. Top these maple blondies with a scoop of ice cream for a deliciously decadent dessert.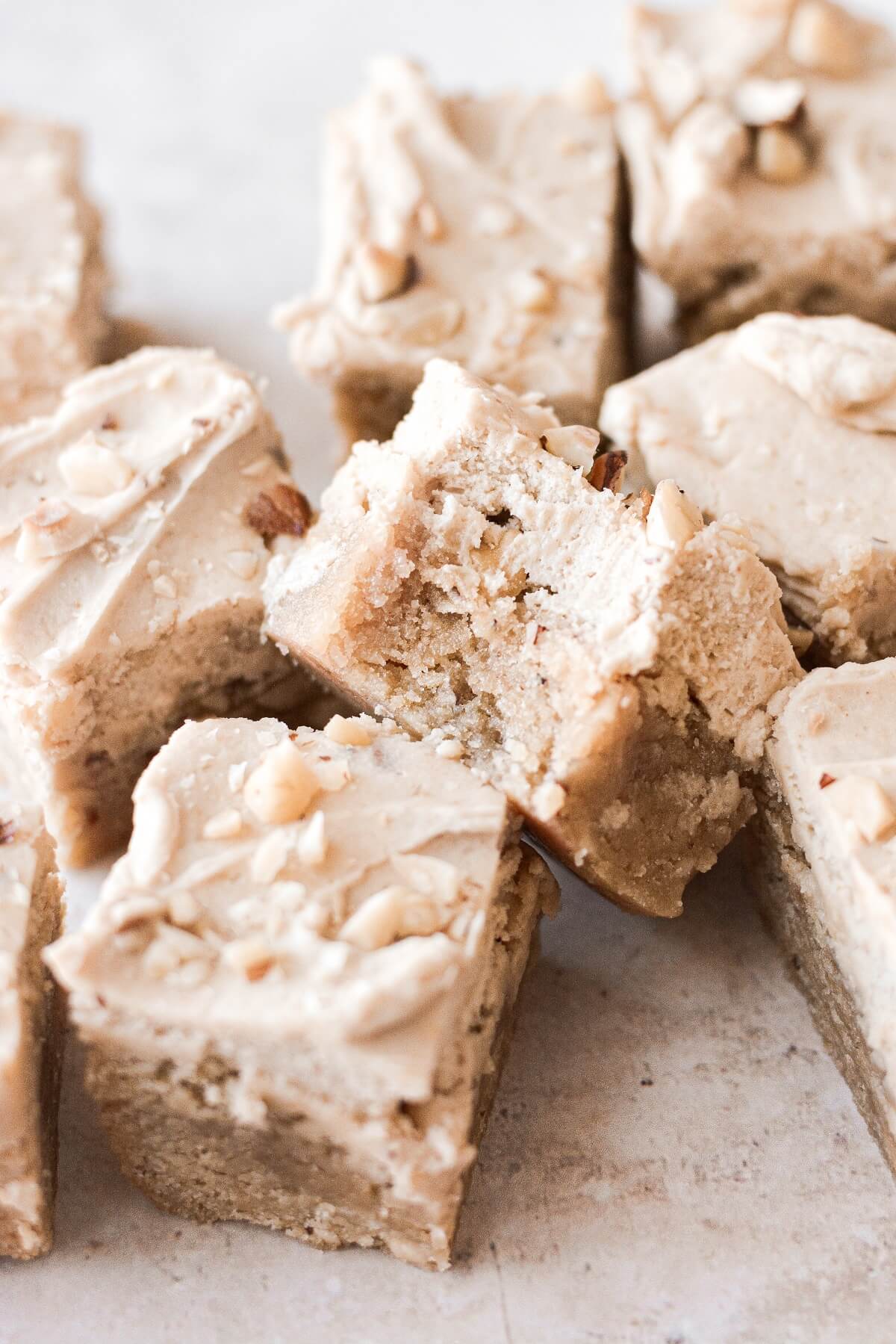 These easy to make pecan pie bars have a sweet, gooey pecan pie filling and nutty brown butter shortbread crust for a treat no one can resist. These are basically like pecan pie, but with a simpler, press-in-the-pan shortbread crust, so the recipe comes together quickly. Your house will smell incredible while these are baking!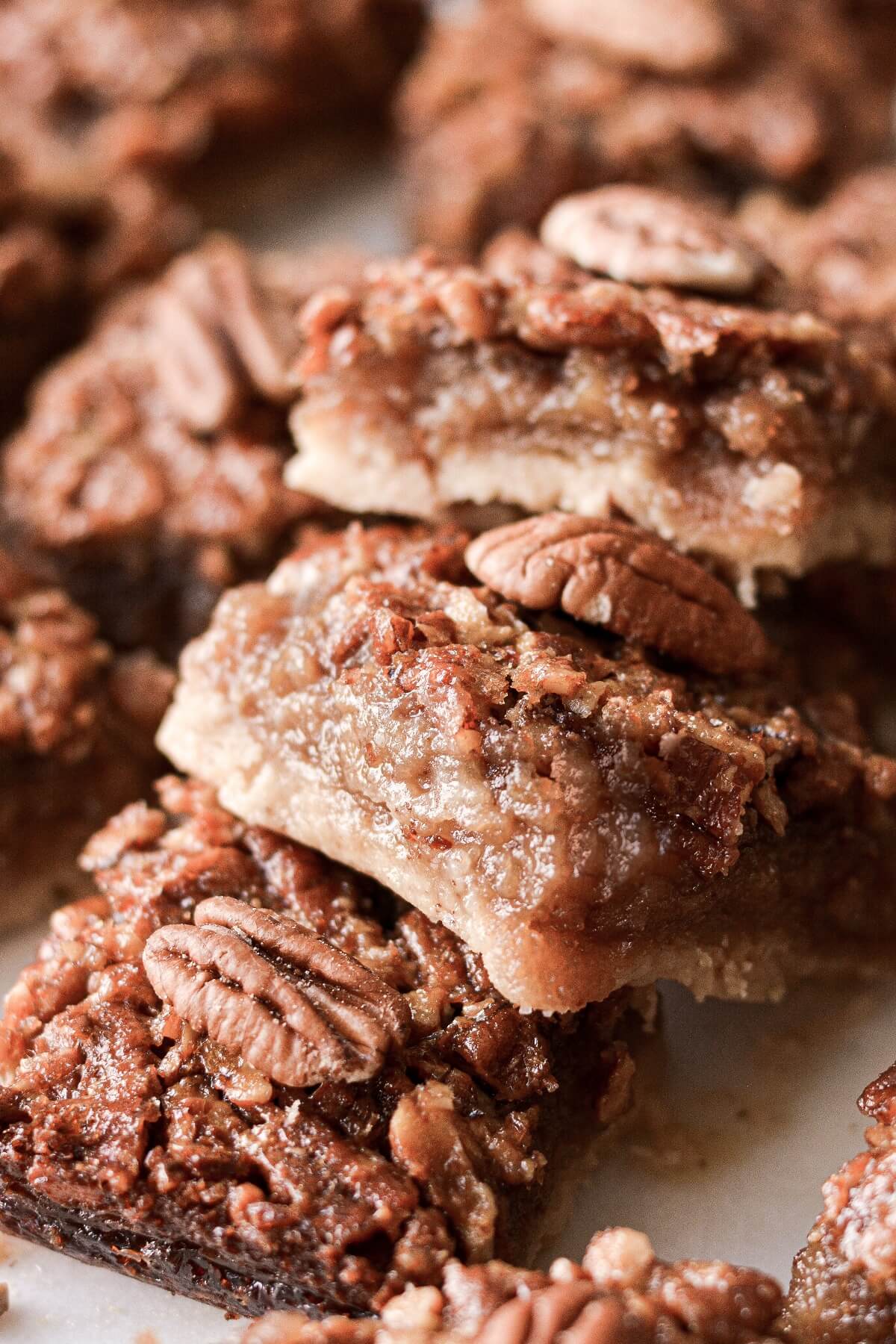 Nothing says Christmas to me like almond pastry, and these buttery almond crumb bars with almond paste filling are everything I want in an almond dessert. The shortbread base is rich and cookie-like, and a simple filling of sweet almond paste delivers the most delicious almond flavor. Topped off with crumble topping, they're simply irresistible.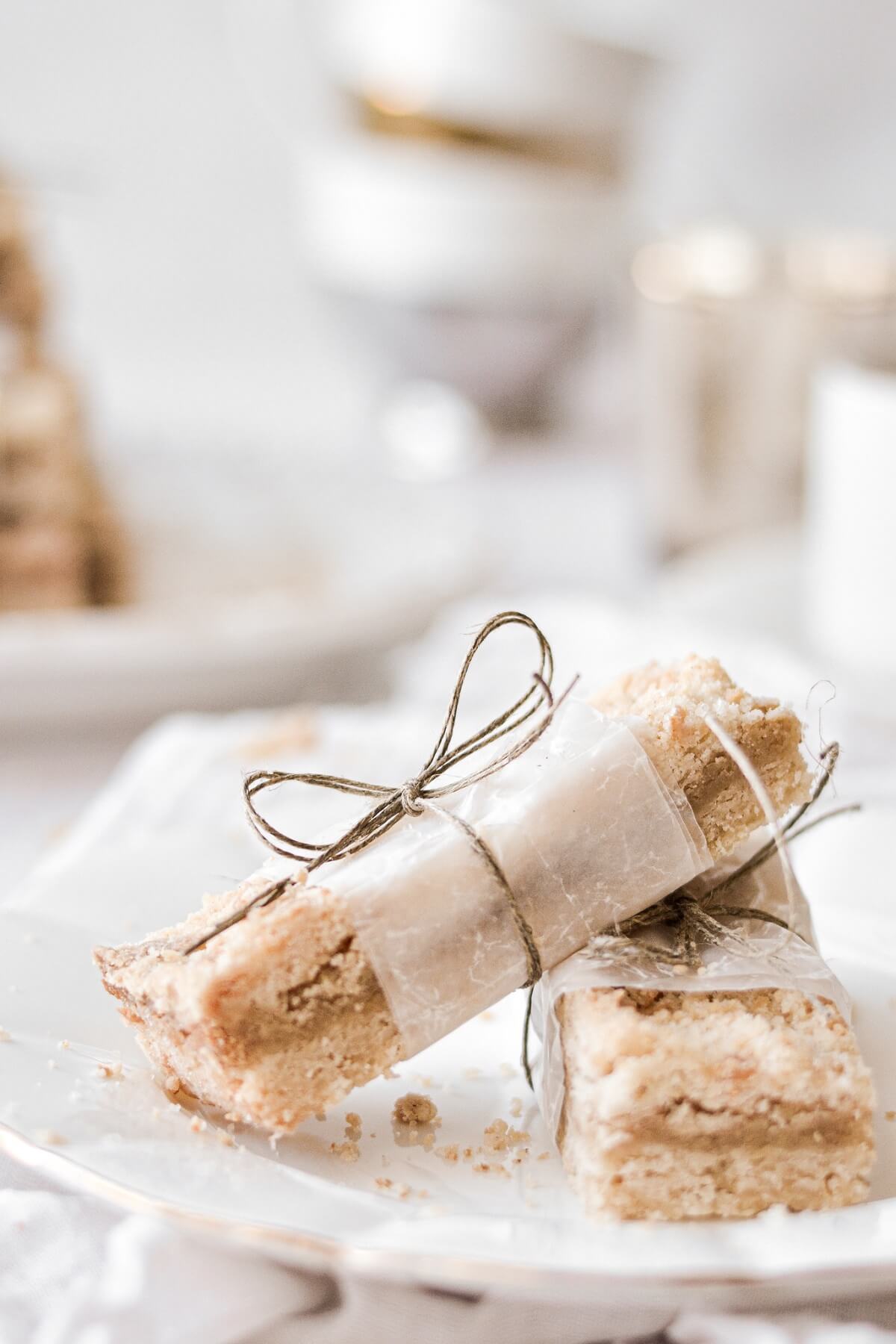 My cranberry crumb bars have a buttery shortbread crust and crumble topping, filled with cranberry sauce and sweet almond paste, and they are just so good. Sometimes I make extra cranberry sauce, just to make sure I have enough left to make a batch of these delicious crumb bars. These need to be on your holiday baking list!
I hope you found something you love in today's high altitude Christmas cookies roundup post! Please remember to leave a star rating on the recipes you try and love!